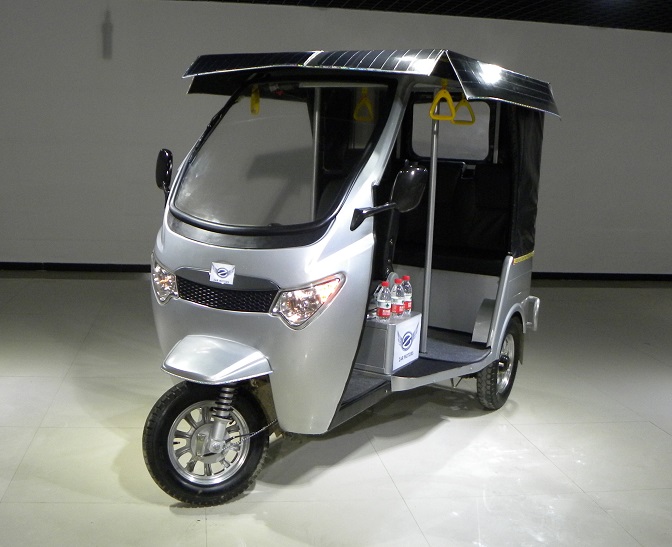 Electric Rickshaw on its way to the roads of Pakistan
Recently Mr. Khawaja Ahmad Hassan, Advisor to CM Punjab was seen testing and driving a new Electric Rickshaw at CM Office Lahore. Many other officials from the government were also present along with the people who developed the product. The Electric Rickshaw is currently not available in the market but will be launched soon. Leaving all the politics aside, I personally think this is a very good initiative. More companies like this should be encouraged to start developing and selling their products here. The Electric Rickshaw under consideration is being launched by Zar Motors.
Here's why I think and hope (for the sake of our nation) this rickshaw will be successful in Pakistan:
The looks

This Electric Rickshaw does look (from pictures only) a lot better than our traditional Rickshaws. It has a more futuristic feel to it. These Electric Rickshaws when on roads may actually be pleasing to the eyes rather than those blue ones that we have around for decades. Comparing these two rickshaws, I would definitely prefer to travel on this one (if you take into account looks only)
Environmental benefits

I don't need to be an environmental engineer to notice the benefits of this Electric Rickshaw to the environment. There would be no clouds of smoke coming out of the Electric Rickshaw as we are habitual of seeing from our existing ones.  The simple mechanism will convert sunlight into electrical energy and then electrical energy into mechanical energy which will power the Electric Rickshaw. In this way, both the health of people and the environment will be relieved. This is the rightful step towards reducing air pollution in our cities and villages, where air pollutants have reached dangerously high levels.
Benefit to the user

The running cost of this Electric Rickshaw will be significantly lower than the existing Rickshaws. This will not only help the Electric Rickshaw owner but also benefit the common passenger. Plus this can help reduce our dependence on conventional fuels. One may argue that the initial cost may be high, but I believe the low running cost will more than compensate for it.
Reduction in noise pollution

Being an owner of a Hybrid Vehicle myself, I can say for sure that the difference in sound will be very noticeable. You can barely hear an electric vehicle when it is started. Same will be the case of this Electric Rickshaw. We will finally get free from the 'Phut Phut'" sounds of the conventional Rickshaws that feel as if hammers are striking on our ear drums.
Safety

CDGL has banned LPG Rickshaws due to safety concerns. There have been a few instances where the LPG container in these Rickshaws caught fire, injuring people on board. One look at the LPG container in that Rickshaw plus its fuel line will give you a sufficient idea how safely you are travelling. Electric Rickshaws will eliminate this issue once and for all.
A few days ago, in another initiative by a different company E-Bikes were launched in Pakistan. We need to support these types of technologies. Only by our support can this technology be refined and made even better.  The government should also support these Electric Rickshaws, which I think it will as the officials are seen testing the Electric Rickshaws. The Rozgar scheme by the government can also include these Electric Rickshaws. Our universities should also collaborate with these companies in improving the efficiency of the solar cell technology. Only by steps like these will we enter the age of green public transportation or else we will remain stuck with the 'Phut Phut' sound.