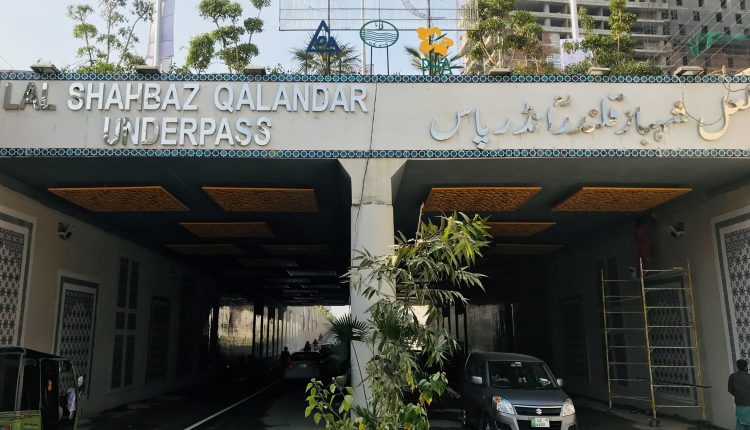 According to our sources, the long-awaited Firdous Market Underpass has finally been inaugurated by the Chief Minister of Punjab, Usman Buzdar. The Firdous Market Underpass will be known as Lal Shahbaz Qalandar Underpass and will facilitate around 91,000 vehicles daily. It will also provide a signal-free passageway to residents of Lahore crossing Firdous Market.
The inauguration of this project kept on delaying, as LDA could not complete it during the given deadline. Now, it is finally accessible to the public today i.e. 26th November, 2020. Chief Minister along with others held a ceremony where he opened the underpass for the public.
Earlier,  Lahoris used to face severe traffic congestion, and hopefully now the traffic conditions would improve nearby. People used Sherpao Bridge, Gurumangat, or Academy road to bypass Firdous Market.  This resulted in traffic jams around these areas, with frequent bumper to bumper traffic. Now, the 540 meter long dual lane carriageway will help residents of DHA, Cavalry Ground, Gulberg, and most importantly, Firdous Market itself.
Work on Underpass: 
The construction work on the project, named Lal Shahbaz Qalandar Underpass, was started in May 2020. The underpass was supposed to complete in within 90 days, but it has been delayed by three months. Earlier, LDA planned to complete the underpass in four months, but Punjab Chief Minister Usman Buzdar directed them to complete it in 90 days.
Later, the chief minister visited the site and removed the chief project engineer due to delays. The CM office also issued a show-cause notice to LDA director general and additional DG over the slow pace of work.

Cost for Firdous Market Underpass: 
The earlier estimated cost of the complete project is Rs1.76 billion, including land acquisition and construction. However, the Punjab government awarded the contract for only Rs990 million. The move saved Rs130 million of public money.
After completion, the two-lane, 540-meter long underpass will facilitate traffic from DHA, Cavalry Ground and Gulberg. The project has special arrangements for water disposal. Furthermore, it will benefit over 91,000 vehicles on a daily basis, while saving fuel worth millions of rupees.
The demand for the construction of an underpass at Firdaus Market was long overdue. The issue of traffic block was serious at the chowk, especially in rush hours. The underpass will help in smooth flow of the traffic, saving time and money of masses.    
For more views, reviews and news about the automobile industry, keep visiting PakWheels Blog.