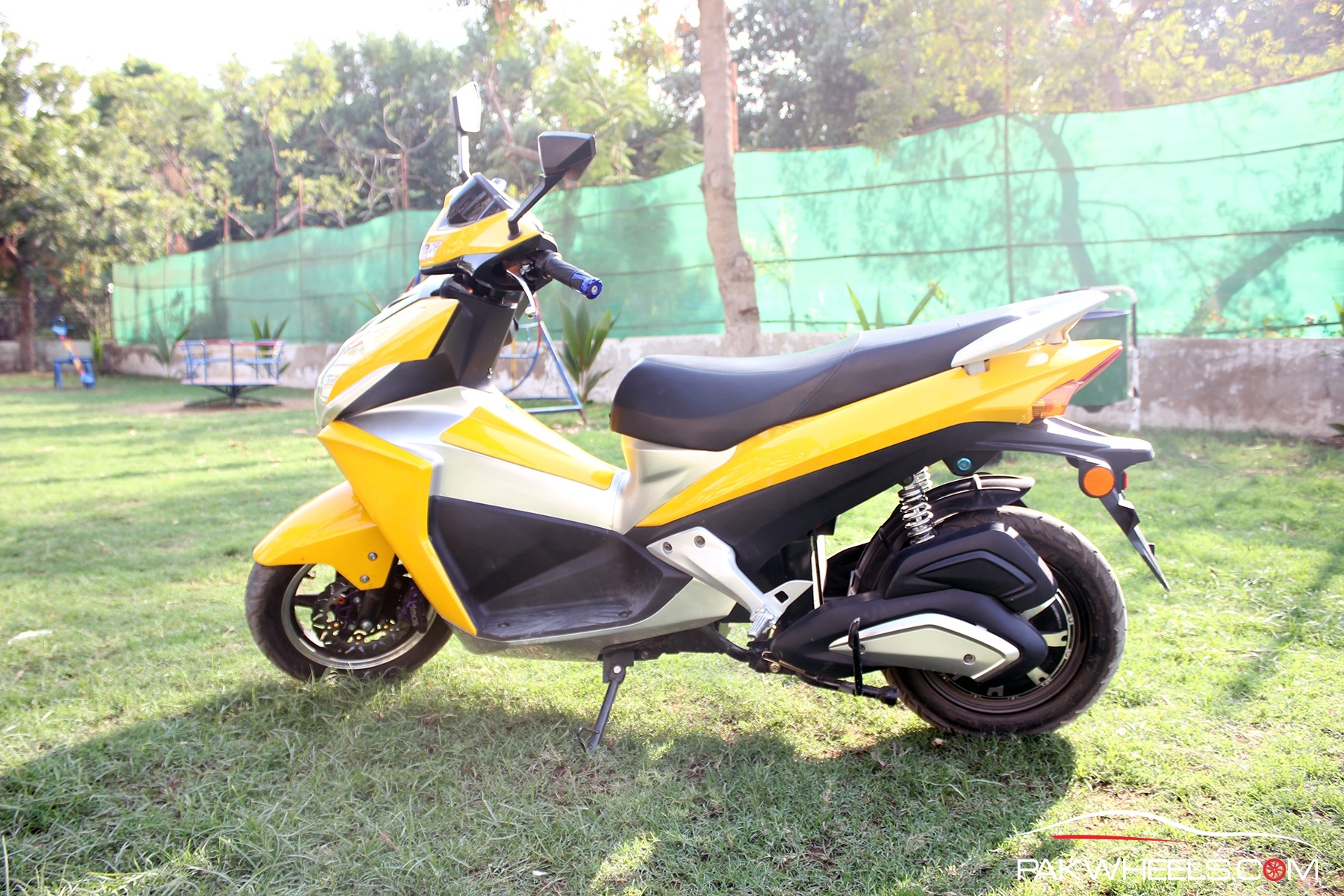 First Ride: E Bike T80 Sport
I have been riding a bike for more than 10 years now but never in those 10 years was I ever stopped at every intersection by people asking about my bike. However, this past weekend things were a little different for me. That's because I was riding the sporty looking E Bike T80 Sport – one of the three Electric Scooters launched earlier this month.
Editor's Note: We were contacted by TAZ Trading that they want PakWheels to review the E Bike. We were given the bike for only a day, so we could not calculate the kilometers per charge thoroughly as the scooter requires at least 8 hours of charging to reach the full capacity of the batteries.
INTRODUCTION
The E Bike T-80 Sport is company's top of the line model with a sporty shape powered by an 800 watt electric motor coupled with five 12volts batteries and an automatic transmission. The bike retails for Rs. 95,900 and comes with two years motor and one-year battery warranty.
LOOKS
In terms of looks, the E Bike is a beautiful bike considering all you get to see on the roads are Honda 70cc, its Chinese clones and a couple of other motorcycles, which look exactly the same from 10 feet distance. However, this little machine looks different. It has a sleek design with lots of curves. The overall shape is very much inspired by some kind of sports bike which is a good thing in my opinion. The headlamps have integrated front indicators in them and look like they are from Kawasaki Ninja or Yamaha R6 but on a smaller scale. The taillamp and the rear indicators are integrated with the rear fairing and do not protrude like those on the conventional motorbikes. The T80 Sport comes with aluminum 12 inches wheels with tubeless tires with a disk brake at the front wheel.
The speedometer is also very good looking but very impractical. To start with, the T80 Sport does not have an odometer (currently only T70 offers an odometer), so you cannot tell how much the bike has been ridden. I had to resort to the GPS in my phone to get the idea of how many kilometers I have travelled, which was very inconvenient and in future if you plan to buy a used E Bike from someone, you cannot tell how many kilometers the bike has been used. Also, the battery indicator does not work the way it should. In my case it always showed me 100% charge even when the bike was ridden for 40 kilometers according to my GPS.
COMFORT & RIDE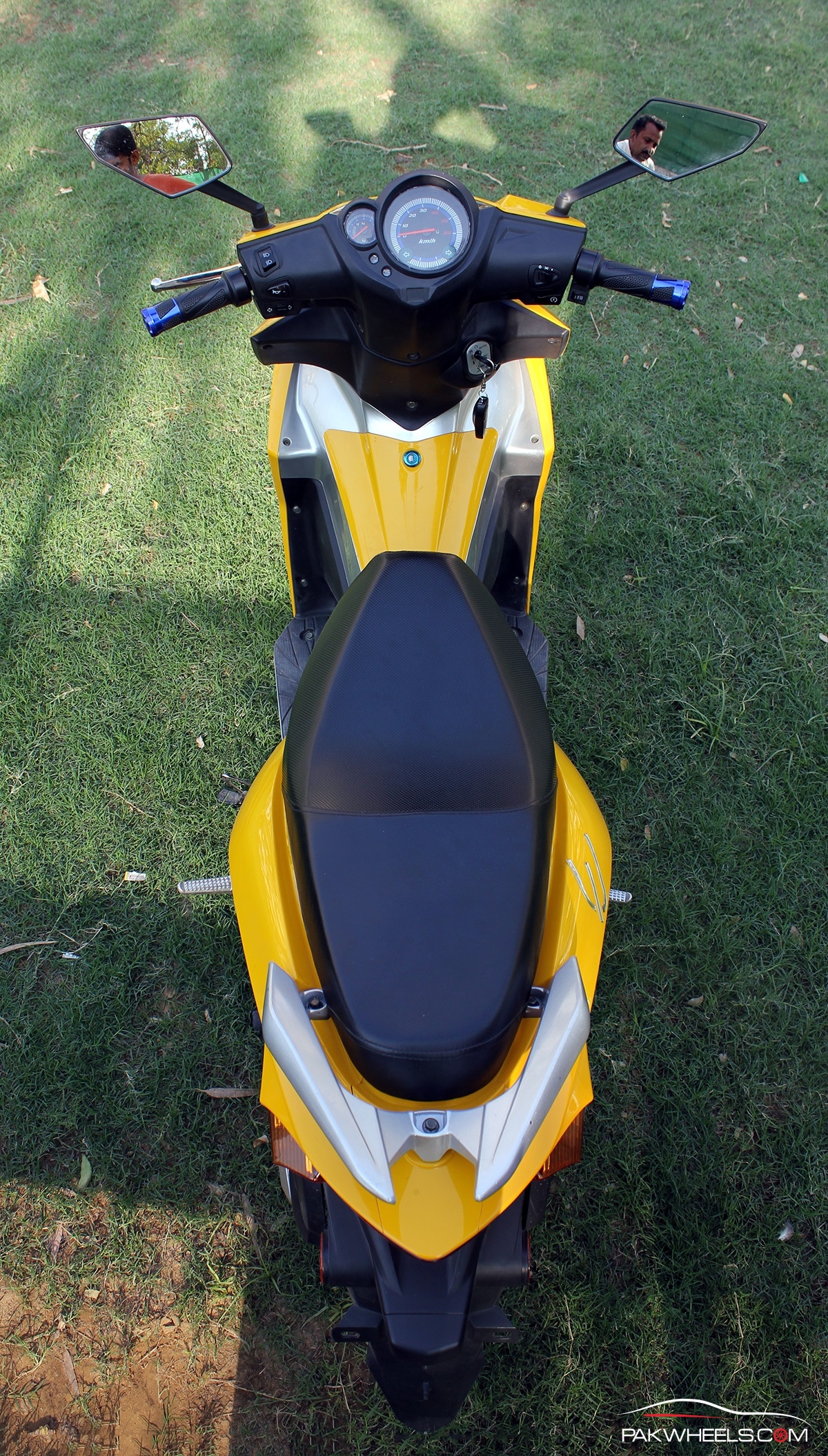 In terms of comfort, the bike did not disappoint us. The seat is comfortable for two full sized adults weighing over 170 pounds each and it gets a little cramped when you put three adults of the same size (Yes. We tried that just for the sake of this review). The ride quality is very good on properly paved roads but as soon as you get on a road with inadequate carpeting or patches, the ride quality deteriorates and you feel vibration in your hands; all thanks to the small wheel size which provides less air cushioning. On unpaved metal roads, the ride quality is surprisingly good and the bike takes the potholes and bumps easily due to its soft suspension.
As with any electric vehicle, the bike makes minimal noise when running and it is barely audible in traffic. There is no self-starter or kick-starter in this bike, obviously because it is an electric bike. You just have to switch on the ignition and it comes to life silently. There is no sound when you switch on the ignition so you have to rely on the battery indicator to see whether it is ON or OFF.
PERFORMANCE
In an electric bike, how fast it goes is not as important as how far it goes. In my experience, I could not test it fully how far it goes due to the scarcity of time but I did test how fast it goes. The bike goes up to a maximum speed of 50kmph as opposed to the claimed top speed of 60kmph. The speed comes down to a 45kmph as the batteries discharge. The bike can haul two full sized adults without any problem and the weight does not affect the speed on straight roads but it makes an effort when you take it on ramps or flyovers. Acceleration on the E Bike was smooth and quick due to the electric motor and automatic transmission. The acceleration was quicker than that on the 70cc motorcycle. Just switch on the ignition, twist the handgrip and you are good to go.
ECONOMY
We could not test the economy of the E Bike thoroughly as we only had the bike for 24 hours and it takes more than 8 hours for the batteries to be fully charged. The company claims this particular model runs for 80 kilometers per charge, which I think is a bit optimistic considering the performance reduced after only riding the bike for 40 kilometers due to less current remaining in the batteries. I think 60-65 kilometers per charge is a good estimate of the economy of this bike. It is also to be noted that I rode the bike for long distances and electric vehicles consume more power when driven constantly at their full speeds. If you ride this bike in traffic, it will give you a better economy, as opposed to the conventional motorcycles.
VERDICT
To sum it up, the initiative of introducing something new in the monopolistic auto industry of Pakistan should be commendable as it is a bold move for a small player like TAZ Trading compared to Atlas Honda and other motorcycle manufacturers and importers, but I think the product itself has a long way to go if they plan to replace the 70cc motorcycles with electric motorcycles. Sure, the product is very economical but it is not very practical for long hauls. If you want to go to a place which is 5 to 8 kilometers far from your place, this bike is good but if you want to go to a place which is 20 kilometers far, then you will get frustrated with the constant low speeds. Also, the amount of time it takes to fully charge the bike is too much as compared to refueling a conventional motorcycle. You have to leave the E Bike connected to the power outlet overnight for it to get fully-charged and if you are like me, who lives in an apartment, then charging the E Bike becomes a challenge as apartments do not have personal garages and finding a power outlet for that long is next to impossible.
However, if you have a garage at your house, you live near your office or university and want an easy-to-ride eco-friendly mode of transportation, then this bike is for you.