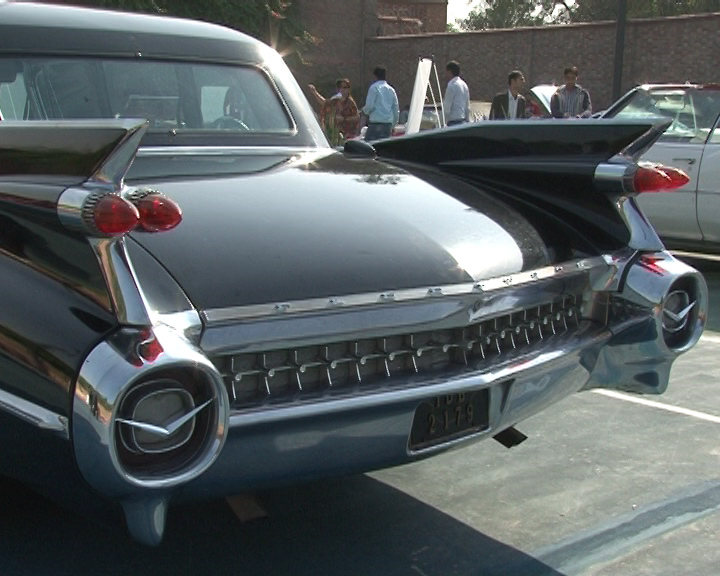 Former car of Ayub Khan along with 70 other vintage cars attract visitors in Lahore
LAHORE: Cadillac Fleetwood 1959, the ex-car of former President of Pakistan, Ayub Khan was showcased at the 5th Annual Vintage Car Show arranged by VCCCP on Sunday, 16 November 2014 at Royal Palm Golf & Country Club, Lahore.
The graceful and solid looks of the '59 Fleetwood attracted many visitors at the vintage car show in Lahore. However, this was not the only well-preserved vintage car present at the show. There were around seventy other vintage and classic cars from all around Pakistan present at the show.
Cars like 1949 MG Y, 1954 Chevrolet, 1957 Austin Healey, 1957 ThunderBird, 1976 Cadillac El Dorado, 1986 Jaguar XJS and 1947 Buick – the oldest car at the event – grabbed the attention of the visitors.
"Our primary goal at the Vintage & Classic Car Club of Pakistan is to provide a platform for all classic car enthusiasts in the country. We are always very excited to provide an opportunity for people to bring their vintage cars back to life by participating in events such as Vintage Car Show," said Mohsin Ikram, President of the VCCCP.
The event was attended by several politicians and celebrities from Lahore, who encouraged the great efforts of bringing vintages cars in city of cultural heritage hub and hoped that such events will be continued in future.
Scroll through the gallery to see the photos from the event: