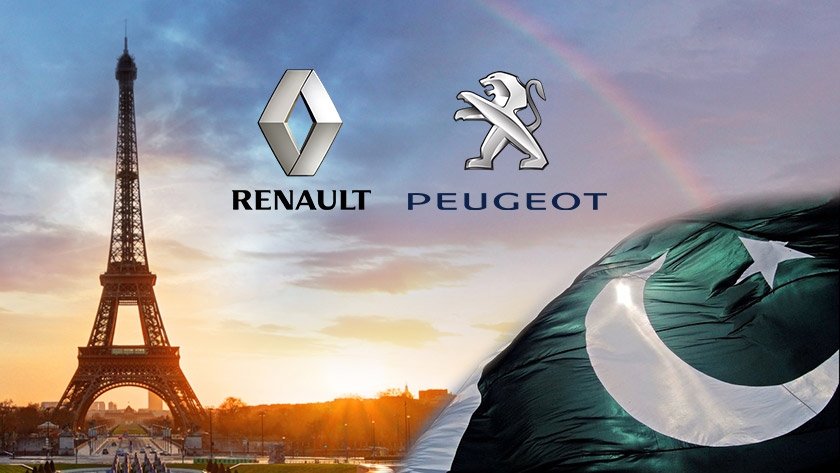 Ishaq Dar, the Finance Minister of Pakistan was on a visit to France during the past few days. This visit lasted four days, during which he met the representatives of Renault and Peugeot; the two of the largest auto-manufacturers of France. These meetings were held in Paris, where the Federal Finance Minister of Pakistan gave a briefing on the country's new Auto-policy for the next five years. This briefing featured information on the new auto-policy.
Also Read: Cars That European Automakers Should Bring To End The Reign Of Suzuki Mehran
The Federal Minister for Finance talked about the improving economic conditions of the country in the past three years. He also talked about the rising automobile sales in the country, which are credited to the improving economical and socio-political conditions of the country. Furthermore, the Finance Minister also invited both Renault and Peugeot to establish their auto-manufacturing factories in Pakistan. In response to the country's improving economic conditions, Renault and Peugeot have lauded the efforts by Pakistanis on achieving these milestones and have expressed their interest in the prospect of investing in the country. It is also worth mentioning that the Ambassadors of both France and Pakistan, along with the Chairman of Investment Board Mr. Muftah Ismail were present with the Federal Minister of Finance at this tour.
Moreover, a delegation from Nissan and Renault met up with the officials of Board of Investment and Engineering in September 2015 and expressed their intent to install their auto-manufacturing factories in Pakistan. However, at that time the new auto policy for 2016-2021 was not finalized. In April 2016, the representatives of Ghandara Nissan, Renault and Al-Fateem Motors met up with the officials of Board of Investment and formulated a plan to sale new cars under the brand of Datsun. According to the new auto-policy, if Renault decides formulate a partnership with Ghandara Nissan and do business in Pakistan, the auto-manufacturer will receive B-Category considerations, which implies less duties on the imports.
Read More: 5 Things In The New Pakistani Auto Policy That Can Change The Shape Of Our Auto Sector