Toyota Land Cruiser is undoubtedly one of the most loved 4-Wheel drive cars in the world. Land Cruiser is Toyota's longest running series. It is known for its durability and reliability. Toyota tests the Land Cruiser in the Australian outback, which is considered as one of the toughest terrains in the world. This makes it one of the most loved 4×4 cars in Australia. The first generation Land Cruiser was produced back in 1951 with 90 units. It was designed to look like a Jeep. The latest Land Cruiser (J200) is available in all markets across the globe except South Korea, North Korea, Canada and Hong Kong. However, the Lexus LX is available in Canada and Hong Kong.
Also, Check Out Toyota Land Cruiser 2018
Brief History of Toyota Land Cruiser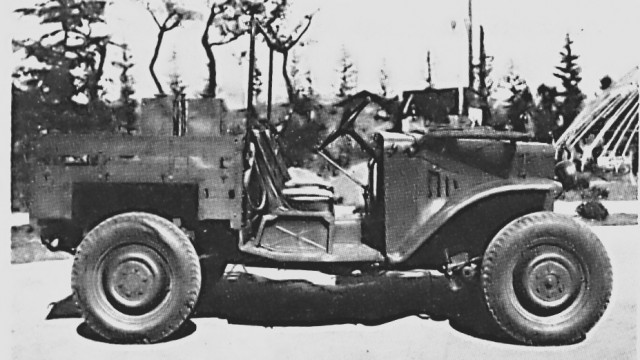 In 1941, the Japanese army had occupied Philippines and found an old Willy's Jeep, which they sent to Japan. The Japanese army ordered Toyota to make a car similar to the Willy's Jeep. Engineers at Toyota reverse-engineered a Bantam GP Jeep and developed the AK10 prototype. The AK10 had a 2259cc-4 cylinder engine. Few of the AK10 were used in battle and photographs of the car are very rare.
After World War II, Toyota made the BJ model which was completely different from the AK10.
TimeLine of all Land Cruiser vehicles
BJ and FJ (1951-1955)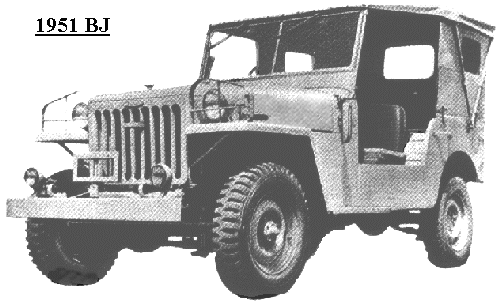 The Korean war increased the demand for light military vehicles. In 1951, the first generation Toyota "Jeep" BJ prototype was produced. The armies involved in the war demanded for military vehicles similar to British Land Rover Series 1. The Jeep BJ was more powerful and larger than the U.S Jeep, it had a 3.4 litre six cylinder engine. It is also the first vehicle to climb the sixth stage of Mount Fuji; no other vehicle had climbed that high. The term Land Cruiser was coined by technical director Hanji Umehara, as he wanted to give the car a name similar to its competitor "Land Rover". The BJ came with two engine variants; 3.4 L B I6 and 3.9 L F I6.
J20, J30 (1955–1960)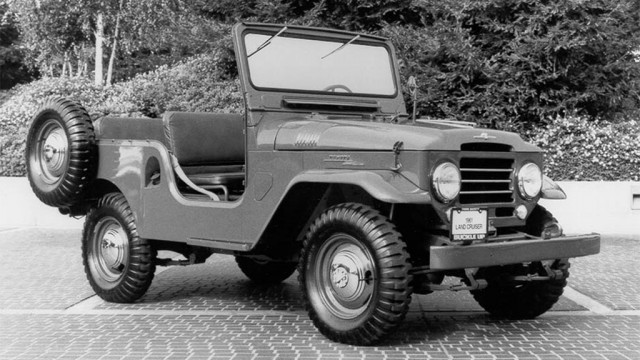 In 1955, the second generation of Toyota Land Cruiser was introduced. It was designed to look like a civilian vehicle to improve exports. This Vehicle had a more powerful 3.9 L six cylinder engine and a better ride quality. J20, had no low range gear, however it had synchronism in 3rd and 4th gears. In 1957, a 4-door station wagon version was introduced, which had longer wheelbase. Land cruisers, were the first Japanese cars to be regularly exported. They were first imported into Australia.
J40 (1960–1984)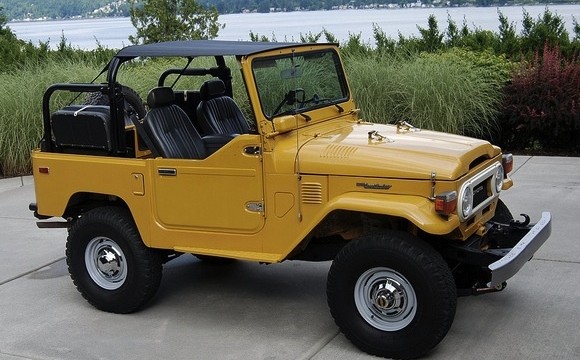 The J40 series were an upgrade of J20 series. J40 came with a 3.9L F engine, it finally got low range gears, though it still had the three speed main gearbox. In 1965, over 50,000 vehicles were sold globally. It was also the best-selling Toyota in the United States. J40s were produced in Brazil from 1968-2001 and they were called Toyota Bandeirante. Most of the J40 Land Cruisers produced were 2-door SUVs.
J70 (1984–present)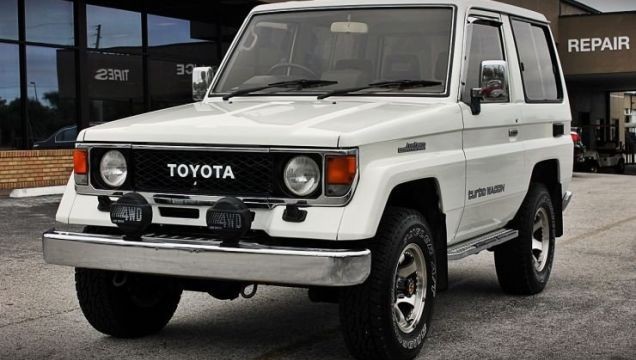 This Land Cruiser was introduced in 1984, as a soft top, hard top, Fibre-reinforced plastic top, cab-chassis, utility and Troop carrier. It had a four wheel coil spring solid axle suspension, which gave the car a better ride quality. In some markets, the car was called Bundera or the Land Cruiser II and later 70 Prado. J70 is still being produced today. The first version (1984) came with the following engine variants; 2.4 L (petrol) engine, 2L and 2L-T (turbo) 2.4 L diesel engine. The 2014-2015 model sold in Japan has a 1GR-FE V6 petrol engine and 5 speed manual transmission.
J50 (1967–1980)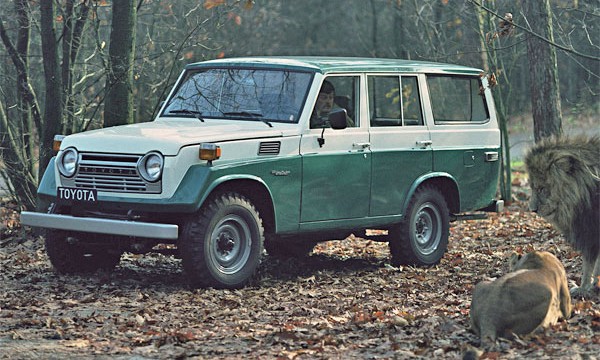 The J50 began production in 1967 and some variants, such as the FJ55G and FJ55V were referred to as the first "real" station wagons. In 1975, F engines of some variants of Land Cruiser's J50 series, were replaced by 2F engines.
J60 (1980–1989)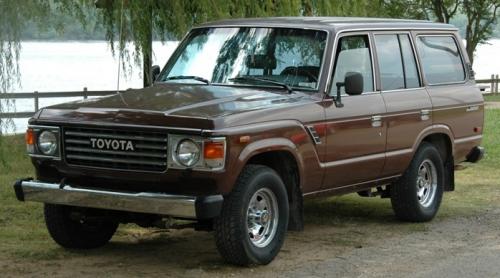 The production of the J60 began in 1980 and ended in 1990, though production continued in Venezuela until 1992. Like other predecessors, the J60 was known for its off-road performance. The J60 came with a 2F petrol (just like the one in J50). Two more engine variants were added in the production line, six-cylinder 4.0 L 2H and four-cylinder 3.4 L 3B diesel engine. In 1988, the petrol engine was further upgraded to 4.0 L 3F EFI engine.
J80 (1990–1997)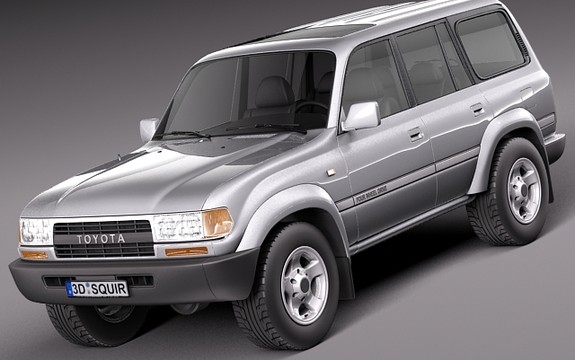 The car was launched in early 1990 and over 2 million vehicles were sold. The car came with four engine variants; 4.0 L 3F-E I6, 4.5 L 1FZ-FE I6, 4.2 L 1HZ I6 diesel and 4.2 L 1HD-T I6 turbo diesel. This car came with a lot of improvements in its gears and differentials. J80's production ended in 1997, however it was still produced in Venezuela till 2008.
J100 (1998–2007)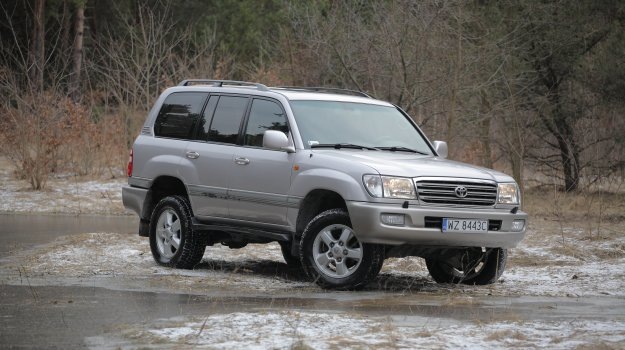 The J100 Series was previewed in 1997 at the 32nd Tokyo Motor Show and its production began in 1998. There are two versions of the 100-series that were manufactured, the 100 and the 105. The 105's chassis and powertrain were based mainly on the designs of the J80. The 105 models were mainly sold in Africa, South America, Australia and Russia. Toyota Land Cruiser J100 remained in production till 2007. J100 came with the following engine variants; 4.5 L 1FZ-FE I6, 4.7 L 2UZ-FE V8, 4.2 L 1HZ I6 diesel, 4.2 L 1HD-T I6 turbo diesel and 4.2 L 1HD-FTE I6 turbo diesel.
J200 (2007-Present)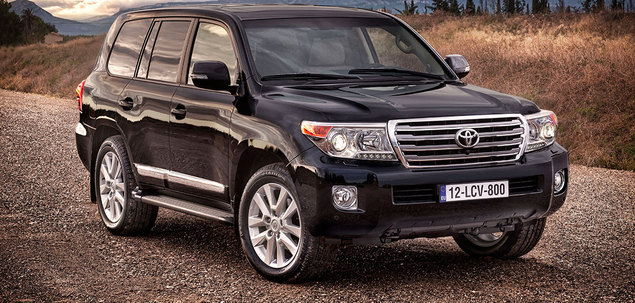 The J200 was produced in 2007; it came in with a lot of modern equipment, an improved interior and an improved engine. It comes with bigger brake rotors, callipers and a heavy front suspension. It comes in 5 different engine variants; 4.0 L 1GR-FE V6, 4.6 L 1UR-FE V8, 4.7 L 2UZ-FE V8, 5.7 L 3UR-FE V8, 4.5 L 1VD-FTV V8 turbo diesel. Since its launch, the J200 series has seen a number of facelifts.
Toyota Land Cruiser and Toyota Hilux have been known for their reliability and durability. Many armies across the world use this car as a military Vehicle. Militant groups like ISIS have been using these cars as well.