When buying a car, the buyers majorly look for something that is fuel efficient. In fact, to some, having a fuel efficient car matters more than its design and features. Many local cars today offer impressive fuel consumption figures. Pakistani drivers prefer and base their buying decision on many different factors however the amount of fuel a car consumes is one of their primary concerns which is why in Pakistan, a fuel efficient car is considered as the best even though it may not offer proper safety features.
Also Read: What Is Hypermiling And How Can It Save You Fuel In Pakistan
There are a number of ways one can save fuel in a car. Some of which are:
Accelerating a car slowly and not too fast
Not using the Clutch much
Using the right gear at the right speed
Servicing the car on time
Ensuring right pressure of air in the tires
The above mentioned are just a few tips on how to save fuel.
Here is a list of cars available in Pakistan with their respective mileage in Urban and Extra Urban cycle.
Urban Cycle means that the fuel efficiency tests were carried out in a laboratory, in which the car was accelerated at steady speeds, decelerated, and was kept idle from time to time. During the Urban cycle, the car in this cycle is put to a maximum speed at 50km/h, an average speed of 19km/h for a distance of 4km. We can assume the conditions are kept as if the car was running in the streets of a city.
Extra Urban Cycle is conducted immediately after the urban cycle. In this cycle, the car is kept at a steady speed, with a bit of deceleration and acceleration and some idling. The car is put to a maximum speed of 120km/h, with an average speed of 63km/h and is made to cover a distance of 7km. This test mimics the way a car is driven on a highway. Its results can be taken to be very similar to the mileage of a car on a Highway.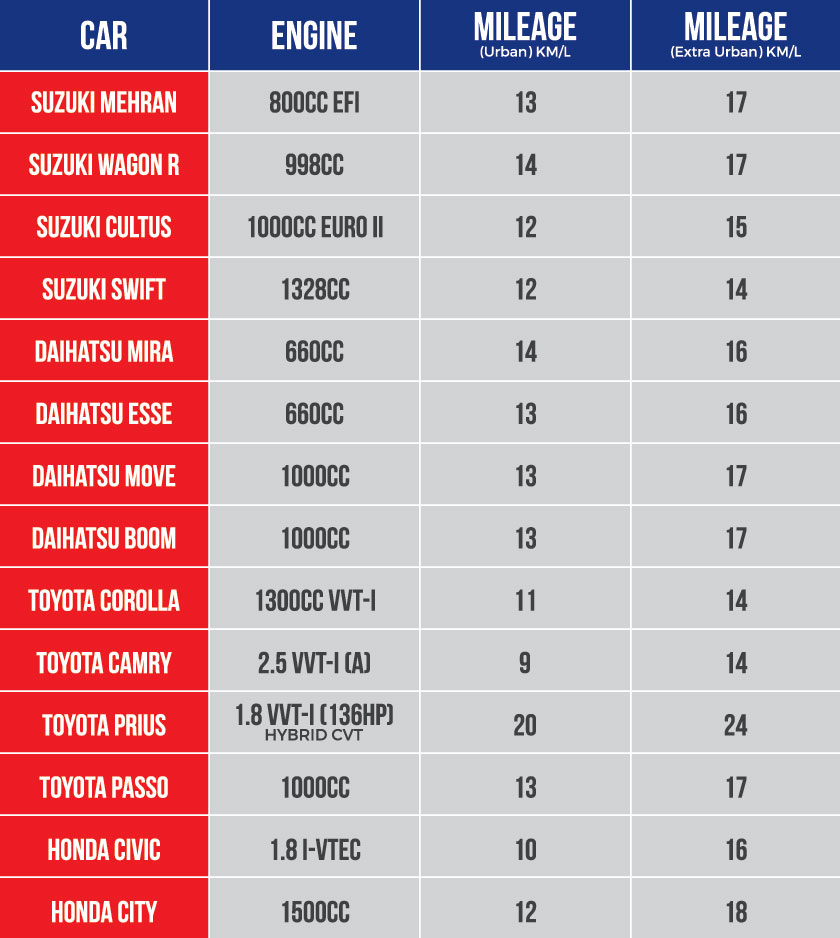 RELATED: Cars for Sale in Rawalpindi