The formal guide towards getting a driver's license in Karachi is a three step process which may span over a period of two months, for reasons which will be clear to you as you move ahead in this necessary development in your life.
It all begins with of course, obtaining an application and a medical fitness form, followed with getting them filled appropriately with NIC details and a couple of passport size photos. The medical and eyesight test report must also be attached so when the candidate submits the form to the relevant office, they may begin their process of data entry without any glitches.
Once your form is submitted to the registration counter, you will notice various fees for acquiring a license, but for a person getting their license made for the first time in their life, they will be moved to another counter, get their picture taken and will be awarded a 'Learner's License'. This marks the beginning of the second phase.
The second phase is to drive around with a Learner's License for 42 days, before applying for a permanent license.
The third phase is more theory and practical, but theory which introduces you to the concepts of 'Road Sense'. An enlightening to how you react on the road. This is called the theoretical test and it includes for you to pass: rules and signs.
Then comes the last part of obtaining your driver's license which is; practical test, this is where you actually drive a car and display actually well are your driving senses. Parallel parking, general road behavior and sign following, braking, etc etc.
You'll have to be at least 80% accurate to pass these tests to get yourself approved for driving on the road amongst one of the maddest traffic in the world.
Here's an infographic to sum everything up. (Click image to enlarge)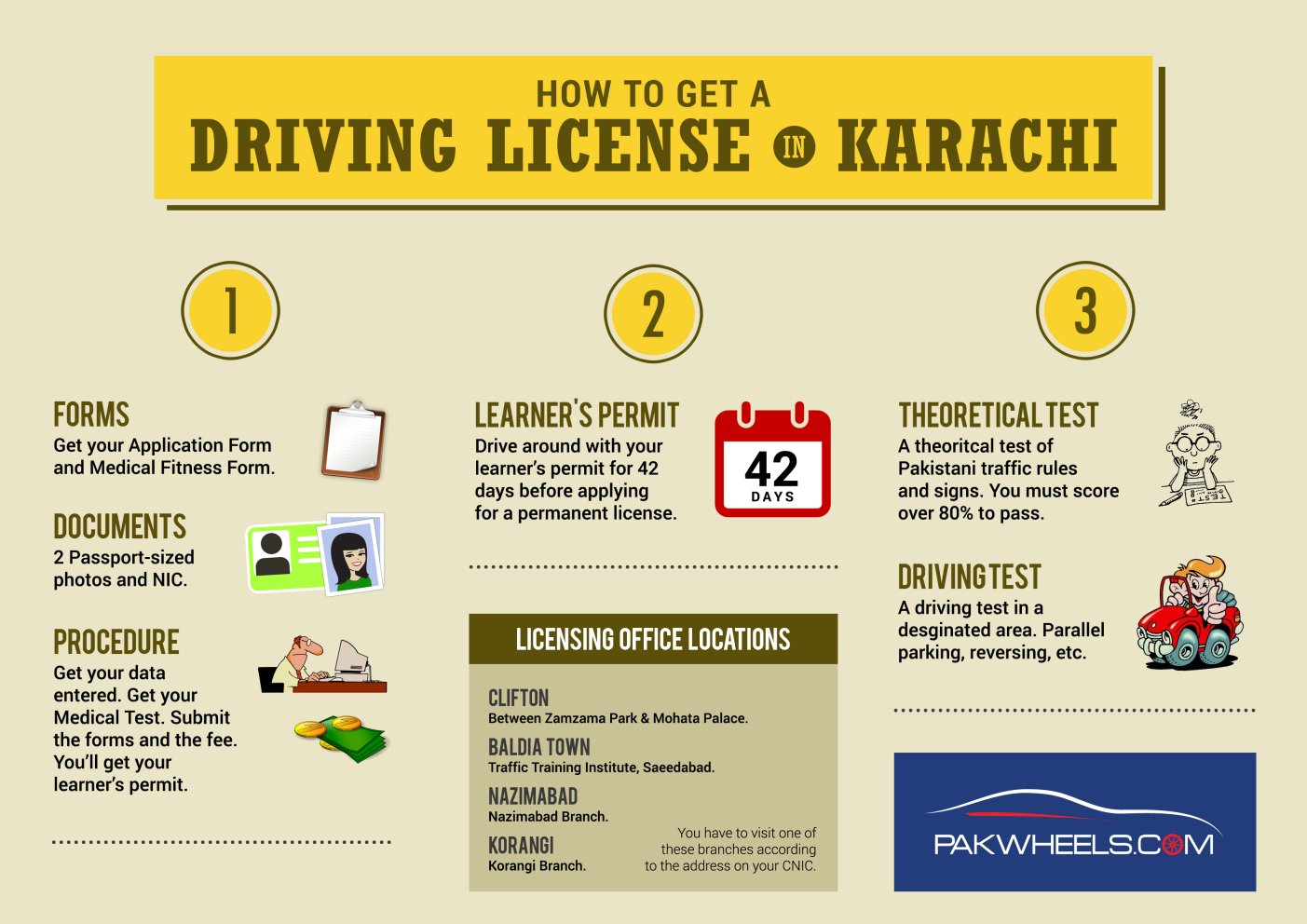 The forms required for getting a license can be found here.
The fee schedule for different types of licenses can be found here.

There are four branches of the Capital City Traffic Police Karachi. You have to go to the branch that corresponds to the address on your CNIC.
Clifton
Baldia Town
Nazimabad
Korangi
Office timings are:
Monday – Saturday: 9:00 AM to 4:00 PM (1:00 to 1:30 PM Lunch Break)
Friday: 9:00 AM to 12:30 PM
Here is a guide to Traffic Signs!