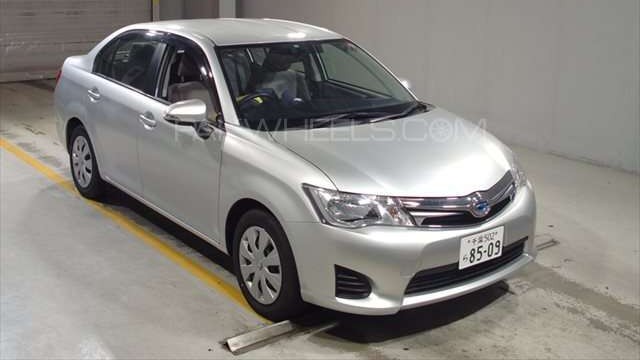 Give Pakistani Toyota Corolla A Break – Try The Imported Toyota Corolla Axio
By now Pakistan is well aware of the Japanese sibling of our local Toyota Corolla, the Corolla Axio, which first appeared in Pakistan not too long ago. Although shorter and narrower to suit the Japanese market and driving conditions, Toyota Axio is not an ordinary car! With a starting price of 1,466,837 Yens (13,790,08 PKR) which goes all up to 2,207,127 Yens (20,749,72PKR), Toyota Axio is a great option although prices are a bit higher in Pakistan after taxes. Still that isn't much of a problem because it matches the price bracket of our locally assembled Corolla.
I wanted to share a couple of my thoughts on why people should consider buying an Axio over a Corolla. To make things simpler, I have divided the blog into four sections; the exterior, interior, features and the performance of the cars. Before I start, the thing most of the people would be interested to know is the prices of the different variants available in Pakistan!
Toyota Axio is mainly available in 3 trims in Pakistan.
1.3X (1,900,000 – 2,100,000 PKR)
1.5G (2,200,000 – 2,500,000 PKR)
Hybrid (2,400,000 – 2,800,000 PKR)
Keep in mind since we don't get brand new Corolla Axio from an authorized Toyota dealerships in Pakistan, there is no off the shelf price. The price varies on a bunch of factors including the year of import, auction sheet grade, and general condition of the car, etc.
Also Read:  Toyota Should Make Some Real Efforts to Make The Corolla Altis Grande Standout
Exterior
If I have to define the exterior of the Axio in one word, then I would say "mature." There isn't much aggressive styling going on. There is ample amount of chrome on the front grill just like the new Corolla, but that also depends on the grade you buy. Higher grades have more chrome with better styling throughout. At 1460mm, Axio has the same height of that of the Corolla but sits lower to the ground! Overall I think it's a good looking car maybe not the most exciting, but looks are subjective! Some may love it some may not.
Interior
The interior of the new Axio is quite decent. It's made with a high quality material with some plastics here and there. It's all logically laid out, and the driver gets the hang of it very easily, nothing too complicated going on and doesn't feel high as compared to the interior of local Corolla. However depending on the grade there can be some changes as the lower 1.3X trim doesn't get the auto climate control, steering controls and a tachometer. Just like the Toyota Vitz it just has a big speedometer in the center console. Otherwise, the higher grades have all the goodies you can think of in a family sedan. Here is the comparison of the interior of Axio 1.3X (above) and 1.5G and above (below).
Features
You can get a fully loaded Toyota Axio with following features and safety equipment such as:
Keyless Entry
PUSH Start Button
Climate Control
6 Airbags
Cruise Control
CVT transmission
Radar Braking
Power Mirrors
Traction Control
Parking Sensors
Performance
Now this is my favourite part about any car. Just like me it's a very important factor for buying a car for many. When it comes to Axio, it has many engine options available mated with a CVT-i or Super CVT-i transmission. Let's start with the base 1.3L (1350cc). Unlike the Xli/Gli, Axio now has a better and more powerful 1.3L engine. It produces 95HP and 125Nm as compared to the 84HP and 110Nm of Xli/Gli. And that is quite good for a small engine. There is also a 1.5L Hybrid which produces 74HP and when paired with the electric motor has a combined output of 105HP and 162Nm. This particular engine gives an average of 30KM/L. Then comes the 1.5L which most of the people buy. It produces 109HP with 142Nm. I have the same engine in my car, and personally, I think it's very responsive and well refined. 0 to 3 digit comes under 10 seconds which is neck to neck with the 1.8L version in the Corolla Altis. Numbers aren't everything, and the way this car puts power to the wheels is just amazing. Overtaking isn't that much of a problem either. As this is a Japanese car, it just glides on the road giving a very smooth and superior driving experience compared to its local counterpart.
I am sure local Corolla has just as many pros, but these are just a few of the things that I believe make the imported Corolla Axio a better choice than the Corolla.
If you are planning to buy Toyota Axio, then head towards the PakWheels used car section where you can find many of these cars at a reasonable price. I assure you that you would not be disappointed!