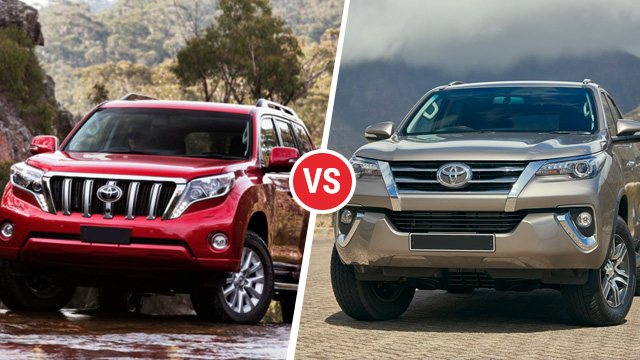 By now you might've heard about the New Toyota Fortuner and would be aware of all the developments in this regard. Apart from being an SKU, Toyota Fortuner is the only locally assembled SUV in Pakistan and thus enjoys the benefits of comparatively lower price tag as compared to other options with this much engine displacement. So, naturally I thought to write a small comparison to highlight the differences between the new Toyota Fortuner and Toyota Prado. Generally, nobody compares both these SUV's, primarily because of:
Price Difference
Feature Difference
Maintenance Difference
Build Quality
Equipment on board
Also, Check out Toyota Fortuner 2018
But this new vehicle is being portrayed as a major improvement from its previous model. As you can guess this is not going to be a detailed comparison, because Toyota Fortuner is not (yet) available in the market, so we will have to wait till the vehicle comes out to properly formulate a road performance comparison between both these vehicle. For now though, it's all about a comparing both these from their literature available.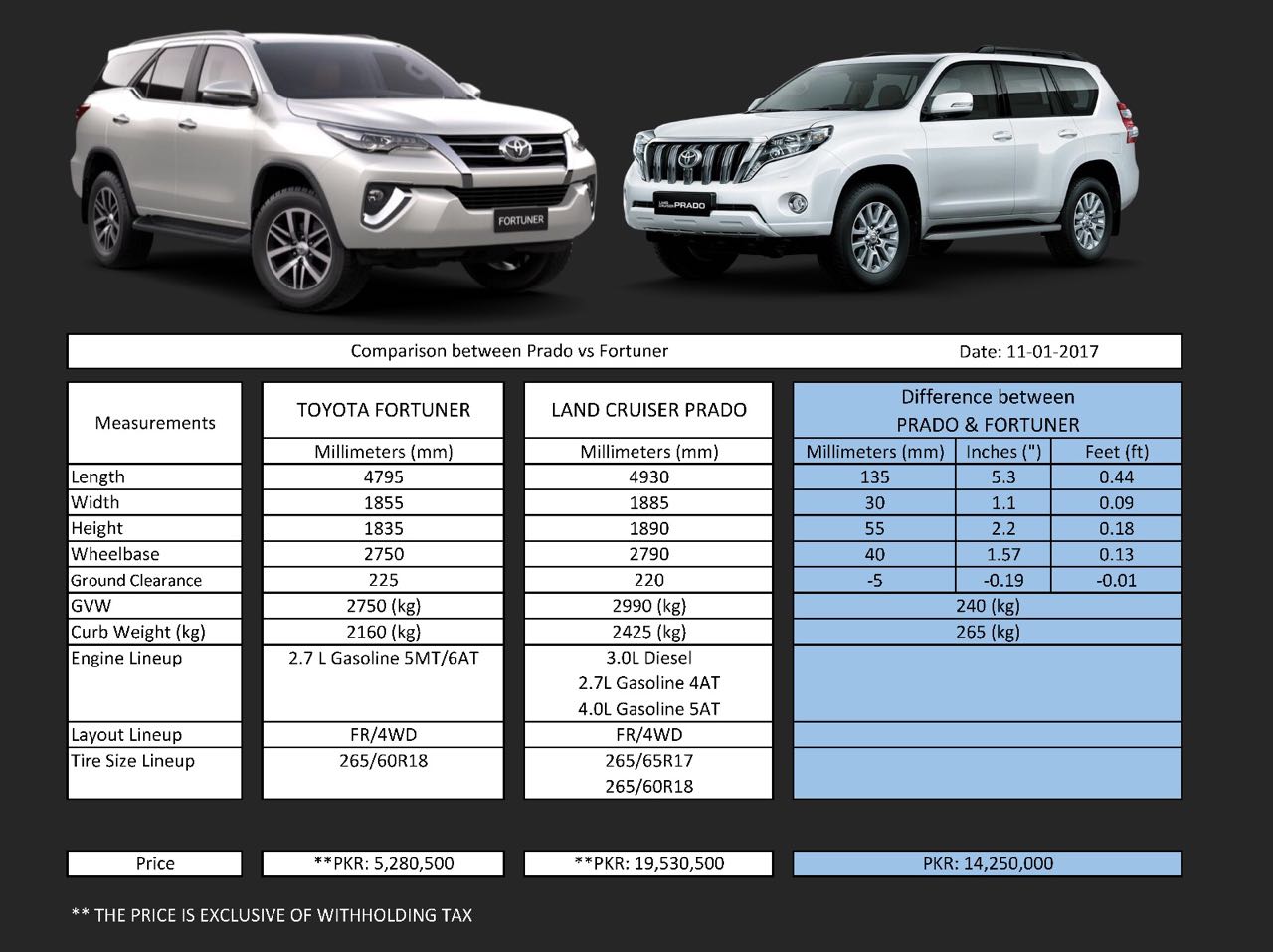 Major Differences in Physical Appearance:
Straight away many readers will be able to point out that Prado takes the lead in almost all of the above mentioned categories, whether it be curb weight, length, width, height, wheel base or engines. So what's the point of comparing them both? Apparently, IMC is trying to promote the idea of buying the new Toyota Fortuner instead of opting a 5-10 year old Toyota Prado, which I personally think is a good approach, because after all let's be honest; a 10 year old SUV will not have the modern amenities. In essence, IMC is laying out its argument on the price difference and features of this SUV and why not, you'll be able to buy three Fortuners and a Altis Grande in the price tag of one Toyota Prado. And once you inspect both SUV's closely you'll notice that feature DRL's and Projection headlamps.
What about Equipment on Board:
When it comes to equipment, Prado certainly takes the lead in number of airbags and heated seats. PW sources reveal that the new Fortuner will only be featuring leather seats with height adjustment for driver, while the rest will be simply come with slide and back-rest adjustment. Okay, but what about the infotainment? If we talk in terms of speakers than Prado beats Fortuner with 11 speaker, as Fortuner will only be coming with 6 speakers. However, everything isn't bleak as it seems, IMC has fitted cruise control and paddle shifters in the new Fortuner. Additionally, Fortuner will also be featuring following amenities in its connecting station:
Rear Camera
Front Camera
Voice Command
Wi-Fi Enabled
Air Gestures
Miracast (A feature which mirrors a connected mobile device on the Fortuner's connecting station.
8' Screen Size
Satellite Navigation
Final Thoughts: 
It is quite clear that Prado is bigger, better and higher end variant as compared to Toyota Fortuner. But where Prado exceeds the price mark of 19 million rupees, Fortuner falls short at just 5.2 million (non-exclusive of withholding tax). On paper, Fortuner seems an ideal (budget) SUV, but we'll have to carefully conduct a review on the real thing to formulate a comprehensive comparison. On top of everything, Fortuner will also have to be pitched against imported SUV's which fall in this price range to see what are it's shortcomings and positive points. Nonetheless, it's good to see that Pakistanis are getting a lot of vehicle, but while higher end vehicle are well and good, they fall short for a mid-level consumer. Time and time again, experts have predicted that Pakistani market is economy car centric and any new variant in this class is guaranteed to have a good success rate. Why local auto-manufacturers fail to acknowledge or address it is conundrum which is likely to never be solved?