A friend of mine suggested me to write a comparison report between the imported 660cc JDM cars and the locally built hatchbacks, of which there are a few. But before I begin writing on about the actual comparison, here's an insight: I currently own a 2009 Honda Life, it is a 660cc JDM and is many ways (especially interior), similar to Daihatsu Move, Mitsubishi EK Wagon, and the lot. While on the local car front, we have many options such as Mehran, Cultus, Cuore, Santro, and Swift to put against Honda Life. However, my story will be based on facts. So here goes:
On a hot day of May, I had to exit the office for some reason and as I sat on the back seat of my car under this bright and shiny sun, there is ease of getting in and out of the back seats and once you're in them, there is a lot of leg space and even a 6'0″ tall person has ample space left so, I adjusted my seat and crossed my legs and boot up my laptop to look into some office work that I couldn't within the office.
The most ridiculous thing about local hatchbacks (except the Swift) is that there air-con work mildly during the day and work rather well at night. Here, in the Life, the air-con works like a charm, performs very well even in this weather.
Then there's a cup holder right next to me and on every door, you don't get one of these in Mehran. An armrest and a tray to hold my mobile (I don't smoke) so that every message and call can be attended without reaching in my pocket every time. The speakers on every door play music that is vivid and crisp. I cannot afford a Mercedes or a BMW, but in this budget, this is the closest I can get to some level of luxury. You can't even half expect in your local hatchback of what I have in the Life, I mean Honda Life.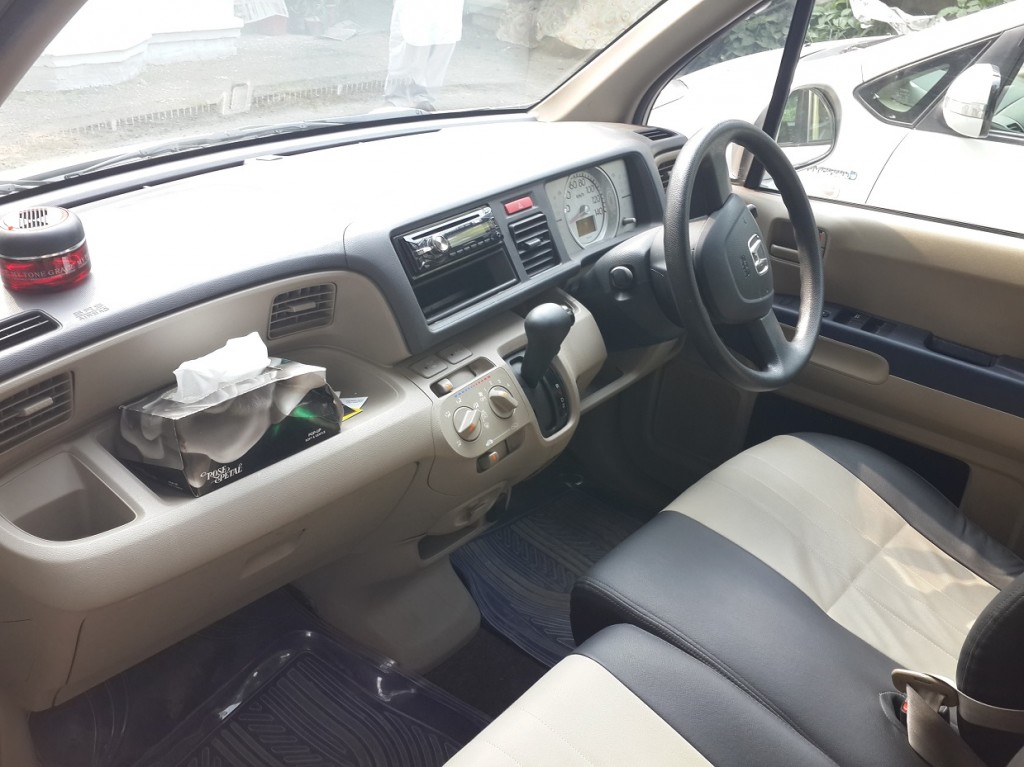 I have a driver therefore, I was a passenger in the backseat but if you have to drive this car yourself, it is as simple as ABC as well. The in-dash gear saves space in the gear area of normal vehicles and Pakistanis may squeeze three people on the front seat as well. Just hop on, set the car to D mode and enjoy the drive. The electronic steering is as light as a feather and virtually effortless.
And once you've parked your car, the built-in immobilizer technology also ensures you will find it there once you come back. With all this, the car gives you 15-16 Km/L in city. In this budget, I'd say that it is a fair bit of bargain.
Now, if you would, please compare all these features with the local cars. Does it have this much space, features, comfort, fuel economy, etc. If no then, it is time to switch over to JDMs.
If you worry about spare parts and mechanics then let me assure you, that they are available, the skill and tech required to work on these cars is available, though it may not be as cheap as Mehran but then Mehran is just an engine from the early 80s connected with some wheels and a steering. Even Honda service stations provide maintenance services to my Honda life. The era of no spare parts or mechanics is long gone.
I made switched over to Honda Life from a Cultus VXL, and I consider it one of my best decisions. There is a world of a difference between these cars. If you want luxury in a limited budget, 660cc JDM is the right way to go. Or you can enjoy your local assembled car in the shelter of cheaper maintenance and good resale.
Here are few Guides you should read to know how to buy an imported car.
How to read an auction report.
Complete Guide on buying used imported car.
Here's how you can buy a good Prius.