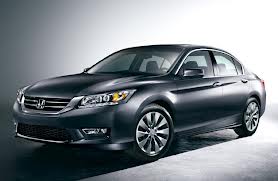 Honda Accord amongst the safest cars list of 2013
Insurance Institute for Highway Safety (IIHS) conducts tests each year about the safest cars so the stakeholders of the institutes, such as insurance companies may benefit from the results and devise insurance plans accordingly and the buyers too, may benefit from the outcome of the results, knowing which car would keep them the safest.
The list awards those cars which offer "superior crash safety", and although IIHS only evaluated 27 vehicles, here's the list of the safest cars nonetheless.
Only two luxury sedans made the list of 13 for 2013: the Acura TL and Volvo S60. The other 11 cars on the list included entries from domestic, Japanese and German car makers: Dodge Avenger, Chrysler 200, Ford Fusion, Honda Accord (sedan and coupe), Kia Optima (but not its close kin, the Hyundai Sonata, strangely), Nissan Altima, Subaru Legacy and Outback, Suzuki Kizashi and the Volkswagen Passat all made the grade.
Still, Pakistani buyers aren't best known for their interest in safety of car while making a purchasing decision but given the ridiculous price of an Honda Accord these day, you best may consider the BMW 3-Series which offered by Dewan at a good price of around 5.1 million rupees.