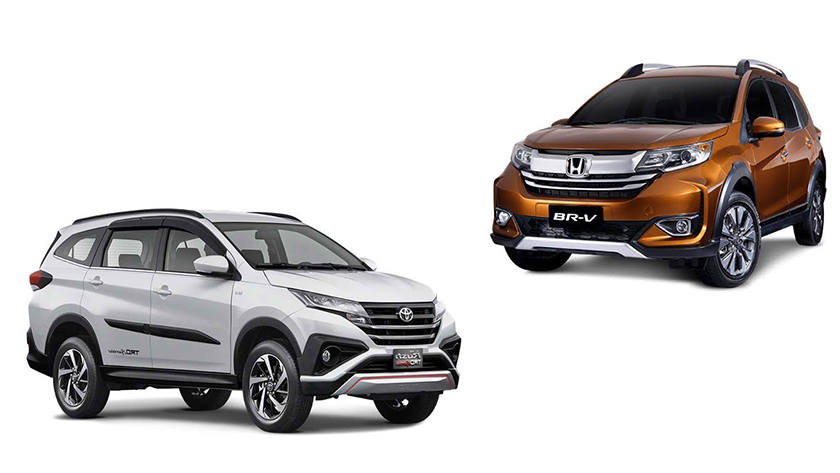 Honda BR-V facelift vs. Toyota Rush: Which one is better?
The MPV of Honda Atlas Cars Pakistan Limited, BR-V, was upgraded with several features and presented as the facelift 2019 model in the local market on 12th October 2019. The Japanese auto manufacturer has failed to sustain the sales of its vehicle in the past few months, which is probably why the company decided to introduce new features for its loyal customers. Just like all other cars in the local market, Honda BR-V has also lost the charm due to the economic slowdown process in the country. The extraordinary hike in prices of the automobiles has left the local automakers to struggle to sell their units. However, the introduction of new features in BR-V is anticipated as a leap towards regaining the lost charm, but it came at the cost of another surge in its price. In the local industry, Toyota Rush is another option in the MPV category, which also turns out to be the competitor of Honda BR-V in terms of features and specifications. This story is based on a detailed comparison between the two vehicles to find out which one offers more value for money.
Engine and Transmission:
Honda BR-V and Toyota Rush both are equipped with a 1.5-liter 4-cylinder engine. Honda BR-V is a front-wheel driven vehicle, on the other hand, Toyota Rush is a rear-wheel driven vehicle. The MPVs from both the Japanese auto giants come in either a manual or automatic transmission. The powerful engine of BR-V produces a maximum output power of 88 kW at 6600 rpm and a maximum torque of 145 Nm at 4600 rpm. On the other hand, Toyota Rush can produce a maximum output of 77 kW at 6000 rpm and as high as 136 Nm torque at 4200 rpm. The compression ratio of BR-V and Rush is 10.3 and 11.5, respectively. Both the MPVs are quite responsive in terms of acceleration and share almost similar sort of engine specifications.
Dimensions and Capacity:
Toyota Rush is comparatively more in body length as it extends up to 4435 mm as compared to 4353 mm of BR-V. The overall width and height of BR-V are 1753 mm and 1666 mm, while that of Rush is 1695 mm and 1705 mm. Toyota Rush also stands slightly taller than its competitor. The minimum ground clearance of Rush is better than BR-V as it stands 220 mm clear from the ground as compared to 201 mm. The wheelbase of both of them is almost identical, as is the case with the minimum turning radius. Honda Atlas has provided BR-V with 16-inch alloy wheels with a tyre size of 195/60 R16, while Rush comes with a tyre size of 215/65R16 under the same 16-inch alloy wheels. There is very little to differentiate between the two MPVs in terms of their body dimensions and capacity.

Braking and Suspension:
Both the Japanese auto manufacturers have provided their vehicles with the responsive braking system of ventilated discs at the front and rear drum brakes. Along with that, the front suspension of both units is equipped with MacPherson strut while the rear suspension is installed with a torsion beam.

Exterior:
Honda BR-V and Toyota Rush are both designed with aggressive looks. Toyota Rush, however, has a much better and muscular outlook as compared to BR-V. The headlights of BR-V are provided with halogen headlamps, whereas those of Rush is equipped with LED lamps with silver ornament. The headlights are accompanied by LED daytime running lights that enhance the vehicle's presence on the road. Fog lights are present in both the vehicles, and outside side mirrors are body-colored with integrated turn signals. The outside door handles are, however, chromed in case of BR-V while Rush has body-colored handles. Door visors are provided as a default in BR-V. Both of them have roof rails and chrome front radiator grille. The exterior of these vehicles is aerodynamically designed, which allows maximum fuel efficiency without any compromise on output power.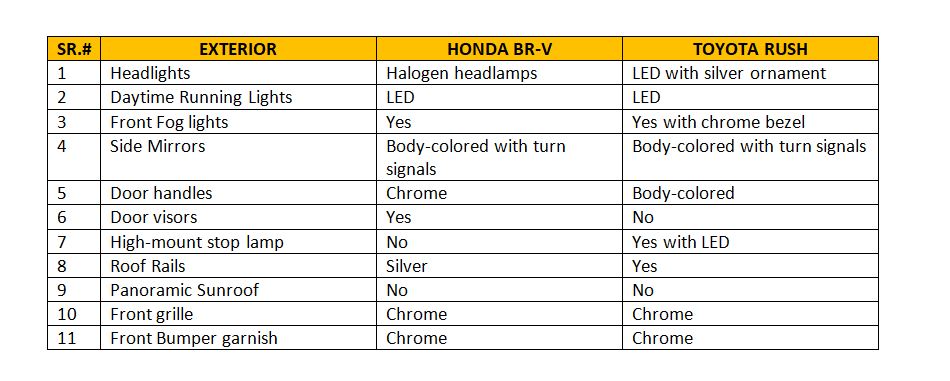 Interior & features:
Honda BR-V has a spacious cabin with a dual-tone interior that offers a refreshing feel to the passengers. Toyota Rush also comes with a stylish interior that has several features for the passengers to enhance convenience and comfort. Both the vehicles are powered by several common features that include smart entry with push start system , centre console, rear AC ventilation, driver's seat height adjuster, 3-spoke steering wheel, cup and bottle holders, 12V power outlet, head restraint, front and rear power windows, central door locking system, heater, assist grips, sun visors, chrome inside door handles, driver's seat belt reminder. Moreover, BR-V has a digital integrated air conditioning system, while Rush has dual-zone automatic air conditioning. In the recent facelift version, Honda Atlas has added the step garnish in its BR-V, which doesn't come in Rush. For added convenience, tilt adjustment is provided in the steering wheel of both vehicles. The steering wheel also comes with integrated audio controls.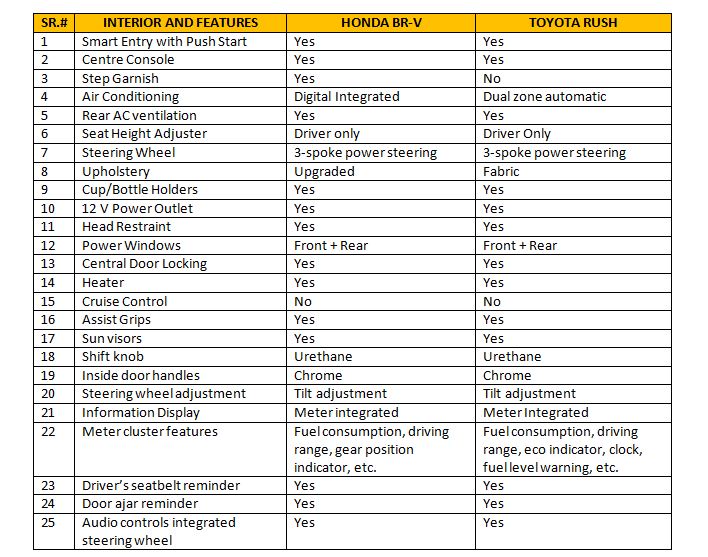 Connectivity and Entertainment:
Both of these MPVs from Japanese automakers offer entertainment features for the passengers. Honda BR-V is equipped with a 7-inch display audio system, whereas a capacitive touchscreen of the same size is installed in Toyota Rush, and it's also powered by Apple Car Play and Android Auto connectivity. Other basic connectivity features, including Bluetooth, USB port, AUX, and hands-free telephone, are also available in both the vehicles.

Safety and security features:
When it comes to the safety of the passengers, Toyota Rush offers more features as compared to Honda BR-V. In general, Toyota Indus vehicles in Pakistan offer much more safety and security than Honda Atlas vehicles. Honda City still lacks any basic safety features in all its variants. Toyota Rush is equipped with as many as six airbags that include one for the driver and the front passenger each, two more on the front sides, and two as curtain shields. The presence of six airbags reduces the chances of injuries in case of a collision significantly. On the other hand, there are only two airbags in Honda BR-V (one each for the driver and passenger). Both vehicles have 3-point ELR seat belts at the front and rear seats, but those present in Toyota Rush are provided with force limiters. The rear center seat belt is also available in both the MPVs for the middle passenger. Another important safety feature for children named as ISO Child Fix is also present in both vehicles at the rear side. Furthermore, the anti-lock braking system (ABS) is present in both vehicles, along with an electronic brake distribution system (EBD) that ensures a much improved braking experience.
BR-V and Rush are equipped with a security alarm system that ensures the security of the vehicle. They are also provided with an immobilizer keyless entry system for added security and convenience. Toyota Rush is further powered by several unique features that are not present in BR-V. It includes Hill Start Assist Control that helps while moving up the slope and prevents rolling back of wheels. It also has a traction control feature along with the vehicle stability control system. Rear parking sensors are also present in Toyota Rush that helps in parking the vehicle safely. Overall, Rush is powered by more safety and security features as compared to its counterpart.
Available colors:
Honda BR-V is available in the local market in as many as seven colors while Toyota Rush comes in six different colors. The detail of the available colors is given in the table below:

Price:
As previously mentioned, the top of the line variants of the two vehicles was compared in this story. There is a considerable price difference between the two MPVs available in the local sector. Honda BR-V auto version comes in Rs.3.249 million, whereas the Toyota Rush auto version costs Rs.5,220,000/-. Note here that these prices are ex-factory prices of both the vehicles.
See the video review of BR-V facelift below:
View the Toyota Rush review below:
Nonetheless, the prices of both vehicles have gone up significantly since their launch in the country. That's it from our side. Which one among the two do you think gives more value for money? Let us know in the comments space below and stay tuned to PakWheels for more updates.