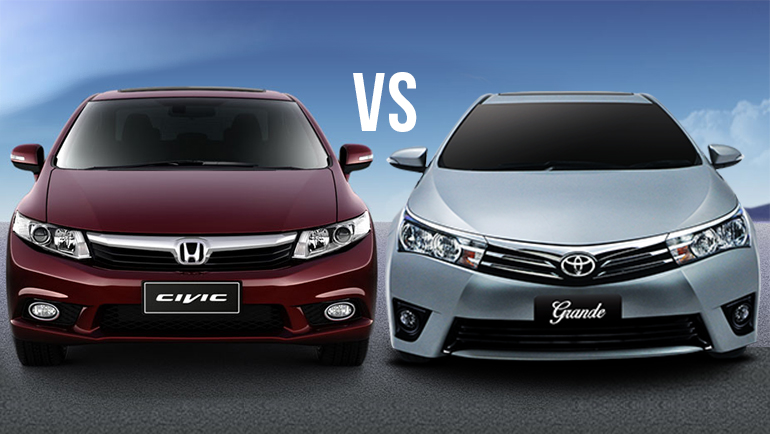 Comparison: Honda Civic Oriel Prosmatec VS Toyota Corolla Altis Grande
As abundant as these two cars are in Pakistan, believe it or not, we get a lot of requests to write about these two and most of them demand a fair comparison. Both of the cars have their merits and demerits. And both cars have their fan-following. Honda fans defend and adore their cars to the limit and Toyota fans, support their cars to the other end. Considering new Honda Civic 2016 will be hopefully launched in the second half of the next year, the current Civic is on its last leg. But the 11th generation Corolla is still young and in full bloom, enjoying the status of being one Pakistan's most successful car.
New Toyota Corolla is selling like hotcakes. You have to pay an incredible amount of premium if you want to drive one right now. Otherwise, the delivery time for a new Corolla is something like four months. Although Indus Motors claim you can get your Altis Grande 1.8L in 30 days. Corolla 1300cc is the most popular variant of them all. The Corolla Grande is top of the line variant and costs the most. Honda Civic, on the other hand, hasn't been able to sell as much as one would expect. One primary reason can the expected launch of the new shape. At the year end, auto consumers stop to buy new cars anyway. Since it makes their car a year older otherwise, so they prefer to buy a new car in the next. Honda City was being sold on PKR 40,000 premium just a few months ago. Now you can walk into the dealership and buy a new City at the ex-factory price.
RELATED: 2016 Honda Civic Launch Event
The driving experience of a car varies person to person. So what I like about one car might now be of your liking. Therefore, I will not add anything personal in the article. However, I will add feedback I have read, heard and talked about with respective car owners over the time about both cars. Those could be both negative or positive.
Toyota Corolla Altis Grande
Before I start, here are the specs of Corolla Altis Grande at a glance. Keep in mind I am only using the top of the line Corolla for the comparison.
•    Price: PKR 2,319,000/-
•    Water cooled, inline-4 DOHC with Dual VVT-i [2ZR-FE]
•    Sequential Fuel Injection
•    CVT-i [7-speed sport sequential shiftmatic mode]
•    Paddle shifters
•    Cruise control
•    4 wheel disc brakes [ABS + EBD + BA]
•    EPS with audio control steering wheel
•    55-liter fuel tank
•    Sunroof
•    Eco Monitor
•    8" touch LCD entertainment system + 6 speakers + rear camera
•    138 BHP and 173 Nm of torque
Exterior
Toyota Indus Motor Company launched the current shape of the Corolla in the July of 2014. Since then, it has been a hot favorite of Pakistani nation. The car was a complete departure from its previous squinty and average looking car to its current modern and swooping looking smooth and curvy lines. The side profile of the front of the new Corolla has soft lines yet looks modern and aggressive. The shape and design of the car were generally liked and praised on its launch back in 2014. The car is offered with a 15" alloy and 195 profile General tyres. The car was originally made to fit at least a 16" wheel. The 15" alloy even with the 195 profile tyre looks smaller under the wheel arch. It gives the car a look like it's on spacers. Altis Grande has a chrome lining door handles; chrome rear garnish and chrome plated front grille. Retractable side mirrors come with turn signals and front bumper houses fog lamps. Altis Grande is available in 9 colors.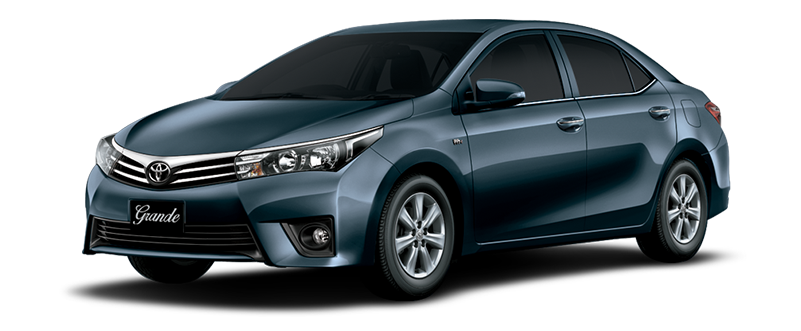 Interior
The interior is ivory themed, and you can have it with leather seats. Toyota has increased the leg room in the current Corolla compared to its previous iteration. Front seats are bucket type and come with height adjustment. The rear seat can be reclined for extra comfort. Corolla also has a flat rear footbed area. Center console between the middle of front two seats come with cup holders. The steering is leather stitched and comes with audio controls for the Android-based infotainment unit. Altis Grande comes with sunroof and plenty of storage places. You will also find a 12V/120W power outlet as well. The interior is otherwise spacious, comfortable and generally a nice place to be in. The materials are smooth to touch and don't feel cheap.

Engine and Transmission
Toyota launched the Altis Grande with a Duel VVT-i 1.8L 2ZR-FE engine and a CVT. CVT-equipped cars are known for giving better fuel economy than cars with a conventional automatic transmission. 2ZR-FE is equipped with sequential fuel injection or SFI. In SFI, the injector sprays the fuel right when the inlet valves open. It prevents the unnecessary consumption of the fuel hence improving the fuel economy. Since the car come with paddle shifters, it drastically changed the feel and drive of the car.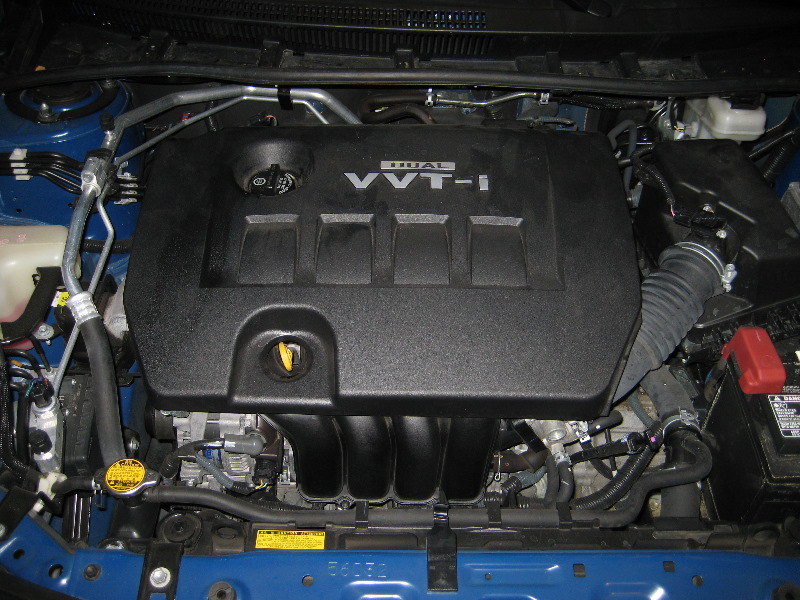 The current 9th generation Honda Civic was launched by Honda Atlas in 2012. A facelift was introduced in second half of 2015 along with a bunch of minor cosmetic changes including new leather seat covers. Unlike Corolla, Civic comes with the same 1800cc engine for all sorts of variants and options. But before we get into details, a brief snapshot of the top of the line Honda Civic:
•    Price: PKR 2,392,000/-
•    Water cooled, inline-4 SOHC with i-VTEC [R18]
•    5-speed automatic transmission (Prosmatec)
•    MPFI (Multi-point fuel injection)
•    EPS
•    Four wheels disc brakes [ABS + EBD]
•    Cruise control
•    Sunroof
•    Keyless entry and immobilizer
•    E-CON
•    In-dash CD changer (optional multimedia system)
•    Auto climate control
•    Euro 4
•    141 BHP and 174 Nm of torque
Exterior
The 9th generation Civic was slightly raised compared to the 8th generation Civic. And that led to owners complaining about the lack of road grip as good as the 2006-2011 Civics had. Honda's are always supposed to be superior when it comes to road grip and handling compared to Corollas. Although Honda owners still argue the grip/handling of the current Civic is still better than the Corolla, but it's not better than its previous incarnation. 8th generation Civic looked quite revolutionary as far as its design was concerned. But it feels like Honda played safe with the 9th generation Civic. It looks like any other sedan on the road. But in my humble opinion, if you just slap some nice minimal body kit (front/rear lips and side skirts) on it along with better (bigger) alloy wheels, it looks fantastic. The overall shape is sleek, and body lines are slightly edgier. You will find hints of chrome here and there, but it is not overdone. The rear of the cars somehow looks lifted from the rear side profile. The front grille has honey-comb design and front bumper houses fog lamps. Civic is available in seven colors.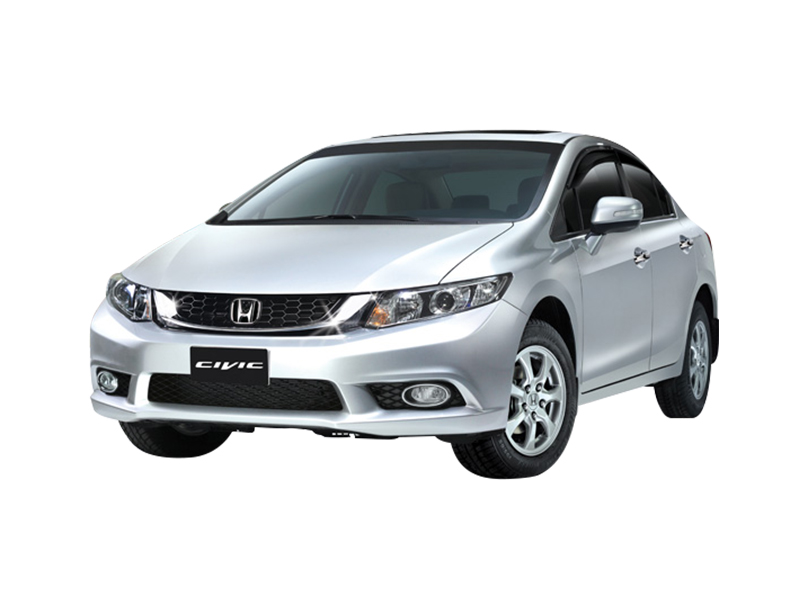 Interior
Oriel Civic had the same grey/beige interior until recently when Honda Atlas started to offer tangerine colored leather seats as well. The dashboard is two toned, and you will find Honda's 5" LCD i-MID (intelligent multi-information display) system behind the steering wheel. Like Corolla, Civic also has a flat rear floor. Although Civic was the first to come up with the flat floor in Pakistan. You will find a handful of storage spaces and compartments in the interior. However, people argue the rear headroom and legroom in Civic is not as much as Corolla. If you want a multimedia system, you will have to pay extra. Otherwise, Civic comes with a simple CD and radio system. SRS airbags are standard in all Civics.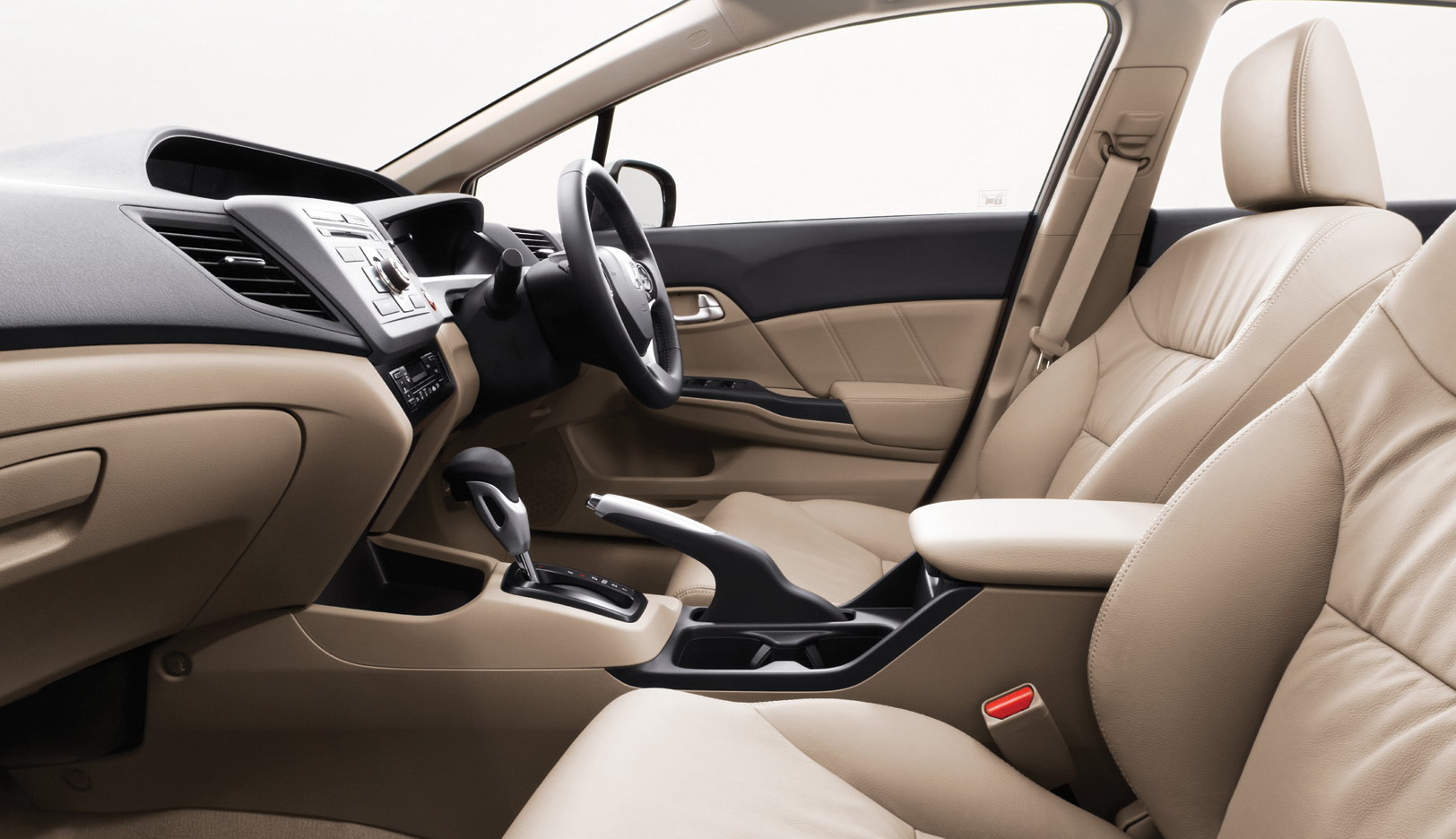 Engine and Transmission
Honda Civic, whether the most expensive one or the cheapest in the menu, all come with Honda's in-line four cylinder R18 engine with i-VTEC. It is the slightly updated version of the previous R18 that was first offered in the 8th generation Civic (2006-2011). The engine produces 141 BHP, three more than the Corolla. And 174 Nm of torque. Honda is still using a conventional automatic transmission, unlike Corolla's CVT. The car comes with an ECON button where the ECM starts to manage the inputs and outputs to make sure the car does the best fuel average. Honda Civic is, however, Euro 4, whereas Corolla is Euro 2.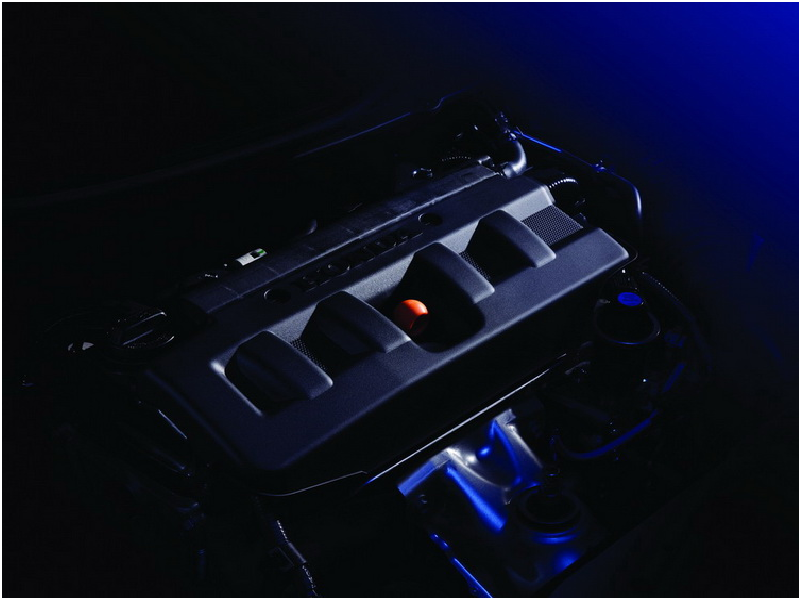 The point of the article is just to give those readers a brief look at both the cars who have been asking for it. You can go in as many details as possible and find as many points of contradiction as you want. But since there are chances of 2016 Civic, current Civic will be dropped sooner or later. However, the present 11th generation is here to stay for at least few years.