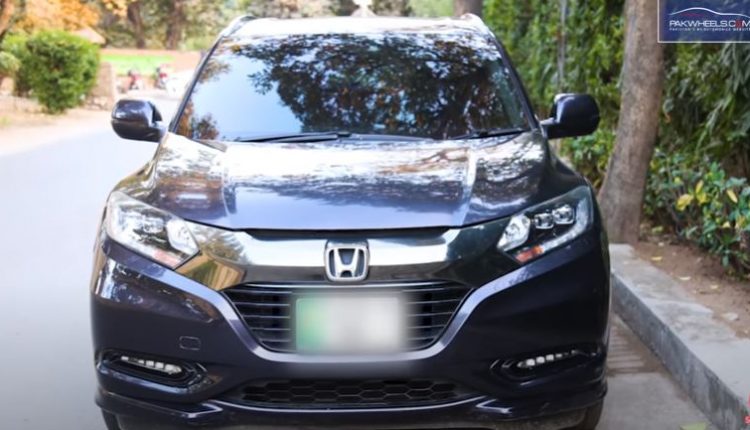 Honda HR-V 2017-Review by Owner
Today, we have brought the owner's Review of the Honda HR-V, 2017 model. This was a Pakistani variant of an imported model called, Honda Vezel. The imported model was hybrid, while this is non-hybrid. The company launched this car in 2016 for the local market but discontinued it after a short while.
If you want to buy a second Honda HR-V, visit PakWheels Used Car Section and select your choice vehicle. 
Purchase Decision, Price: 
The owner said that he bought this car in 2018, in zero-meter condition. Talking about the price, the owner said his father bought this car is around Rs4-Rs4.4million. "My father bought this local version because of warranty and support from the showroom," he said.
Engine of Honda HR-V: 
This car comes with a 1500cc petrol engine.

Fuel Average of Honda HR-V: 
According to the owner, the car's intra-city fuel average is 14.4 kilometers/liter with AC, which is very good considering its engine size. "My father drives it very light foot, which is the reason for good fuel average," the owner said.

Missing Features: 
While comparing it with Vezel, the owner said this car has halogen lamps, while Vezel comes with LED and DRL lights. Furthermore, this vehicle does not have the front camera, and it also has only single-zone climate control AC.

AC Performance of Honda HR-V: 
The owner is very satisfied with its AC performance and even said that they sometimes have to low its cooling.

Steering Controls: 
The car has pedal shifters, volume control, call receive/call end, and voice command. As per the owner, all functions work very smoothly, and he has not faced any issue.

Wheel Size of Honda HR-V: 
The Honda HR-V comes with a 17-inch rim size and looks more elegant compared to Honda Vezel.
Safety Features:
The company has installed two airbags and ABS, making it quite a safe vehicle for a drive.

Suspension and Ground Clearance:
According to the owner, its suspension is softer than Vezel, while there is no issue in ground clearance because it is a local variant.
Luggage Capacity of Honda HR-V: 
The owner told us that the car has perfect luggage capacity in the trunk, hence suitable for a family journey.
Parts Availability of Honda HR-V: 
As it is a local variant, its parts are readily available in the local market, but prices are higher.
Infotainment, Head Unit: 
Its infotainment system shows the buttons of info, audio, phone, back camera, system, and Bluetooth. As per the owner, its Bluetooth connectivity is excellent and does not lag at all.
Information Unit: 
The information unit behind the steering shows all essential information, including mileage, distance to end, fuel average, and time.

Resale Value of Honda HR-V: 
As the company has discontinued this vehicle in the local market, it is not so famous among the consumers; hence, it is challenging to sell it.
Watch Video: