If you were thinking that when are you going to get the new Honda Vezel or HR-V, then think no more! Because here is the leaked image of the upcoming Honda crossover. Well, to be honest, it is not actually an altogether a new car, and just a facelift, but it counts, doesn't it?!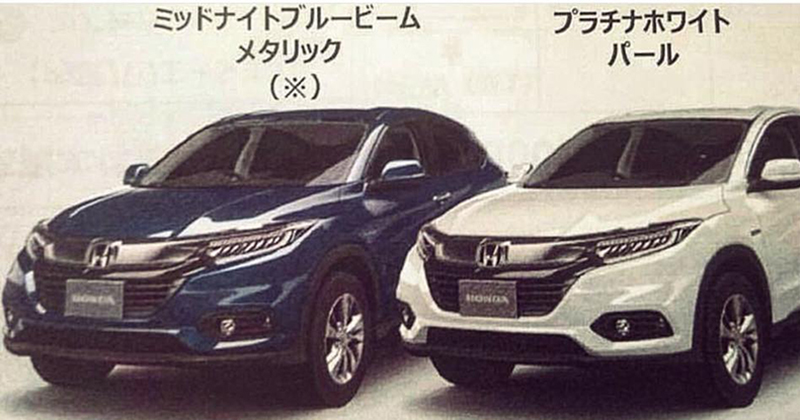 The current Vezel shape was launched by Honda back in 2013-14. It does need a refresh sooner or later. But as mentioned above, the aesthetical updates are minor and have made the car now look much similar to Honda's current line of vehicles; like the Civic and Accord. That thick chrome strip going horizontally in the frontend is similar in many current models of Honda cars. The black grill along with the overall shape of the front bumper has also been updated. The grill is wider, deeper and more pronounced.
Those black accents that hold the fog lamps in some models are now much bolder and squarish than the previous ones which were narrower and sleeker. The slot in the bumper itself between those fog lamp housings has become wider and also angular. The front splitter has also been redesigned. And you now get a full LED headlights as well.
Both the Honda HR-V and Vezel are pretty much the same thing with varying drivetrain options depending upon the market they are being sold in. In Japan, it is known as the Vezel and comes with a hybrid drivetrain. This is how we came to know of the car in the first place; by all these used car imports. And in other markets, including Pakistan itself, it is known has HR-V and is usually powered by just a regular internal combustion engine. Honda Atlas saw the success imported Vezel had and decided to launch the HR-V, but unfortunately, that didn't go as planned for Honda Pakistan.
The leaked image above looks like a snapshot taken of a Japanese brochure of the upcoming new Vezel, and there is no confirmation when the facelift will be launched. Here is how the current Honda Vezel/HR-V looks like from the front.