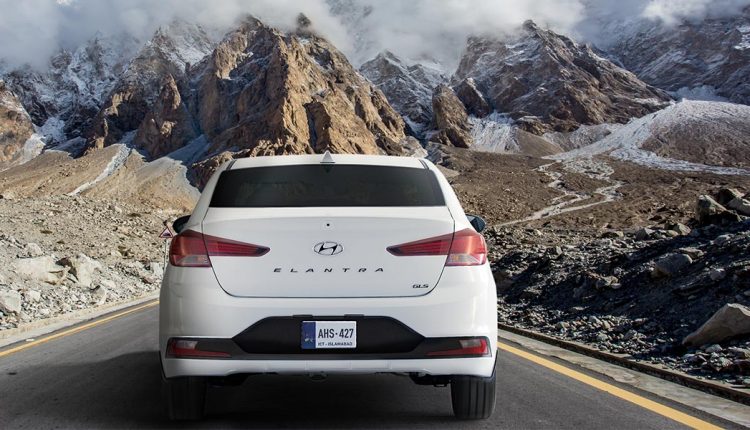 "Hyundai Elantra is Ideal Mix of Comfort & Stability" – Expert Review
We are back with another expert review, and today we are reviewing Hyundai Elantra. Hyundai Nishat launched its first consumer segment car last year, Hyundai Tucson, a crossover SUV. The car got a great response from the consumers; however, it couldn't meet the supply demand. Most of the people thought that the company would not enter in sedan category any time soon. But surprisingly, Hyundai Nishat launched this C-Segment in March this year.
This sedan has the biggest engine in the sedan category in Pakistan, which is 2000cc.
Exterior: 
If you look at its front, you notice two prominent features, first its headlights and second one is its character lines on bonnet. The car has tetra LED headlights with very stylish DRLs, increasing the beauty of its front look. The front grille is made with a combination of grey and chrome color, while its turn signal's location is very non-conventional, many people thought it is car's fog lamps but company has not offered fog lamps in this car. 
The lower apron style in the bumper explains the design philosophy and definition of this car.
Coming to its side, the first thing you will notice is its 16-inch Alloy Wheels; however, its design and finish look dated. The car has side indicators in side view mirrors, while door handles are made of chrome. An interesting thing to be noticed is its mud flaps, which are very compact with good design. And on the roof, you will see the Pakistan-famous Shark fin antenna.
The rear look of this car is more stylish and bulky than its front, and it seems inspired by Nissan Skyline 2003. The rear lights are very chic; however, the turn signals should've been made of LED. Furthermore, there is an integrated rear camera and hidden trunk button in the Hyundai logo. The lower part of the rear bumper is made in piano black color with a diffuser, giving a chic look to the back. You will find reflectors on the lower bumper. It feels that the car's trunk has a spoiler in a first look, but it is not the case.
The car has a smart trunk as it will open within 3 seconds if you stand near it with the key in your pocket. It has ample trunk space with an alloy spare wheel and tool kit.
Interior: 
Elantra has a smart entry, and it will unlock automatically when you move close to it. The entry/exit in the car is very comfortable, and it is the first car in its category which has a 10-way powered driver seat with lumbar support. Meanwhile, the entry/exit in the rear seat is also comfortable; however, the headroom and leg space for a taller person could be compromised. The rear seats are very comfortable with an armrest in the centre, meaning four people on a long route and five people within the city can travel in this car very easily.
The car has a push start, two-tone dashboard, and 3-color interior, i.e., dark grey, beige, and piano black. There is a silver lining travelling across the interior. The dashboard's look seems a generation old, although there is no missing feature in it. Although there is no leather seat but it's compensated with an electric driving seat.
Dashboard Control Panel: 
The control panel has both conventional and modern look and options, meaning you can control it through touch or control buttons at the bottom. One thing common in Hyundai Tucson, KIA Sportage and Elantra is the style and font of these buttons.
AC: 
It has Dual Zone Climate Control as front passenger and driver can set the temperature as per their choice. However, they can also sync it for the same temperature. The buttons of the AC panel are quite non-conventional. The performance of AC is exceptional even in severe heat of Pakistan, even for the rear seat passengers due to rear AC vents.
The design of AC vents is very unconventional, making it unique from its competitors.
Steering and Speedometer: 
The steering is telescopic and tilt so that you can adjust it as per your comfort. If you look at the speedometer, you will see a checkered flag type design which is extended to the dashboard and AC vents. The MID gives you all essential information, including fuel average, driving mode, history in fuel average, distance to end, and car settings.
The steering wheel has switches of audio control, phone call accept/reject, cruise control and button to control MID. On the right-hand side of the steering, there are buttons of traction control and meter light.
Infotainment Screen: 
The efficiency and connectivity of the infotainment screen's Bluetooth is excellent as you can connect your mobile phone very easily. Furthermore, the unit comes with both Android and Apple CarPlay. Under the screen, you will find wireless charging, 12V charging slot, AUX and USB slot.
There are cup holders and handbrake in the central console, although the handbrake is manual, which is a turn off for many people who like modern technology. Then comes the central armrest, which is made of hard plastic and has storage space under it.
Panoramic Sunroof: 
Hyundai has offered Panoramic Sunroof, which is a great feature; however, many people use it irresponsibly, i.e., standing through the sunroof or allowing children to do the same, which is quite dangerous for everyone on the road.
Drive Experience: 
The soundproofing of the car is excellent; however, the tyre noise is quite high and disturbing. It comes with four driving modes, eco, smart, normal and sports. The smart mode reads your driving habits and adjusts the fuel efficiency according to it, while eco takes the car in fuel-saving mode.
The within city fuel average of Elantra is around 10.5-11km/liter, while on long route it gives 16-17km/liter with AC. And if you are light foot driver, then the average can increase by 1-2 kilometers.
The overall drive experience is very good with excellent stability and brake.
Safety: 
It has Dual Airbags, ABS, Immobilizer and no body roll on highways, making it a very safe car for you and your family. There is an ideal mix of comfort and stability in this car as the response of its suspension is very smooth with good ground clearance on local roads. 
0-100: 
The new Elantra reaches 0-100 in 10:05 seconds.
Watch Video: