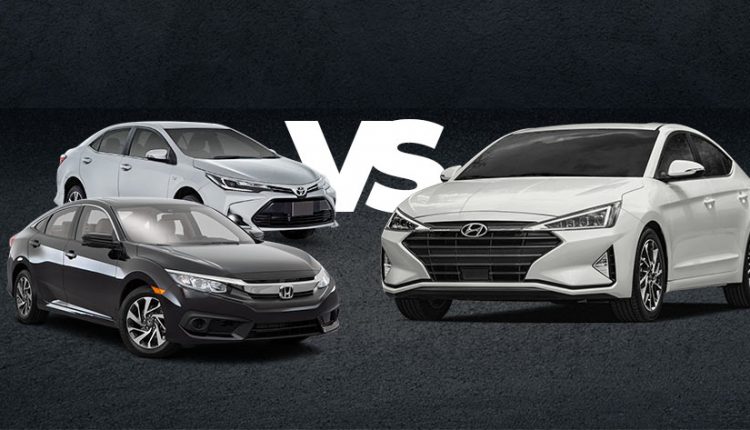 Elantra vs Corolla vs Civic – Three Sedans, One Winner!
For the longest time in Pakistan's history, two cars have been dominating the compact sedan segment of the local market. Toyota Corolla and Honda Civic. There were a few other options available by different automakers, like the Mitsubishi Lancer, the Nissan Sunny, and the Kia Spectra. But none could ever go head to head with the likes of Corolla and Civic. It's almost like the Pakistanis have grown psychologically attached to the two sedans that no other option could come close to their competition. But not anymore, Hyundai Elantra is here! 
Hyundai Elantra has been officially launched, and, finally, there is a potential competitor in the compact sedan segment. Like Corolla and Civic, Elantra is a premium sedan with a powerful engine under the hood and many salient features. Today, we'll compare the Elantra GLS with the top-of-the-range variants, the Corolla Altis Grande X and Civic Oriel 1800cc, and see if Elantra has got what it takes to challenge these two c-segment sedan kings. Let the games begin!
Engine and Transmission:
Elantra is powered by a 1999cc engine that produces 154 horsepower and 195 Nm of torque. Both Corolla and Civic are equipped with 1798cc engines that produce 138 horsepower and 173 Nm of torque. It goes without saying that Elantra has a more powerful engine than its competitors. 
When it comes to the transmission, Elantra's 6-Speed Automatic Transmission lags behind Corolla's and Civic's CVT automatic transmission. 
Exterior:
Nothing is exciting about Corolla and Civic's designs, partly because the two cars have become a common sight in Pakistan. Corolla has a relatively pedestrian design, while Civic gives a sporty look. Both cars come with LED projection headlights, tail lights, DRLs, and fog lamps. 
The newcomer Elantra strikes a balance between Civic's sportiness and Corolla's elegance. The car has TETRA LED headlamps, tail lamps, and DRLs, but somehow misses the fog lamps. 
All three vehicles have 16-inch alloy wheels, but only Elantra has a spare alloy tyre; the other two come with a spare steel tyre. 
Fun Fact: Remember the signature shark fin antenna of Civic? Yeah, Elantra has that too.  
Interior:
Both Corolla and Civic have clean and spacious cabins. There are five comfortable leather seats with enough headroom and legroom in both cars. Somehow, Corolla's interior is a bit more modern than Civic's. Corolla's seats are angled up, while Civic has downward swooping seats. Tech-wise, both cars have Electronic Power Steering, Power Windows, Sunroof, Push Start Button, and Smart Key Entry.
Elantra has a beautiful two-tone leather interior and comfortable seating for five. Elantra is more tech-savvy than Corolla and Civic with common features like Smart Key Entry, Push Start Button, Power Steering, Power Windows, Sunroof, and additional features 8-way electronically adjustable driver seat, Wireless Phone Charging, and Smart Trunk.
Another key difference between the three sedans is the car infotainment system. Corolla has a 9-inch touchscreen, Elantra has a 7-inch touchscreen, while the feature is optional in Civic, meaning you have to pay extra to get it. 
Safety:
Corolla, Civic, and Elantra, the three competitors, offer equal safety levels for their passengers. All have ABS Brakes, Hill-Start Assist, Cruise Control, Dual SRS Airbags, Rear Cameras (without Parking Sensors), Immobilizer, etc. 
Price:
Just how the three cars are a close match in their specs, features, and performances, their prices are almost the same. 
Hyundai Elantra GLS                                  PKR 4,049,000
Toyota Corolla Altis Grande X              PKR 3,979,000
Honda Civic Oriel i-VTEC                        PKR 3,979,000
Note: These are the ex-factory prices of the cars.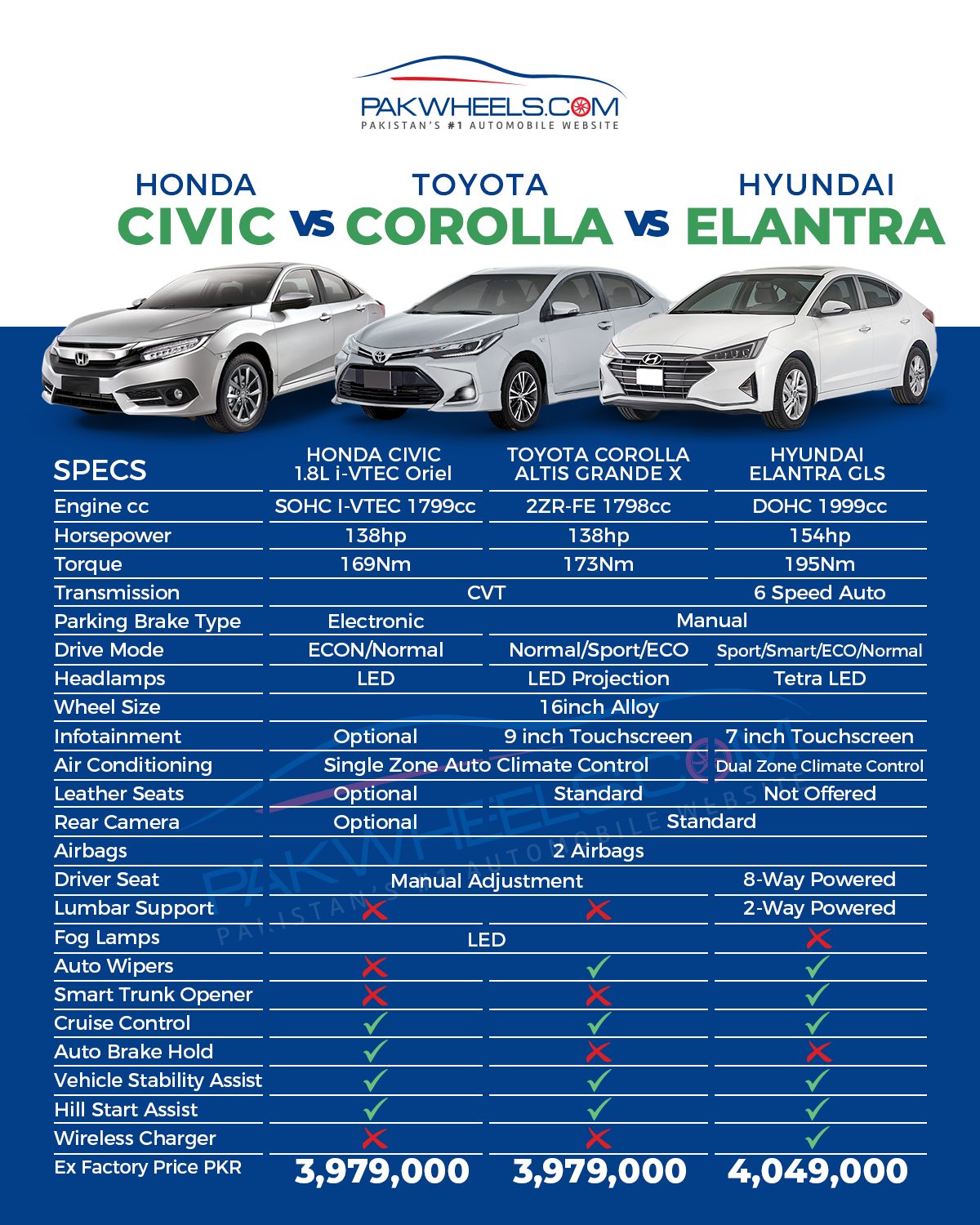 Now, some might say that the Hyundai Elantra is overpriced. There's only one variant available in the Pakistani market, and that too for 4 million rupees. There's no doubt that Elantra has everything it takes to win over the hearts of Pakistani buyers. It's the price factor that may get in the way of this car's success in the local market.