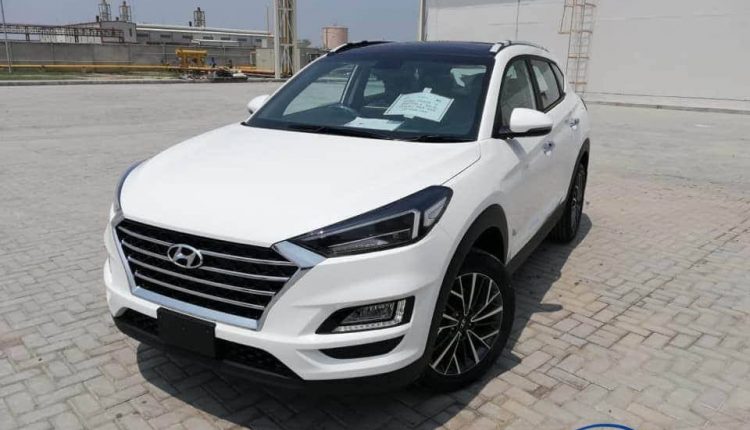 Hyundai Tucson Price: Pakistan Vs.Rest of the World
Hyundai Nishat Motors has revealed the prices of its two new variants of Tucson in Pakistan. For our readers, we are presenting a brief comparison of this SUV's price in the country, comparing with rest of the world.
Hyundai Tucson Price in Pakistan: 
Hyundai has launched two variants of this new SUV in Pakistan i.e, All Wheel Drive (AWD) Ultimate and Front Wheel Drive (FWD) GLS Sport. The official price of  Front Wheel Drive (FWD) GL Sport is Rs4,899,000, while All Wheel Drive (AWD) Ultimate will cost  Rs5,399,000.
It is pertinent to mention that these are ex-factory prices.
Hyundai Tucson Interior, Exterior Photos
Price in India: 
The South Korean company launched a face lift of 3rd generation of Tucson in India in July 2020. According to media reports, the ex-factory price for base model is Indian Rupee (INR) 22,30,000 (PKR 5,046,388), while top model costs INR 23,52,000 (PKR 5,3224,68)
The vehicle in India also has 2000cc engine with 6-speed automatic transmission.
Hyundai Tucson Price in USA: 
The price of  GLS variant in USA starts from $29,220 (Rs4,928,478), while ultimate variant costs at $33,020 (PKR 5,569, 417). Furthermore, the official website has also revealed the Hyundai Tucson 2021 prices on its website.
According to the company, the price of 2021 Tucson Sport will start from $28,250 (PKR 47, 648, 71), and cost of Ultimate variant will begin from $32,050 (PKR 5,40, 580).  However, the these SUV models have 2400cc engines as compared to Pakistani variants with 2000cc engines.
Price in UK:  
The price of this SUV's 1.6 CRDi 2WD drive costs £26,505.00 (PKR 5,866, 786), while Hyundai Tucson 2.0 CRDi 4WD can be bought at £34,965.00 (PKR 7,7393, 76).
Here is a brief table of Prices: 
Hyundai Tucson Launch in Pakistan: 
Both variants in Pakistan comes with In-Line-4-Cylinder 16-valve 1999cc petrol engines, producing 155hp at 6200 RPM. Meanwhile,  the company has given 2 Airbags in drive and passenger seats. Both variants will also come with  Chrome Coating Door Handles, Static Cornering Light and AFLS (Dynamic Bending Light-L/R).
In interior, the SUVs have  C/Pad Upper Leather Garnish (Artificial Leather), Luggage net, luggage screen. Meanwhile, the Ultimate variant has leather seats, and GLS Sport will come with fabric ones.
Recommended For You: