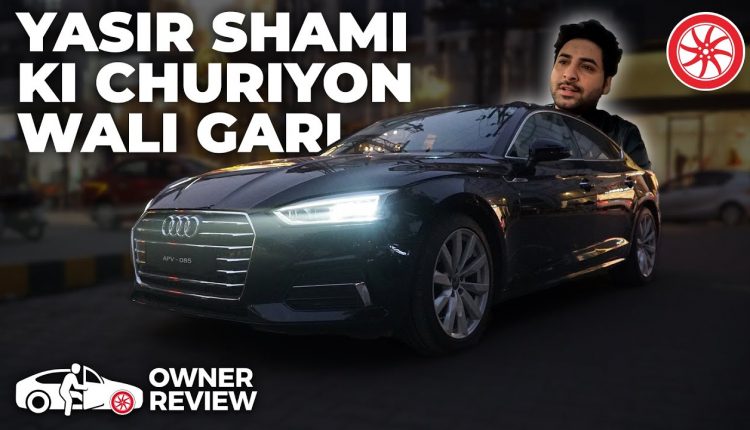 "Audi A5 is My Favorite Car", Yasir Shami
In this celebrity review, we are talking with famous YouTube content creator Yasir Shami who has bought his favorite 'Chooriyon Wali Gari' means Audi A5. 
Purchasing Decision
Talking about his decision, Shami said that initially, he wanted to buy Audi E-Tron; however, the car's rate fluctuated very rapidly in short span of time, so he decided to go for A5. "Although there are options in Mercedes and BMW, but Audi is my most favorite brand, and if given a choice, I will choose Audi once again," he said. Shami added that among Audi sedans, he chose A5 because it has a very stylish and sporty look, whereas A6 looks more executive and mature car.
Inspection Before Purchase 
Shami told us that he got the car inspected from PakWheels as well as Audi. "The result of both Inspection Reports were identical although PakWheels' Inspection Service is way cheaper than Audi one," he said.
"So, I will recommend PakWheels Inspection Service to everyone," Shami asserted.
Fuel Average of Audi A5
Shami stated that the fuel average has never been a concern while driving this car. "Still, its within city average is around 8km/liter," he said.
Best Feature/Option 
According to him, the best feature of this car is its extremely smooth suspension. "You don't feel potholes or road bumps while driving or traveling in this car," he told us, adding that it feels like the car is sailing on the roads.
The other three best features, as per Shami, in this car are its cabin soundproofing, music system, and pick. "Although the car has a 1.4L engine, but its pick is exceptional compared to our local cars," he said.
Ground Clearance of Audi A5
The owner told us that he faces the issue of ground clearance on local roads as this car is a German one. "If there are five people inside the car, its lower body will hit the speed breaker," he stated.
Central Console
The look of its central console is very chic and resembles with airplane's cockpit. Also, the media buttons are quite unconventional, and you can control the settings on the infotainment screen. "You can choose the driving modes, sound settings, etc., from these buttons," Shami told us.
Meanwhile, you will find the buttons of traction control, parking sensors, and eco-idle just above the AC. 
AC Performance 
The owner is completely satisfied with the performance of AC. "It has three-zone digital climate control, meaning driver, front passenger, and rear passengers can set the AC temperature as per their comfort," he stated.
Airbags in Audi A5
The car comes with 8 airbags, making it extremely safe and secure for you and your family.
Missing feature (s)?
Answering the question, Shami stated that he misses the panoramic sunroof in his Audi A5″I think this feature would've enhanced the interior's beauty and look," he said.
Maintenance Cost 
Shami gets its oil and filters changed every 6,000 kilometers, and it costs him around Rs. 60,000. "Once, I replaced its brake pad, and that cost me Rs. 150,000," he told us, adding that the car issues a warning about every fault, which is a great convenience.
Resale of Audi A5
As per Shami, he never thought about the resale value of Audi A5 earlier; however, rapid increases in prices have pushed him to think about that. "I bought it in Rs. 1 crore 27 lakhs, and now I can easily sell it in over Rs. 1 crore 40 lakhs," the owner explained. "However, I will keep the car for the next 1-2 years and then think about selling it," he clarified.
Watch Video