Toyota Indus Motor Company (IMC) has offered yet another deal for its loyal customers, and this time, it brings a free insurance offer on Corolla Altis 1.6-litre version.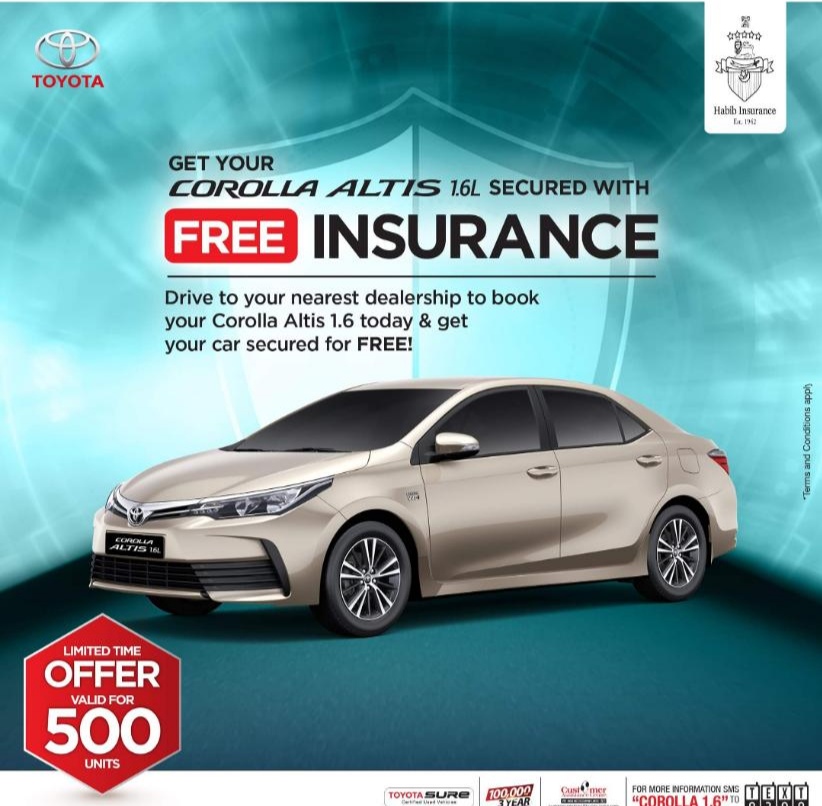 According to the details, the auto manufacturer has jumped in with several offers for its customers in the past month or so owing to the declining sales of automobiles in the local sector. Indus Motor now offers this limited-time deal valid for only the first 500 units, which means that it would be based on a first-come, first-serve basis. The offer includes free insurance on Toyota Corolla Altis 1.6L variant upon booking. Recently, it was also reported that the company had produced a few units of Altis 1.6L in the manual version, as well. All these efforts are made to boost up the sales of Corolla in the local sector, which has declined by nearly 58% in the first two months of the fiscal year 2019-20 as compared to its corresponding period last year. This massive drop in sales is contributed by the sky-rocketing prices of automobiles in the country. The buying power of consumers has considerably decreased in the current deteriorating economic conditions in the country. However, it is worthy to mention here that the Pakistani Rupee has appreciated in the past couple of months against the US dollar. But, unfortunately, the prices of cars keep going upward for some unknown reasons. The auto manufacturers generally relate this trend to the decline in the worth of rupee against the US dollar.
In the past year only, the prices of cars have gone up by nearly 30% as the US dollar hit the record value of almost PKR 164. This sharp increase in rates was also aided by several additional taxes and duties levied by the government on all vehicles such as the Federal Excise Duty (FED). An increase in the Advanced Customs Duty (ACD) also raised the prices of the raw material, which is imported by the auto manufacturers in the local production of cars. The government here needs to reverse unnecessary taxation to let the local auto industry grow and give some breathing space to the new entrants. A safe investment atmosphere is essential for the new players to make their mark. On the other hand, the market share of Indus Motor has shrunk to only 18%, as revealed by the PAMA stats for September 2019. It suggests a decrease of 8% as compared to the same period last year. The sales of Corolla has been the driving force for the automaker for many years.

Drop your thoughts in the comments section below, and stay with PakWheels for more updates.