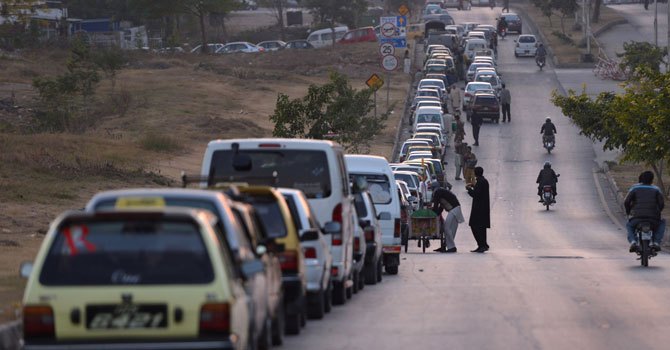 Important tips to navigate through a CNG queue
People of Pakistan, unfortunately are destined to stay in long ques of CNG where ever they go within the country. Recently, I heard some people (particularly of central Punjab) saying that the old schedule of 48 hours was much better then this new schedule. The continuous provision of CNG for two days prevented from queues, but now every one has made it a matter of their ego to get their cars refilled with CNG only. Whether it's an auto rickshaw, a four wheel luxury sedan or a huge public carrier like a bus.
Till this point, every thing seems to be quite reasonable but unknowingly, we are experiencing some chronic issues getting stronger day by day, like people waiting in the lines have very short temper and they are ready to fight on the slightest issues. Usually the waiting time gets longer and as expected, every one starts to get frustrated.
Here are some important tips and suggestions for your help, to make your waiting time easy:
1)  Whenever you visit a CNG Station, keep a drinking water bottle inside your car so it cools you down in case you get thirsty.
2) Most importantly, move your car ahead as soon as you get your cylinder filled, and let the other person come forward. 2-3 minutes are wasted on average with each car staying at the pit. A little common sense will save a lot of time of people.
3) Always keep a safe distance from the next car, because many times it's been noticed that people get to move their cars in some urgency and they are unable to find a way out. This scenario gets worse if the drivers are stubborn.
4) Never bring small children with you because weather is getting hotter day by day and sometimes, the heat is unbearable. (because CNG timings are peak heat hours)
5) Always keep small change in your pocket to avoid the money change problems. (I have experienced deduction of Rs.5 in many cases)
6) Keep your windows covered with fixed shields to avoid from sun burn.
7) Inquire about the load shedding timings before you go to get your cylinders filled. This will save your time from getting wasted.
8) Try to control your anger in case you are getting late, because this is the thing our country needs the most.
I must have missed some other critical point to help you keep your calm, but together, if we follow these guidelines, we will be be able to help the society if we're not able to change it.