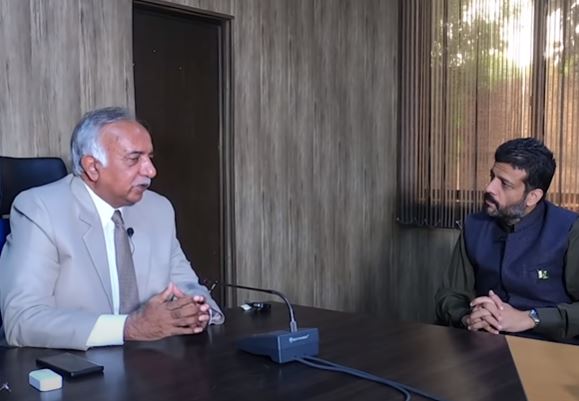 Interview with Punjab DG Excise on Vehicle issues
PakWheels has brought an informative interview with Punjab DG Excise and Taxation Masood-ul-Haq. During this conversation, we tried to seek answers to all questions our readers ask. We discussed different vehicle issues, including token tax, registration, transfer of a car, and a few others.
PW: What is the Jurisdiction of the Excise Department? 
DG Excise: This is a provincial entity, and it is one of three bodies that collect revenue. In summary, this department has three main functions regarding revenue collection, i.e., motors, property tax, and excise duty.
PW: There is a serious issue of non-issuance of vehicle number plates? What is the reason behind it? And What steps Excise is taking to resolve it?
DG Excise: This is a very valid problem, but I want to tell the people that there is a proper procurement process, and we have to follow this process as a government body. Sometimes there are legal or technical issues, which affect the process. The same happened in 2019 when we had to renew the contract with the plates' manufacturer, but due to some technical and legal issues, we could not.
Now we are going to sign a new contract and complete its homework. We have to get approvals from different institutions, and it takes time, but the work is in process. Our new vendor has finalized his supply chain, and in the next 3,4 months, we will be able to handover the number plates to the consumers.
The new plates will have a slightly different design, while they will also be bigger in size, to increase their readability.
PW: A considerable number of consumers do not have number plates due to backlog and police stops them; what is your take on this issue? 
DG Excise: We know it is a serious issue because it is causing difficulties to consumers. Lahore High Court has directed the police not to stop the citizens. Furthermore, we have also requested DIG Punjab police to ask his force not to stop and search the cars without government-issued number plates.
Currently, the police stop only cars with illegal or small number plates because their readability is difficult for Safe Cities cameras. We apologize to the consumers for the inconvenience. Meanwhile, the customers can get plates from private vendors unless they are not fancy or smaller in size.
Coming to the solution, we will end the backlog within three months from the day when we will sign a contract with a new vendor. Furthermore, we will send the plates to the car owners through courier service, hence, people must give a correct address, so they will not face any further hassle.
Moreover, the people who have bought the second-hand cars should get it transferred through the proper legal process to get the number plates on their given address.
PW: Some consumers sell their cars, but it still stays on their names. Is it any recourse by Excise over this issue?
DG Excise: We do get such complaints by the citizens, but as a department, we have no evidence whether he really sold it or there some other intentions behind it. So, the best solution for the seller is to transfer the vehicle to the new buyer at the time of sale, to avoid any future legal issue.
Meanwhile, we are implementing the biometric system to resolve this issue. Through this system, the buyer will transfer the car to his/her name by getting the seller's thumb impressions. This will save both seller and buyer from any potential hassle.
I want to tell people who had already bought the car but hadn't got them transferred to their name; that they will face severe issues, once we implement this system. So, they should get the vehicle transferred to their name without any further delay. Furthermore, the original owner will face legal action if someone uses the sold car in some crime, but it is still his property.
PW: Currently, both seller and buyer must be present for transfer of the car, is there any one-window operation in Excise where both consumers can transfer the ownership, payment in a safe environment without any fear of fraud?
DG Excise: Let me clear this misconception; under the current excise law, buyer and seller don't have to be present at the excise office for transfer. Meanwhile, after biometric implementation, we will establish different facility centers in collaboration with NADRA. Both buyer and seller can go to their nearest center for thumb impressions and  safe transfer.
PW: In some cases, the seller goes abroad. What is the process for the transfer of the car in this case?
DG Excise: There will be two options in this regard. The first one is that NADRA is establishing its centers in Pakistani embassies in different countries, and the seller can register their thumb impressions. Secondly, suppose this facility is not available in some countries. In that case, the seller can send a power of attorney to any individual in Pakistan who can give his thumb impressions on his behalf.
In the case of the seller's death, the authorities will issue a succession certificate to the deceased's children. If there is more than one child, then all of them will be the owner of that certificate, or the court can decide the certificate's real owner. As per the court orders, that person will verify the thumb impression and transfer the car.
PW: There is a severe issue over Vehicle Registration Card, as the government is not issuing them. How is Excise planning to resolve this issue?
DG Excise: As the Punjab DG Excise, I know it is a very valid issue for the users, and let me explain the reason behind the non-issuance of registration cars. We started card production in December 2018, and by August 2019, the process was running smoothly, and the vendor was delivering cards to consumers within a 48-hour deadline.
Then COVID-19 hit the world, and we were importing raw material from China, but it stopped due to a total halt in economic activities. However, the current situation is under control. In July 2020, the backlog was about eight lacs cards, and out of that total, around five lacs cards have been printed and going in the supply chain very soon.
We have handed over the cards to courier service, and they have started to deliver it to the consumers. Meanwhile, we are issuing the registration cards to the new buyers at the time of purchase. Henceforth, the backlog will end soon, and the whole process will start working smoothly soon.
We are also starting an SMS service, which will tell the consumers about their registration cards' current status.
PW: As the world is going towards digitization, we still have a file system, and we cannot sell the car without its file. Is there any alternative to this old system? Because many of us lose these files, and it is impossible to retrieve its duplicate from the government institute?
DG Excise:  As Punjab DG Excise, I want to clear that under excise and taxation law, the file is not necessary to transfer the car. However, we demand it as a precaution and fraud culture because, in some cases, the seller came to us with the file claiming he hasn't sold the car and still owns it. It causes real issues. That is why we are bringing the biometric system to resolve the problem.
As far as duplicate file and a decrease in car value are concerned, the excise department is not responsible; rather market forces are behind it. With the biometric system, we will resolve these issues, especially fraud and corruption.
Meanwhile, if the buyer and seller are in two different cities or provinces, they don't need to come to one place. They just have to provide their thumb impressions within one month of the vehicle's sale at our facility centers in their cities.
PW: Government receives registration fees and car token taxes as per cc of the car, but new electric vehicles do not have any cc. How Excise is going to resolve this issue?
DG Excise: To resolve this issue, Punjab excise has moved an amendment, under which we are equaling electric car's kilowatts  to the cc. Although there is no direct formula for KW and CC's equivalence but after discussing with experts, we have found an indirect one. In which KWs transfer into hp and hp then transfers to cc. We have included the value of EV and its cc to decide its registration fee and token tax.
PW: There is a serious issue regarding buying, token tax, and transferring cars of one province to another province. How is Excise resolving to end inter-provincial impediments for the consumers?
DG Excise: We are bringing a new law, for example, if a car from Sindh comes to Punjab and stays in the province for one year, then the owner can get Punjab number plates. Henceforth, it will end the whole inter-provincial transfer and token tax issue. We will implement this law around November, December, this year.
PW: Will the government change the old number plates after the introduction of new universal plates?
DG Excise: No, we are not changing the old plates yet because it will cause very complicated and challenging consumers' issues. Currently, we will issue the new number plates to new vehicles. In case we plan to change the old ones, we will do it in phases, not all of a sudden. Only those consumers will have to buy new number plates, who are driving the vehicles without original plate. 
PW: Will Digitalization Increase revenue collection and performance of Excise? 
Punjab DG Excise: To increase the performance and efficiency of Excise, we are planning to launch a third number plate for a car. The authorities will install that number plate inside the windscreen. It will be readable, active, and RFID-based, showing the token tax status to the authorities with a simple scan. This will reduce the hassle for both consumers and the government. We are working on this proposal currently, may launch a pilot project soon to check the efficiency of this project.
  Watch Video: 
Recommended For You: