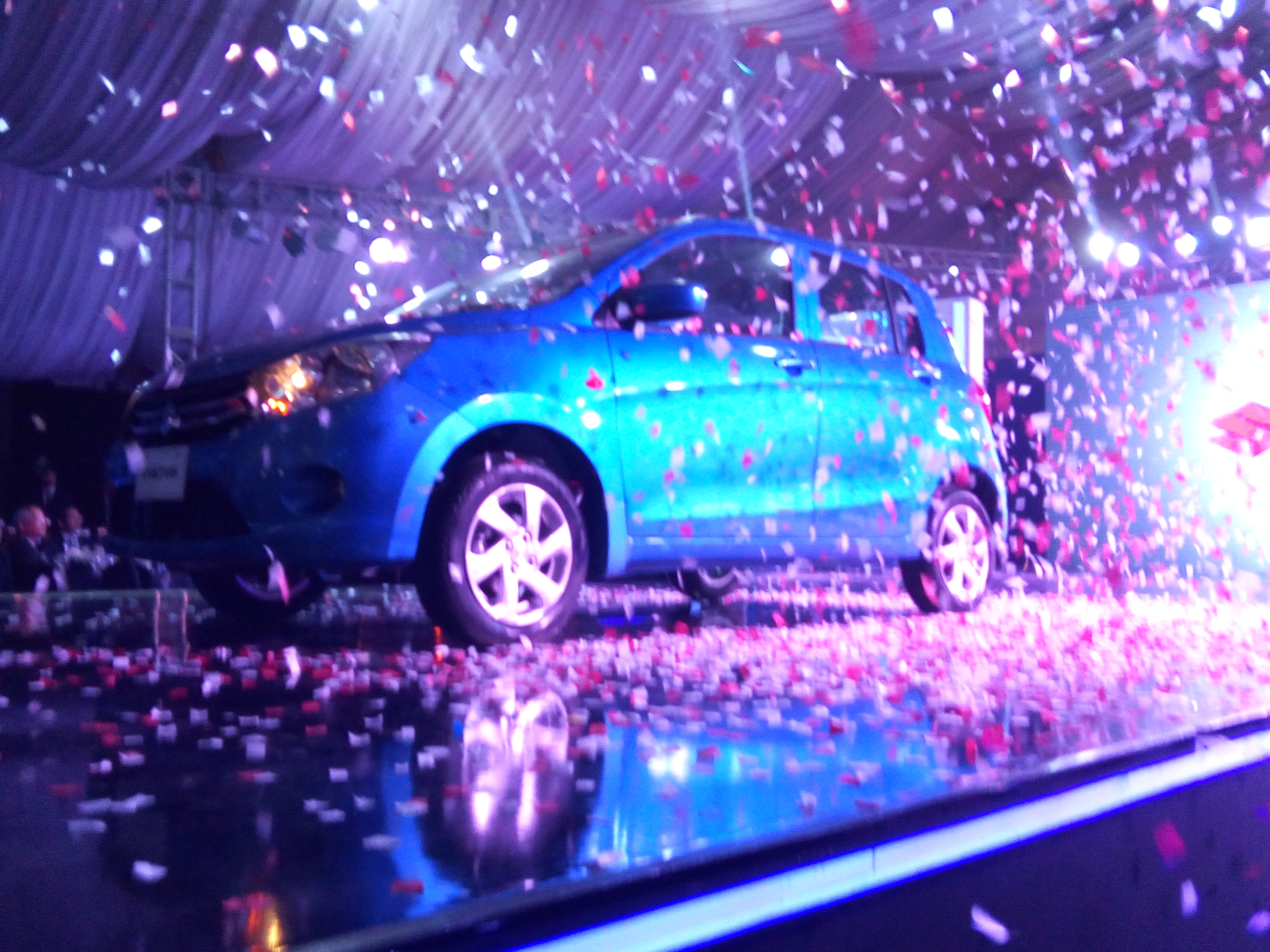 As it is common knowledge now-a-days, that the 'New Cultus' of Pakistan is globally known as 'Celerio,' but what many still don't know is that this new Cultus is totally different from its predecessor. Not only does it offer more value to the customer through additional features, legroom, stunning interior, a healthy color range; but it offers a guaranteed performance with its K10B engine.
This new Cultus is directly competing with not only the existing product lineup of Pak-Suzuki -Wagon R & Suzuki Swift- but with imported cars as well, including Toyota Vitz, Passo, Mira and other hatchback vehicles.
Introducing a new car is always a very daunting task for any organization. However, taking advantage of its existing brand –Cultus- Pak-Suzuki has taken a very calculated risk to marginalize the chances of any backlash by opting the strategy of rebranding 'Celerio' into 'Cultus.' It's a win-win situation really if you think about it, the customers will get a totally new car and the company will successfully add another vehicle to its product lineup.
Following is a chart comparing some features of the new Cultus in both India & Pakistan:
Sr.
Features
Indian Variants
Pakistani Variants
VXi
LXi
ZXi
VXR
VXL
1.
Power Steering
Yes
Yes
Yes
Yes
Yes
2.
Front Airbags
Yes
Yes
Yes
No
Yes
3.
Immobilizer
Yes
Yes
Yes
Yes
Yes
4.
Automatic Transmission
Option available
No
No
5.
Power Windows
No
Yes
Yes
Yes
Yes
6.
ABS
Yes
Yes
Yes
No
Yes
7.
Keyless entry
No
No
Yes
Yes
Yes
8.
Central Door
No
Yes
Yes
Yes
Yes
9.
Alloy wheels
No
No
Yes
No
Yes
10.
Multimedia
No
No
Yes
Yes
Yes
11.
Head Light leveling
Yes
Yes
Yes
No
No
Though this new car is being appreciated but the skepticism about its price tag still predominates the minds of many. Pak-Suzuki has still not said a word about the automatic variant of (New) Suzuki Cultus but sources are indicating towards the possible launch by the end of this year.
Security:
The standard variant of the new Suzuki Cultus is leaps ahead of its predecessor as Pak-Suzuki has added immobilizer across both variants of this car. However, the absence ABS in Suzuki Cultus VXR is will yield disappointment for its customers. Let' not forget that the absence of ABS & Airbags will put this variant in a competitive disadvantage as far as the imported cars (in this price bracket) are concerned.
The New Suzuki Cultus VXL encapsulates all; ABS, two airbags & an immobilizer, making it a complete car.
Comfort and Interior:
Thanks to the Power Steering in Cultus VXR & electric steering in Cultus VXL, Steering adjustment and keyless entry; there are plenty of amenities to make driving easy. Both variants have been fitted with power windows, central door locking and very minimal blind spots as far as the driving is concerned.
Price:
In India, this car was offered six different variants on the basis of transmission, fuel and features.
Current ex-showroom prices (Approx) of both countries vehicles are:
Sr.
 
Variant
 
Price in Indian Rs.
Price in Pakistani Rs. (Approx)
1.
Maruiti Suzuki
VXi
Petrol & Manual
435,000
700,000
CNG & Manual
513,000
820,000
 
2.
LXi
Petrol & Manual
405,000
650,000
Petrol & Automatic
452,000
725,000
 
3.
ZXi
Petrol & Manual
465,000
745,000
Petrol & Automatic
512,000
820,000
1.
Pak Suzuki
Cultus
VXR
1,250,000
2.
Pak Suzuki
Cultus
VXL
1,391,000
At this point you might be wondering how is the price difference of 141,000 rupees justified in both variants of Suzuki Cultus? Is it just the airbags and ABS? As it turns out, No! Following is a list of features which differentiates Suzuki Cultus VXL from VXR:
2 Airbags
Alloy Rims
ABS
Electronically Adjustable Side Mirrors
Fog Lamps
Front Grill with black highlights
Vanity Mirrors
Charging Dock (inside center cup holders)
Body-Colored Side Mirrors + Door Handles
Boot Shelf
4 Audio Speakers
So is this new Cultus worth all of the fuss? The price point is debatable but the features list is certainly impressive for a locally manufactured 1000cc hatchback.