The office of the District Magistrate Islamabad has issued a notification and according to it, the authority has barred people from using tinted glass. The authority has also directed the Director of Excise and Taxation Department Islamabad and Senior Superintendent of Police Islamabad to take strict legal action against the violators.
The notification reads as follow:
It is hereby notified that all the permits issued for tinted glasses in the exemption of the provision of motor Vehicle Ordinance, 1969, are hereby suspended with immediate effect. A strict legal action shall be initiated against the violator.
The authority issued the notification on Monday, 28th May 2018.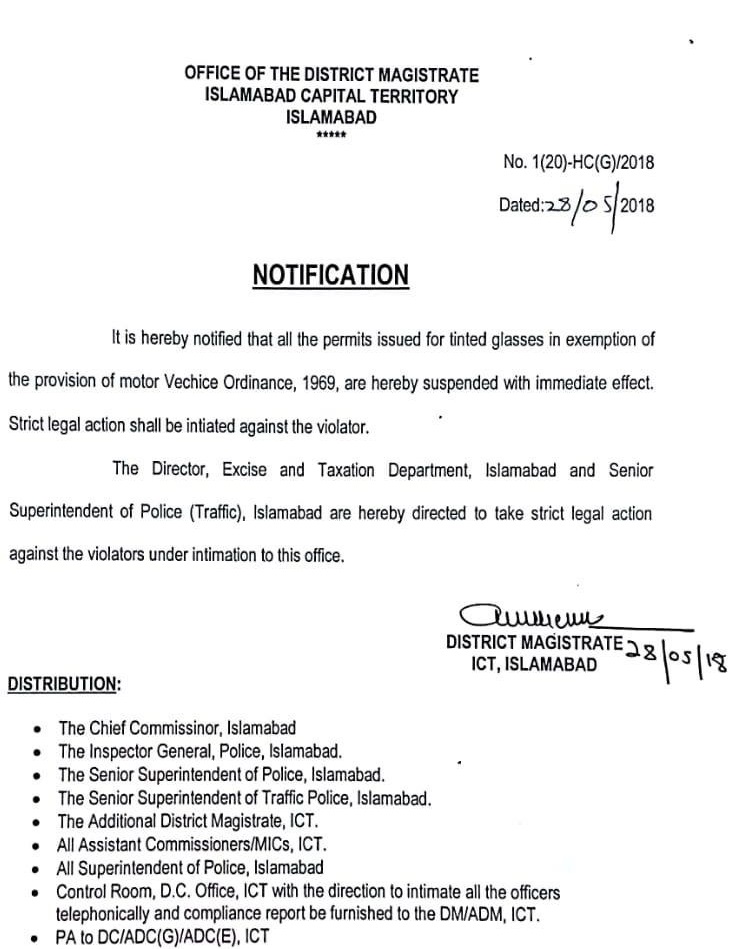 Read Also: Rawalpindi Traffic Police Launches Campaign Against Tinted Windows
Last year in August, the City Traffic police also started a campaign against tinted glass users in Rawalpindi. CTO Yousaf Ali Shahid at that time said that tinted windows would not be allowed within the city and severe action would be taken against the owners who commit the violation.
Moreover, he further added that the vehicles would be confiscated and heavy fine would also be imposed on the car owners.
Aside from Islamabad authorities taking action against the tinted glass, the government of Punjab is all set to launch vanity and universal number plates for its citizens across the province.
That's it from our side, drop your thoughts in the comments section below.