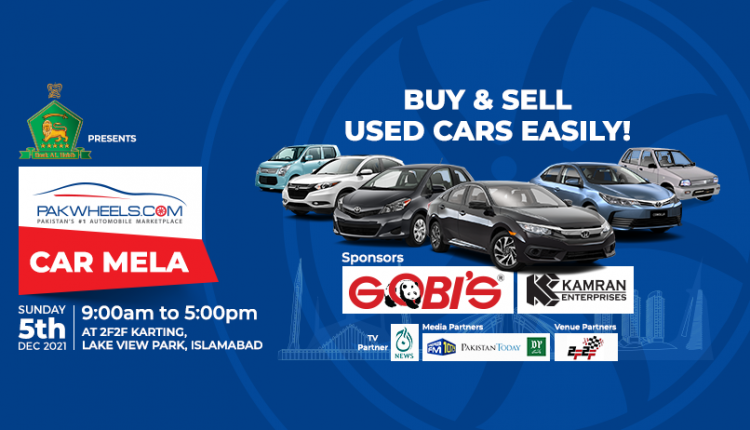 Islamabadians, Ready to Buy & Sell Cars At PakWheels Car Mela?
Hey sellers, how often have you wished for a place where you can take your car and sell it on the spot? Hey buyers, don't you wish you had a place where you could go, take a look at a few cars, pick the best one, and take it home? What if we tell you we got a place where sellers can sell and buyers can buy cars right there and then? 
PakWheels is, once again, making your wishes come true by hosting a Car Mela in Islamabad. 
When? On the 5th of December, 2021, from 9 AM to 6 PM. 
Where? 2F2F Karting, Lake View Park, Islamabad.
Planning to Sell Your Car?
So, you want to sell your car in Islamabad? Come to our Car Mela where we have:
A special spot for you and your car

Thousands of genuine buyers

A 

car inspection

 team to help you verify the condition of your car

A team of professionals to verify the auction sheet of your imported car
..and everything else you need to seal the best deal for your car. Don't miss this once in a year chance of hassle-free on the spot selling cars in Islamabad. Register your spot now!
Looking to Buy a Car?
Be it a sedan you are looking for or a hatchback, an SUV, a jeep, or anything that runs on wheels, you'll find hundreds of options on Car Mela Islamabad. There will be:
Hundreds of private sellers 

Hundreds of PakWheels certified and inspected cars for sale

Imported cars with verified auction sheets
We are bringing sellers and buyers under one roof. Join us on our third Car Mela in Islamabad, and let us help you with your buying or selling experience. We'll be waiting for you! 
Here's a look at the last PakWheels Car Mela in Islamabad 2019.