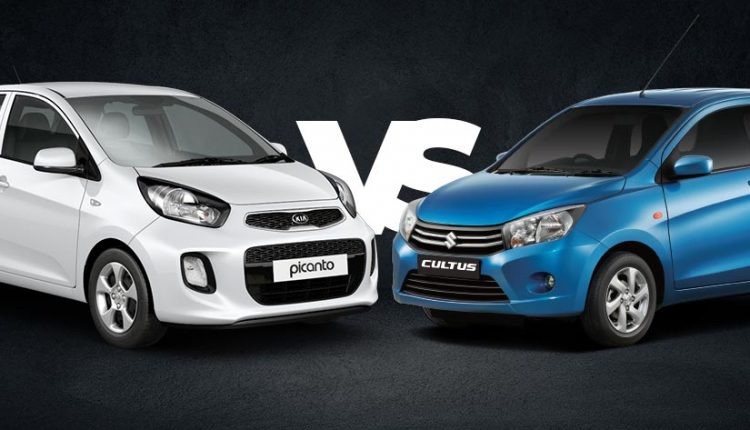 KIA Picanto Vs. Suzuki Cultus-A Brief Comparison 
After high demand from our readers, PakWheels is presenting a comparison between Suzuki Cultus and KIA Picanto. Currently, these two cars are the main competitors in the 1000cc segment in Pakistan. Cultus is a veteran car in the local industry, while Picanto made an entrance two years ago.
Although Picanto largely failed to capture the local market, however, in the last few months its sales have increased. There are several reasons behind its high sales, including high 'ON Money' and halt in production of Cultus due to unavailability of airbags. We will discuss the exterior, dimensions, interior, and performance of these two cars in this article.
We will compare Cultus VXL AGS and Picanto Automatic, as both are top-of-the-line variants of their companies.
Picanto Vs. Cultus-Exterior: 
If we look at the dimensions, Picanto is smaller in length, width, and overall height than Cultus. Meanwhile, Picanto has higher ground clearance with 152mm, compared to Cultus' 145mm. This aspect is essential on speed breakers and potholes on local roads.
                                                             Suzuki Cultus                                                                     KIA Picanto 

Price: 
Price is maybe the biggest factor for a buyer in this segment. After a recent hike, the on the road price in Lahore of KIA Picanto is Rs2,089,000, while the current rate of Cultus is Rs2,050,000, making Picanto Rs39,000 costlier.
Meanwhile, the ex-factory price of KIA's car is Rs2,049,000, while cost of Cultus is Rs2,030,000.
Furthermore, Picanto doesn't come with alloy rims and a touchscreen infotainment system. You can get these features from KIA dealership, but alloy rims will cost you additional Rs55,000, while the price of the infotainment system is Rs35,000.
These installations will make KIA's vehicle almost Rs1,20,000 (on the road price) more expensive than Suzuki Cultus.
Picanto Vs. Cultus-Fuel Average: 
The second most crucial aspect of this segment is the fuel average. According to data, Picanto's intracity fuel average is 13-14-kilometer/litre, while its long route average is also around 14-15-kilometer/hour. 
Meanwhile, the intracity fuel average of Cultus is 14-15-kilometer/litre, while it gives around 17-18-kilometer/litre on the long route. 
The primary reason behind KIA's vehicle is low average, especially on the long route, is its 4-speed automatic transmission, without Over Drive option. Due to this, the car seeks more force on long routes; hence, an increase in fuel consumption. Meanwhile, Suzuki Cultus has 5-speed AGS  transmission, which is a much better choice on long routes.
Picanto Vs. Cultus-Seating Comparison: 
If you compare the seating space of both cars, you'll come to know that both vehicles have ample space on front seats, but it is clearly compromised in Picanto on the rear seats. 
Picanto Vs. Cultus-

Key Features Comparison: 
If we look at the key features, both cars have almost the same specs, including 1000cc engine, dual airbags, power windows, power steering, keyless entry and anti-lock system. However, as mentioned earlier, KIA's car doesn't come with alloy rims and a touchscreen infotainment system. 
Meanwhile, KIA has installed automatic heated side-view mirrors and back wiper in its vehicle, as Cultus only has automatic side mirrors.
Built Quality and Comfort: 
Picanto  has an advantage in this segment, as it built quality and driver comfort is better than Cultus. KIA's car is a better choice for a long journey than its competitor. 
'ON Money' 
Although wrong, but this trend prevails in our local market and a major deciding factor. According to our sources, Picanto's current 'ON Money' is Rs1-lac, while Suzuki dealerships are taking Rs 2-lac for Cultus. 
Comparison Chart: