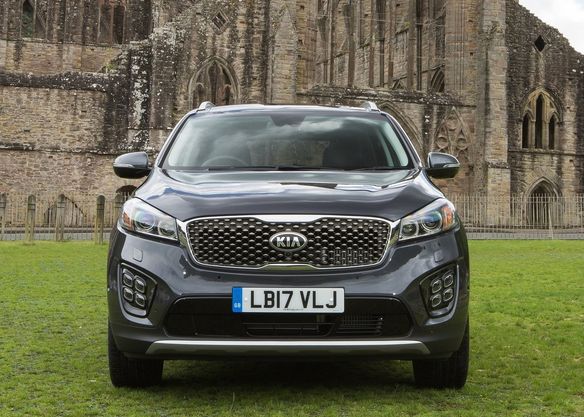 Here is First Impression, Drive Test of KIA Sorento!
Today, we are here with the first look review of the recently-launched midsize SUV, KIA Sorento. The company unveiled the car at a ceremony in Karachi on February 14. The vehicle comes in three variants, i.e., 2400cc Front Wheel Drive (FWD), 2400cc All Wheel Drive (AWD) and 3500cc (FWD). Most importantly, all variants are locally assembled CKD units. Earlier, KIA took the lead in compact SUV category, and it seems it is all set to be a volunteer in this category.
Exterior of KIA Sorento: 
The car has a tiger-nose grille with a combination of galaxy chrome in the front. Furthermore, it has beautiful LED headlights with DRLs, while fog lamps are also LED. In the lower part, Sorento has a piano black bumper. Overall, the vehicle has a very bulky and grand look.
The first thing you would notice at the side profile is an 18-inch alloy wheels with Hankook tyres. The car has chrome lining at the bottom and a silver roof rail. Moreover, it has chrome handles and chrome lining along with the windows.
Coming to the back, Sorento has stunning rear lava lights. In short, the exterior of the vehicle is gorgeous, and now we will move towards its test drive.  
Test Drive: 
First, we drove 2400cc AWD to test its power, including an off-road track. The car showed exceptional performance, especially with the context of road grip, as it didn't slip at all. Then we took a test drive of the 3500cc variant with a V6 engine. As per our experience, the car is very stable, even after switching off Traction Control. Another important aspect of this car is that you don't feel that this car is underpowered. 
However, this is the first impression, and with time and performance, we would ultimately judge this car.
2400cc Vs. 3500cc: 
We think both cars are good, especially with regard to engine power as you feel their engines' power during the drive. The 2400cc comes with 6-Speed Transmission, while 3500cc comes with 8-Speed Triptronic, which you can also use it manually.
First Impression of KIA Sorento: 
It seems KIA is striving to compete in this category, which is above the compact SUV segment. And that is why the South Korean company has launched this 7-seater car.
Interior of KIA Sorento: 
Its interior looks spacious, as Sportage looks smaller against this one, mainly due to its bigger size. Further, the company has used the wooden teak on door panels and dashboard. It also has a silver lining around switches, gear panel and door panels.
All three variants would be available in two interior colors, i.e., Black and Grey two-tone and total black interior.
AC Performance: 
Usually, in 7-seater cars, the AC throw doesn't reach the last row, but in Sorento, KIA has installed rear AC vents and controllers. It means passengers in the back can also set the AC temperature as per their needs.
Salient Features: 
The car has multiple salient features like Wireless Charging, Parking Sensors Button, and Driving Modes. The vehicle has four Driving Modes including Sports, Comfort, Economy and Smart. The last one will adjust itself as per your driving style.
Furthermore, the car has Cruise Control, Panoramic Sunroof, Traction Control, and Steering Controls. The front seats are powered as the driver seat has a 10-way adjustment, while passenger seat has an 8-way adjustment. The driving seat also has Lumbar Support.
Safety in KIA Sorento: 
KIA has installed 6 airbags in the car, making it a very safe and secure car for you and other passengers travelling in it.  
Missing Feature(s): 
We think the car could have Paddle Shifters because it would have enhanced the car's driving experience.
Infotainment System: 
The new Sorento has a very good infotainment system, with AirPlay and Android Auto connectivity. Furthermore, it has a reverse camera, which will make your parking and reversing very easy.  
Seating Space and Capacity: 
As mentioned earlier, KIA Sorento is 7-seater hence the bed of its central row is flat. You can also adjust the second-row seats as per your height and comfort. While the car also is quite spacious in the third row, making it a proper 7-seater vehicle.
Price: 
 The 2.4L FWD has been offered in Rs6,999,000, while the price of 2.4L AWD is 7,999,000, and 3.5L FWD will cost Rs8,399,000.
Watch Video: