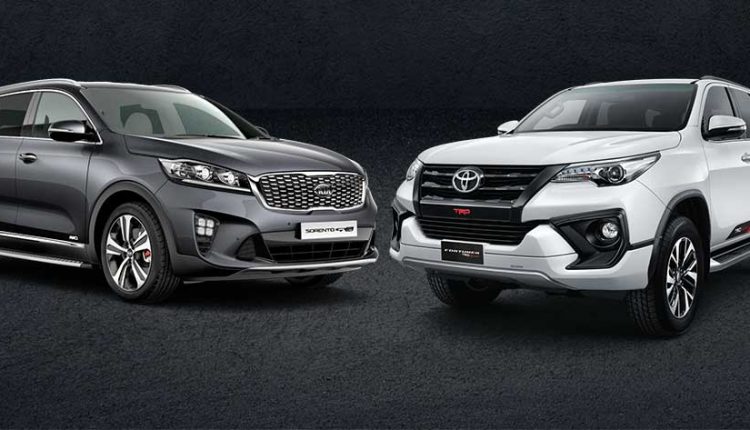 KIA Sorento Vs. Toyota Fortuner – A Price Comparison!
KIA Sorento is the fresh entrant in crossover SUV segment of Pakistan's auto market. During an event, earlier this week, KIA Lucky Motors unveiled the car, while it is expected that it would be launched in next few days.
Earlier today, the company revealed the price of all three variants of KIA Sorento. As per the prices, it is a direct competitor to Toyota Fortuner. So, we have brought a price comparison between two 7-Seaters.
It is pertinent to mention that this comparison is between top-of-the-line variants of both vehicles. i.e., Sorento 3.5L FWD and Fortuner TRD Sportive.
The price of KIA's vehicle is Rs8,399,0000, while the current rate of Toyota's 7-Seater is Rs9,399,000.

What Should We Expect from KIA Sorento?
Both of these vehicles come in luxury segment of SUVs, however, it has been dominated by Fortuner for years. The Toyota's vehicle had no competitor, but Sorento could change the scenario. If we look at the recent success of KIA with its compact SUV Sportage, the chances of Sorento's success increase automatically.
Furthermore, the local buyers would have another option in 7-seater cars because a lot of people want to buy a car with more seating capacity. These cars are choice of the people, who have big families or large group of friends. Furthermore, these cars are very comfortable for travel. All in all, they are great for families, especially in countries like Pakistan.
Moreover, both cars have three variants each, making them more competitive. We are hoping that this competition will prove healthy for the local market. However, the success of new crossover is hugely depends on the customers and KIA would hope that Pakistanis would love Sorento, like Sportage.
So, fingers crossed for both KIA and local auto market. May the best car wins!
Share your thoughts about this competition between Sorento and Fortuner. Which car would you chose? Tell us in comments section.
For detailed comparison between these two vehicles, Click Here!