KIA Stonic Vs Peugeot 2008 – A Comparison
In our comparison series today, we are going to compare two upcoming crossover SUVs. Interestingly, the first one, KIA Stonic, will be launched by KIA Lucky Motors, while the second one, Peugeot 2008, will be launched by Lucky Motors. It means Lucky Motors is launching two cars simultaneously with two different partners.
As both cars have created a serious hype in the local market, here is the comparison of these vehicles for our readers. It is pertinent to mention that this comparison is between Top of the Line variants of these two cars.
Dimensions
The Stonic has 163-inch Length, 69-inch Width, 60-inch Height with a 102-inch Wheelbase. In Comparison, Peugeot is 164-inch Long, 69-inch Wide, 61-inch High with a 100-inch of Wheelbase. Both cars have 7-inch of Ground Clearance.
Engine and Transmission
KIA Stonic will come with a 1.4L MPI engine which generates 100hp and 130Nm torque, while French crossover has a 1.2L MPI Turbo engine, producing 130hp and 230Nm torque. So, the latter has a clear advantage over the former.
If we talk about the Transmissions, both vehicles will have 6-Speed Automatic ones.
Exterior
Both cars have LED Headlights, and DRLs, while Stonic will come with 16-inch Alloy Wheels against 17-inch Alloys in Peugeot.
Interior
The size of the Floating Infotainment Touchscreen in Stonic is 8-inch and 7-inch in the French crossover. Furthermore, both cars will come with a Sunroof, Push Start and Cruise Control, enhancing the appeal and comfort of these cars.
Furthermore, both vehicles have Single Zone Auto Climate Control.
Safety
Both cars have Front + Rear Parking Sensors, Rear View Camera, Hill Start Assist and ABS. However, Stonic has Vehicle Stability Management (VSM) as an additional safety feature. Lastly, Stonic will come with 2 Airbags, against 6 in Peugeot. 
The addition of these vehicles is undoubtedly excited for petrol heads. Are you among the excited ones? Share your thoughts about these vehicles with us in the comments section.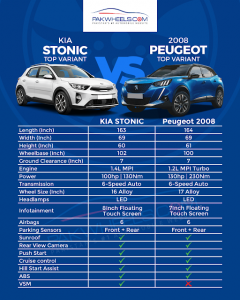 Price
Currently, there is no information about the price range of Peugeot, however, KIA has announced the prices of two variants of Stonic. The first one called EX is launched in Rs3,660,000, while the second one, EX+ is launched in Rs3,880,000.