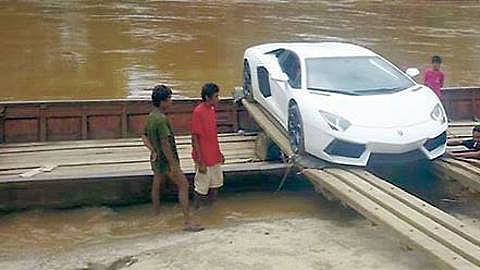 Lamborghini and Ferrari being transported on ledges on a boat
A week ago, we showed you a Lamborghini Aventador being transported on wooden ledges put up on a boat. The sort way how locals transport vehicles — including trucks — at the Atabad Lake. But while on Atabad Lake, they are transported mostly due to lack of road to the villages on the other side of the lake, here though, it seems that a lot of illegal activity is taking place.
Pictures have now emerged of an Aventador and a Ferrari 458 Italia being transported through the same way on the border between Vietnam and China.
Source of pictures aren't to be seen but we're pretty sure this ring of smugglers (probably) will soon be uncovered.