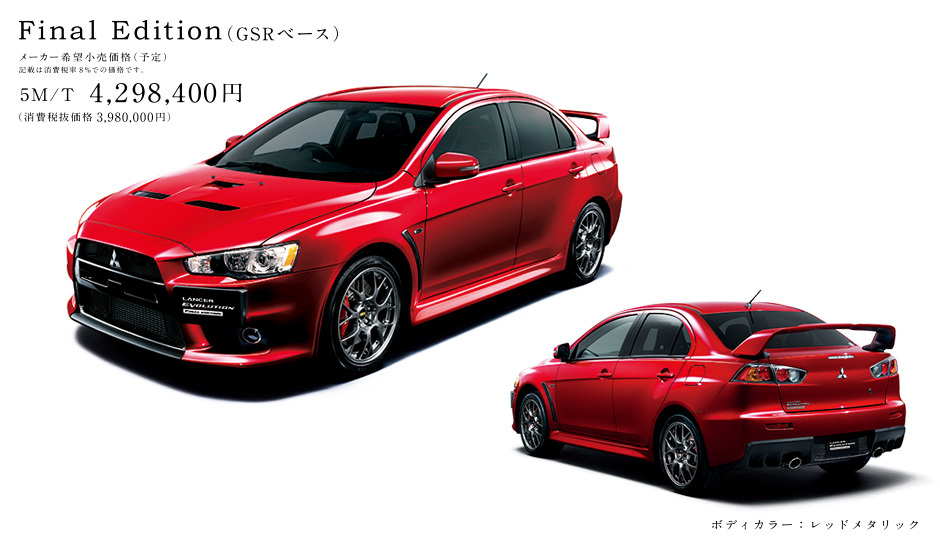 Last Chance To Buy A Brand New Mitsubishi Lancer Evolution
Mitsubishi announced in early 2014 that they have decided to cease the production of Mitsubishi Lancer Evolution, commonly referred to as the 'Evo'. The Mitsubishi Lancer Evolution was first lunched back in 1992. Evo has always been one of the favorites among tuning automotive community. To bid farewell, Mitsubishi announced that they will be releasing a limited version of  Lancer Evolution with only 1000 units. Mitsubishi showcased a concept final Evo X. Now the car is available for sale and with some more details. The car is based on the same 10th generation Lancer Evolution GSR.
The concept was presented with a 2.0 liter, turbocharged engine producing 473 horsepower. Whereas now in the production models, power output remains the same as 291 HP; like normal Evo 10. The car is equipped with a 5-speed manual transmission. The final edition is now more of a car with some minor cosmetic additions and upgrades. The updates can be found in the form of Bilstein shocks, light weight BBS alloy wheels, Brembo brakes, Recaro leather seats and no doubt you will find some "Final Edition Badges". The car is priced at USD $35,802. Lancer Evolution and its 23 years of legacy will now be in automotive history books as Mitsubishi has no plans for any successor.