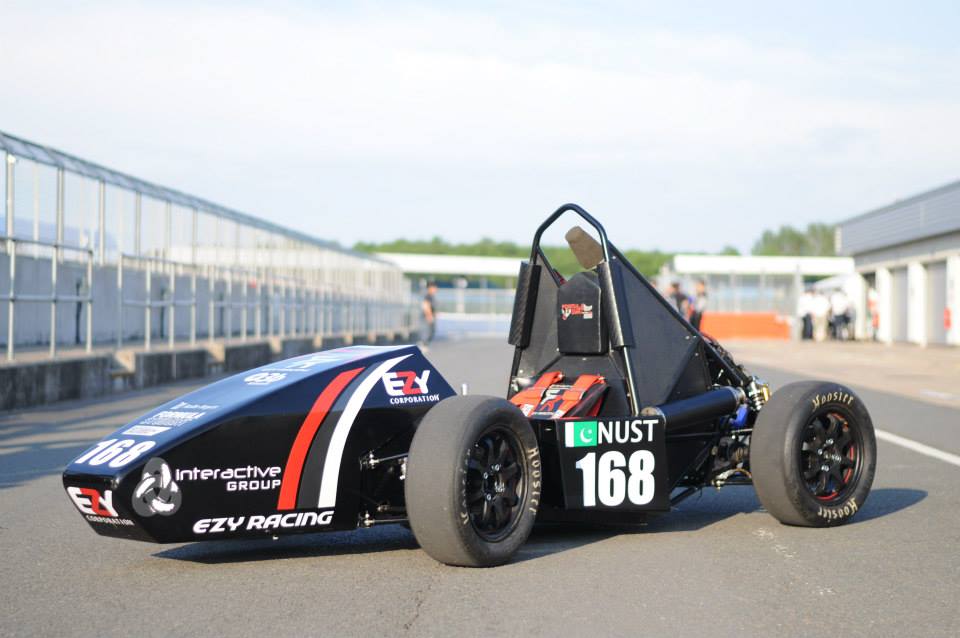 In the world of motorsports, especially in F1, a device known as impact attenuator is installed in race cars as collision is a very plausible scenario. The attenuator's purpose is to absorb impact energy, thus minimizing damage to the car frame and the driver.
In order to meet one of the Formula SAE requirements of the Formula Student competition, which is organised by the Institute of Mechanical Engineers, the Interactive NUST Formula Student Team is currently working on the design and assembly of the impact attenuator of its 2015 race car. This structural device is used to reduce damage to the vehicle in the event of a collision and protect the driver from serious injuries. Before the installment of the impact attenuator in the race car, it has to pass a series of crash tests that show the amount of kinetic energy absorbed in case of an impact.
To support the team in its endeavors, Pakistan Council of Scientific and Industrial Research (PCSIR), has provided the facilities for the testing of this year's impact attenuator. PCSIR is a government-owned science and industrialization research organization which aims to broaden the science and technology base in the country.
The machines at PCSIR have great tonnage capabilities which has facilitated the team to carry out the crash tests and to check the parameters required to comply with the Formula SAE regulations. Interactive NUST Formula Student Team was also able to analyse the experimental values with the numerical ones for its impact attenuator testing at PCSIR. So far the crash tests that have been conducted at PCSIR show results of 6kJ of energy being absorbed, whereas according to Formula SAE rules, the impact attenuator is supposed to absorb 7.35 kJ of energy. Progress is going on to increase the energy absorption capacity of the impact attenuator and the team is highly grateful to Pakistan Council of Scientific and Industrial Research (PCSIR) for its contributions in assisting the student Project.
The support and encouragement of partners like PCSIR keeps the team highly motivated. Interactive NUST Formula Student Team hopes to come up to the expectations by delivering an outstanding performance at the Formula Student Competitions this year.