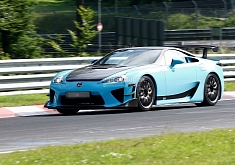 Lexus LF-A Tokyo Edition spied testing at the Nurburgring
Only 500 LF-A were going to be built when Lexus unveiled the first Japanese exotic sports car to the world. Quite recently, Lexus said that only few were available for sale so those interested may need to hurry to make their decision or else they won't ever get one.
Lexus however has kept a surprise for everyone, the last of the special editions of LF-A, was recently caught testing around the famous race track in Germany, 'The Nurburgring'. It is called 'LF-A Tokyo Edition'.
It looks largely similar to the LFA Nurburgring Edition, but actually there are a few differences. This ties in with rumors that an LFA Tokyo edition will be launched this year with naked carbon fiber for the roof and bonnet, which this has.
The LFA comes with an additional air intake on its hood, a small bootlid spoiler and quad exhaust tips at the very top of the backside of the car. This comes instead of the regular three-pipe, triangular design.
The Lexus LFA Tokyo edition will probably be a few kilos lighter, a few horsepower more potent, a few milliseconds quicker to shift and so forth. It will all add up to a new Nurburgring lap time that's faster than the 7:14.64 set by the Nurburgring edition.
Pictures via Autoevolution.