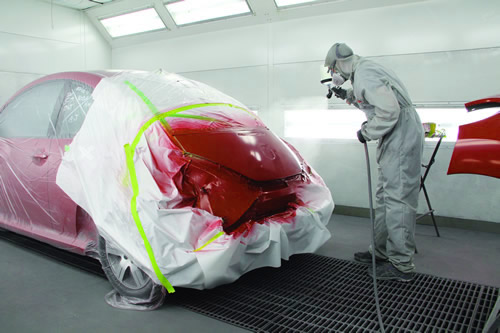 KARACHI: FBR has decided to add all business associated with auto-sector to the tax net to increase revenue. This includes denters, painters, parts dealers, showrooms, workshops as well as vehicle service centers.
This news hardly comes as a surprise because the government for the past few months has been trying extremely hard to pile more and more revenue in order to stabilize the economy of the country. So as always Auto-sector being the more easy target has once again been a subject for collecting more revenue. Latest development includes government taking a strict measure which might eventually make owning and maintain a car even more hard.
The news goes as follows that the Regional Tax Office has generated and evaluated data associated with major automobile showrooms, authorized car dealers, big service stations, workstations, and company-designated centers. This data helped picture the overall incomes of all the major auto-businesses in Karachi. After which around 312 auto showrooms, workshops, etc. have been issued a notice.
Read Also: NHA launches the e-billing system to ensure transparency
BTB has revealed some insight that according to their study most of the players in the auto sector related business are obligated to be included in the tax net as well as submit their taxes. However, they are not only unlawfully evading the tax but not even included in the tax bracket in the first place. Due to this alarming situation, officers from all zones of the regional tax office have decided to bring vehicles and the relevant people to the tax net. With that said, there hadn't been any mentioning of a penalty for the defaulters who will refuse to pay taxes or found evading taxes in the future.
We will urge the concerning authorities to also take action against the parts sellers, workshops, service station and even dealers who will increase their prices drastically as a result of being caught in the tax net. It might be easy to expand the tax net. Similarly, it's easier to forget that the normal citizen eventually has to pay the price. And in this case, once the automotive-related business gets caught up in the tax net, they will try to recover that money from their customers. So it will be a win-lose situation which we don't want to happen, especially at this time.
That's it from our side, drop your thoughts in the comments section below. Stay tuned to PakWheels.com for all automotive related news. Happy Motoring!