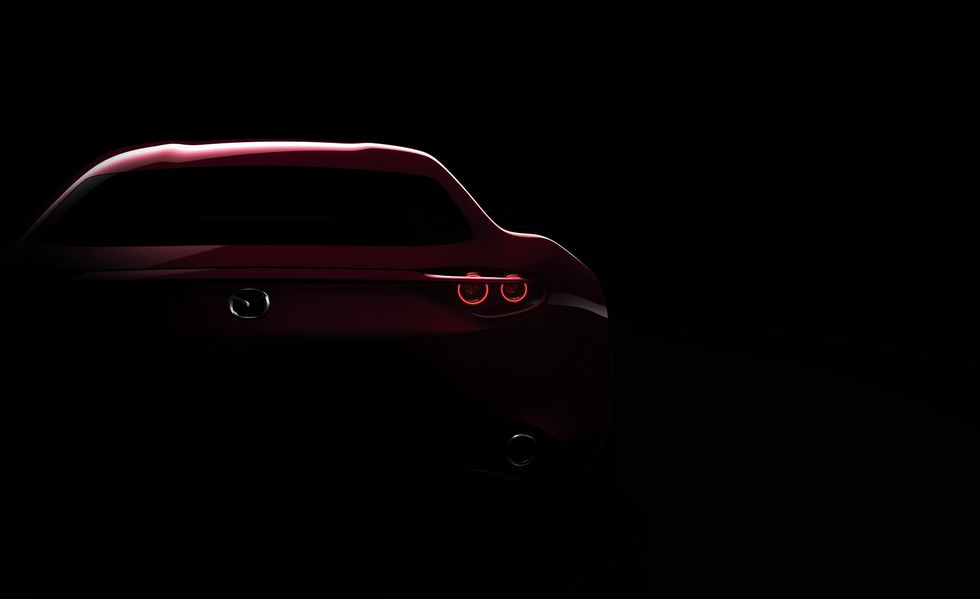 Mazda's Legendary Rotary Engines to Return with a Twist!
Mazda's 34 years run with the Wankel rotary engine has firmly rooted itself in automotive legend. Starting in 1978, with the unforgettable RX-7; Mazda's compact and powerful rotary engines gave the RX-7 a unique character, which became an instant hit and is adored by enthusiasts till this day. Nearly 20 years later, the RX-8 followed its lead, and the homelier, more refined Mazda enjoyed similar success. Unfortunately, however, the engines struggled; issues regarding burning oil, worn seals, high emissions, and terrible fuel economy were commonplace. Even though the enthusiasts were willing to put up with these issues, it is safe to say that Mazda had lost a significant fraction of the mainstream market. Unable to keep up with modern engine designs and increasingly strict emissions and fuel economy regulations, Mazda had to bid the rotary farewell, and in 2012, the last Mazda RX-8 was built.
Mazda, however, is planning to revive the beloved rotary. Despite its downsides, the rotary engine offers a number of advantages, including but not limited to; being compact, more comfortable to package and much quieter than a conventional engine. The Japanese automaker plans to leverage these pros of the rotary engine in its upcoming vehicles and fix the cons with some ingenious techniques. According to reports, Mazda plans to use the rotary engine as a range extender for an upcoming electric vehicle. A range extender is basically a small engine fitted to an electric car that uses combustion to power the car additional range when the car runs out of charge, in theory, reducing range anxiety; Chevrolet Volt and the BMW i3 REx are examples of such vehicles. This news was confirmed in October of 2017 when Mr. Kiyoshi Fujiwara the Executive Vice President, Assistant to President and Representative Director at Mazda commented;
(In) 2019 or 2020 we release the EV with range extender rotary engine — this is completely a range extender unit. Because that is one of the merits of the rotary engine we have to utilize it for the range extender. That is one of the rotaries.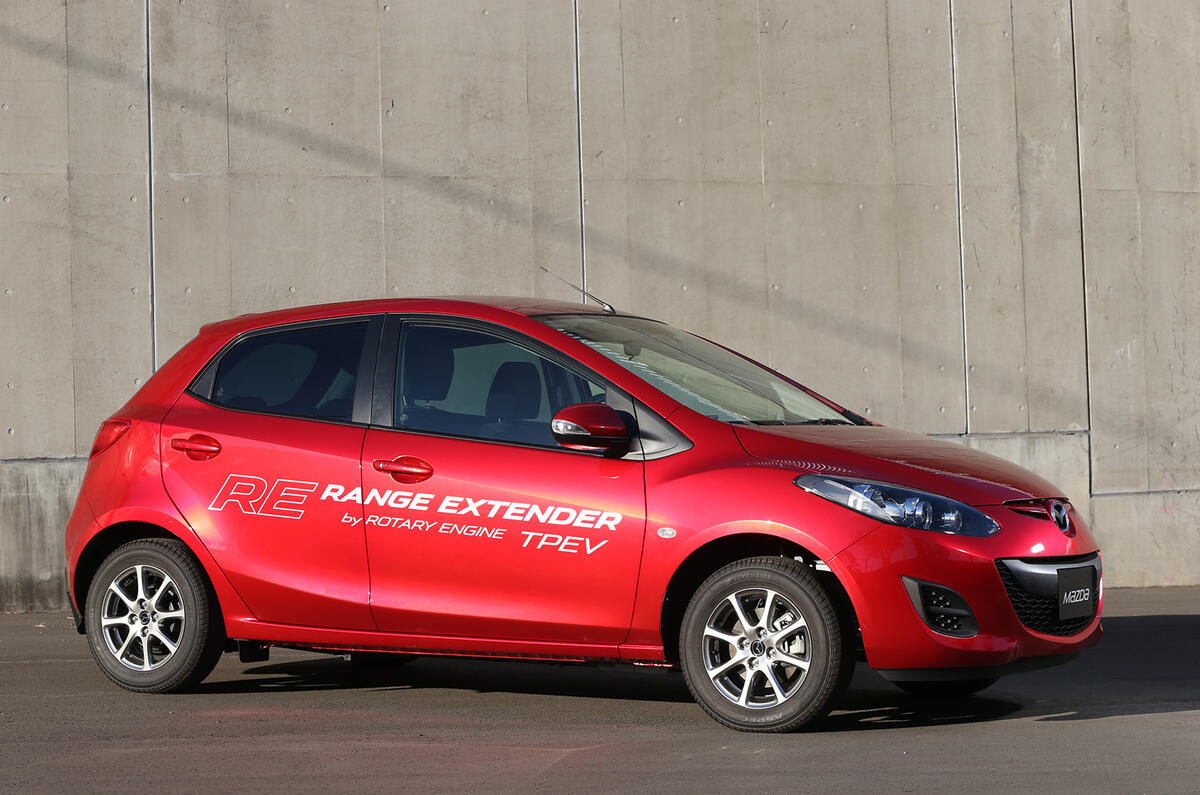 In March 2018, Martijn ten Brink, Vice President of Sales and Customer Service for Europe, confirmed that the company intended to revive the rotary as an optional range extender for an upcoming vehicle. Like the powerplant described in this patent, ten Brink said the engine had a single-rotor layout and no turbocharger. He indicated the mill would sit as low as possible for a better center of gravity and be "as big as a shoebox."
In the 2018 Paris Auto Show, Mazda announced it would add plug-in capability and electric power to all of its models by 2030. At the same time, it showed off two new electric concepts, a fully electric version of the Mazda 2 (also known as the Mazda Demios) while the other was a range-extender version of the same vehicle, powered by a 0.33L rotary engine, in addition to its electric drive-train. Mazda said its first electric should debut in 2019, and will likely be a crossover SUV based on the next-generation Mazda 3 (also known as the Mazda Axela). Mazda also teased the possibility of a rotary sports car and showed off the RX vision concept car (pictured below), which interestingly has what looks like a manual transmission. If Mazda manages to pull this off and deliver a rotary engine-powered sports car with a stick shift, that looks as seductive as the concept, then it would undoubtedly capture the enthusiast market.
Since the Auto Paris Auto Show, the company has filed numerous patents that talk about ways to improve the rotary engine. The most notable of which was registered in Japan's Patent Office on August 31, 2018, and published on September 19, 2018. The engineers created an angled, L-shaped passage for the oil injector; from this position, the lubrication would shoot down diagonally and cover the entire inner wall of the combustion chamber to grease the corner of the rotor as it moves past. This, in principle, would solve much of the oil burning issue that plagued the first generation. Another patent talks about packaging the rotary in a vertical orientation; as it turns out, it can be packed much more efficiently when mounted this way. This makes it ideal for its intended application as a range extender; since in that orientation, it can be neatly tucked away under the boot of the vehicle, much like the BMW i3 REx.
An interesting revelation also came in the form of a partnership with Toyota; at the 2018 Consumer Electronics Show in Las Vegas, Jacob Brown, spokesman for Mazda North America, said Mazda's engineering team will share the powertrain's developments with Toyota, including a range-extending rotary engine. "Mazda will provide technical information on a (rotary engine) range extender to be used in the vehicle being developed. We will reveal more details at an appropriate time," Brown said. Toyota, however, declined to comment for this story.
The aforementioned patents, statements, and news all point to the same undeniable conclusion: Mazda is planning to revive the legendary rotary engine. However, it is doing so with many strings attached. In my opinion, enthusiasts of the rotary are more likely to resent it being used as a mere range extender in an electric vehicle rather than welcoming it. It is no secret that the experience of driving a Mazda RX-7, with its roaring twin-turbo rotary engine at 8000+ RPM and the experience of a range-extended Mazda Demio would differ by a Brobdingnagian factor. Mazda is likely to acknowledge this difference and perhaps, with its myriad of new technologies to improve the rotary, create a purely rotary engine based sports car. This possibility was hinted at by Mazda officials and the existence of the RX Vision concept may lead one down road too; however a rotary engine sports car it is still speculative. But who knows; Toyota only recently revived the equally revered Supra, so maybe we are in a future Mazda RX-9.
That is all for today folks! If you liked this piece or are a fan of Mazda's rotary engine and looking forward to seeing it return, please let us know in the comments below. As always your feedback and constructive criticism are welcome.