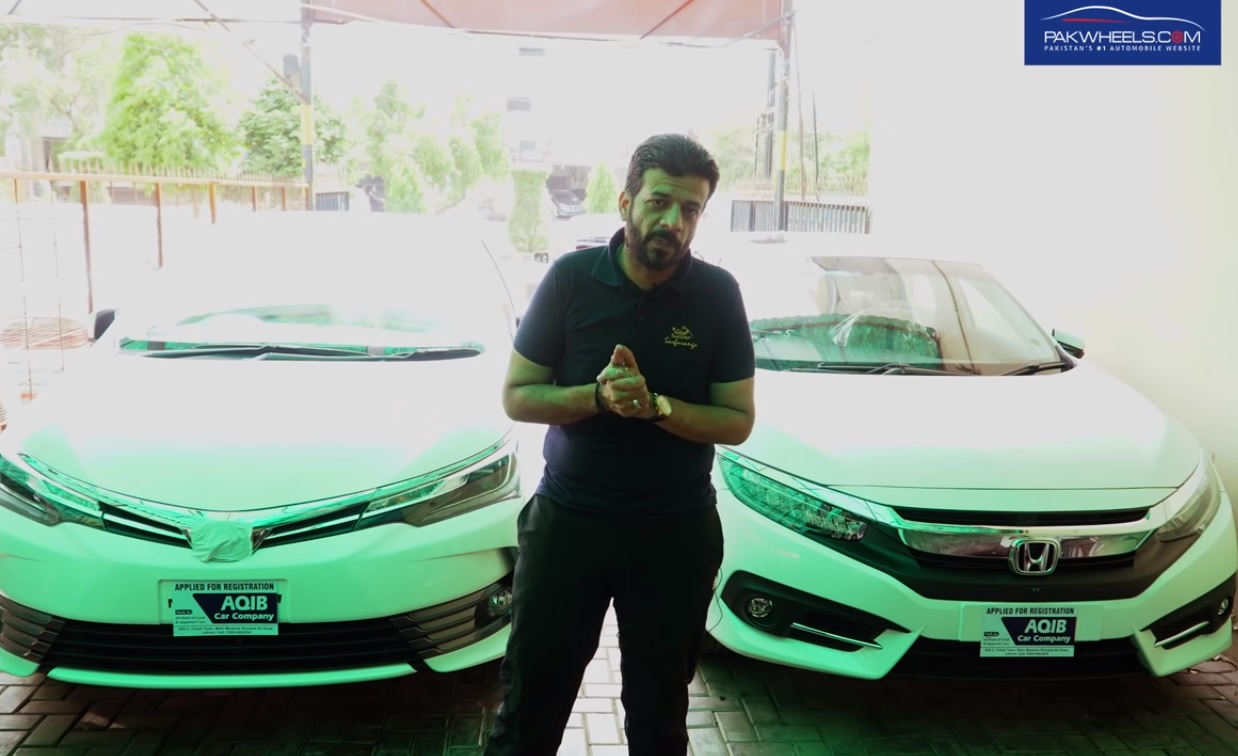 Honda Civic 1.8 Oriel Facelift 2019 vs Toyota Corolla Grande– A brief comparison of two popular cars in Pakistan
Hello, PakWheelers yet again we have brought exclusive content for you guys. In this article, we are briefly comparing Honda Civic 1.8 Oriel Facelift 2019 and Toyota Corolla Grande. Take a read.
Exterior 
The aesthetic appeal of the exterior of each of these vehicles depends on individual taste. Both cars are equipped with LED headlamps as well as DRL. Honda Civic has slightly more pleasing headlights because of the chrome work done there, which gives it a very pleasing appearance. Both Corolla and Civic have fog lamps and front and reverse cameras. 
Both the cars have 16-inch alloy wheels. Toyota Corolla has Yokohama Advan 205 r16 wheels whereas Honda Civic has locally manufactured BG Luxo Plus 215/55 R16 wheels that are wider. 
Interior 
The interior preference is once again subjective, based on each person's wants and needs. The Toyota Corolla's head unit is superior to the Honda Civic's. The screen for the corolla is also bigger than that in the civic. 
Toyota Corolla also comes with a free service called Toyota Connect. This is offered for free for six months. This app helps trace the location of your corolla, what speed it is being driven at, harsh braking and other driving habits. The app comes with every Toyota Grande for six months. There is no such app for Honda civic; however, owners can get separate accessories like a tracker. 
Comfort and handling
Corolla's ground clearance is better than civic's. When it comes to driving posture and road height, the Civic is sporty and closer to the ground compared to the corolla. This is why aged drivers prefer Corolla, which is more comfortable to sit in compared to Civic. For youngsters, there is no difference. 
Toyota Corolla Grande also has a gear shifter/paddle, which means the driver can shift the gear from the steering wheel. The 1.8 civic does not have this feature. The only Civic that comes with paddle shifters is the 1.5 Turbo RS, which has an on-road price of 44 lacs, previously 3,850,000 rupees. 
The Toyota Corolla's rear seat can be tilted back. There is no such option in the Civic. Both cars have a push start button, cruise control, tv, reverse camera, and sunroof. However, a difference to note is that Toyota Corolla comes with ISOFIX international standard child safety. Honda Civic does not have that option. 
Performance
In terms of power, the Grande has more power than the Civic oriel. Even though the Oriel supports a more sporty and modern look. 
According to users, Civic has better brand value than Corolla. A lot of people used to believe that Toyota Corolla has a very harsh and rugged drive for Pakistani roads. The suspension response is not as good when compared to Civic. However, users such as Mr. Suneel Munj that have owned and driven both, claim that there is not much difference between them. Toyota Corolla's suspension is as smooth as Honda's Civic. 
Safety
Both vehicles come with ABS brakes. Pertinent to note, before 2016, corolla did not come with an immobilizer while Civic did. In 2016, the corolla got a facelift and an immobilizer as well. 
Moreover, at the moment, Honda Civic comes with an electronic handbrake. Toyota has analog brakes. In this modern era, the electronic brake is brilliant and far more comfortable to use. The Civic also has a brake hold function which the Corolla Grande does not have. 
Final Verdict 
We will use price to determine the final verdict since the cars have been mainly; head to head in most features. 
Prices are frequently changing due to various factors such as the dollar rate against the rupee, inflation, car freight, new forms of taxes, etc. There is a difference in the advertised price of a car, and the on-road price of the vehicle. 
The Honda Civic 1.8 Oriel is for 3,957,020. This is a misconception because this price does not include leathers and tv. This is where the Toyota Corolla Grande takes the cake, with the pay order amount of 3.6 million rupees including leather and tv.