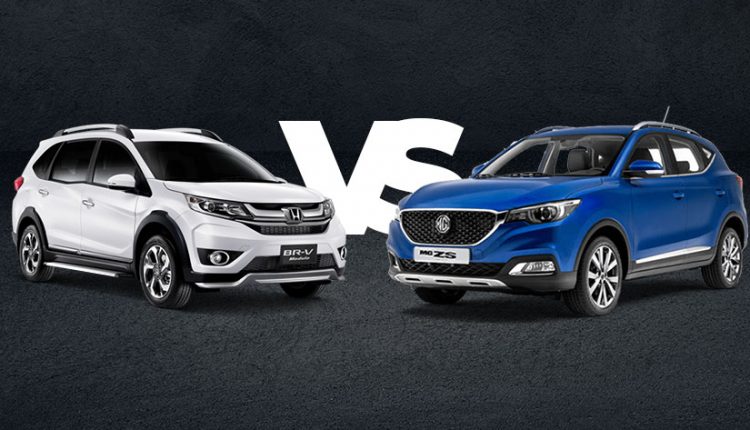 MG ZS Vs. Honda BR-V – A Comparison
In this article, we are going to compare MG ZS and Honda BR-V. On the one hand, ZS is the latest entrant in the compact crossover SUV segment, while BR-V is in the market for almost three years. This article will compare both cars' salient features and specs, so the consumers can make an educated decision.
It is pertinent to mention that we are comparing Honda BRV 1.5 i-VTEC S with ZS, which is the top of the line variant of BR-V. 
Engine and Transmission. 
MG has installed 1498cc engine in its car which generates 112hp and 150Nm Torque. Meanwhile, Honda's SUV has a 1497cc engine, producing 118hp and 145Nm Torque. So, in comparison, BR-V produces more horsepower, while ZS has higher torque.
Furthermore, BR-V comes with CVT Automatic, while ZS has 4-Speed Automatic Transmission, making Honda's vehicle superior in this segment.
Alloy Wheels Size: 
Honda BR-V has 16-inch, while ZS comes with 17-inch Alloy Wheels.
Seating Capacity: 
Honda BR-V has the seating capacity of 7-people, while 5-people can sit in MG's car, making the former a better car for planning a long trip with your family.
Head and Rear Lights: 
Both cars come with Halogen headlights with LED DRLs and Front Fog Lights. Meanwhile, ZS offers Rear Fog Lights, Auto Switch on/off and Height Adjustable Headlights, which Honda is not offering in its SUV.
Cruise Control: 
MG's vehicle offers the feature of Cruise Control, while BR-V does not have this one. The Cruise Control is a great feature for fuel average and driving comfort, especially on highways. You can set the car's speed on a specific point, and car will continue driving on it unless you press the brake.
Reverse Parking Sensors: 
Again, ZS  offers this feature in its vehicle, while BR-V has not. It means it is easier to reverse and park MG's SUV than its competitor, giving another edge to the former.
Safety: 
MG is offering 6 airbags in its SUV, while BR-V comes with only 2, making ZS safer in this regard. Furthermore, both vehicles have ABS/EBD, Rear View Camera and Immobilizer, which means they share most of the safety features except the number of airbags.
The SUV by MG also has the Electric Stability Program (ESP) and Tyre Pressure Monitoring System (TPMS) features, making it a more stable car than its competitor.
Shared Features: 
Meanwhile, the features which both cars share are Smart Entry, Push Start, and Multimedia Steering.
Price
:
The price of MG ZS is Rs4,099,000, while the current rate of Honda BR-V is Rs3,479,000, which means, BR-V is over Rs 6 lacs cheaper than ZS.