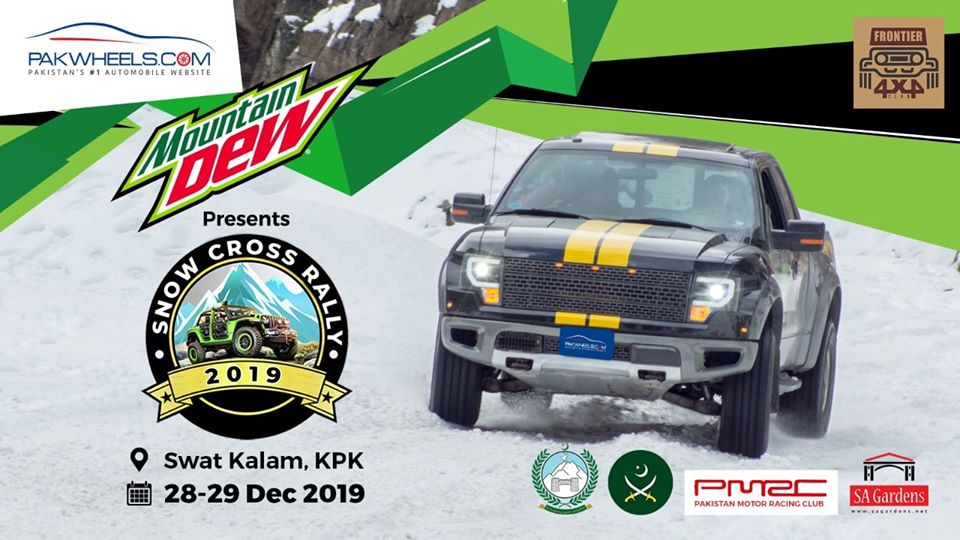 Mountain Dew Presents PakWheels Snow Cross Rally 2019
Mountain Dew Presents PakWheels Snow Cross Rally 2019 to be held on 28th and 29th December 2019 at Swat Kalam.
Pakistan is undoubtedly a beautiful country. It is filled with every kind of natural beauty you can imagine. From the thick forests to deserts, to the rivers, to the snow-covered mountains, we have everything in this amazing land.
The northern areas of Pakistan have started to see an increased number of tourists as compared to the previous years, thanks to the continuously improving peace, road network, and people becoming aware of the demanding driving and road conditions. And to bring the area into more limelight, the 2019 annual Snow Cross Rally is being held on 28th and 29th December 2019. Note here that this time over 40 vehicles will be participating in the event.
Last year, Frontier 4×4 Club in collaboration with Mountain Dew organized annual Snow Cross Rally in Naran. In the previous iteration of the rally, Nasir Khan with his Raptor bagged the first place. Let's see who grabs the first position in the upcoming rally.
Categories:
CATEGORY A (2700cc to open)
CATEGORY B (500cc-2700cc)
CATEGORY C (WOMEN)
CATEGORY D (4×4 trucks)
Mountain Dew is always at the front of organizing motorsports events in the country. They always try to project a better image of the country to the outside world. And it is indeed one of its kind events in the country where racers fight to reach the final point while going through dangerous terrains. The way they defy all odds and drive their machines through snow and mountains is a treat to watch. 
Click here to know more about the rally
Our country has been going through tough times lately, and the previous few years especially, have been difficult. Helping organize such events not only brings healthily and positive activity to the people but also shines a light on the hopeful future of our country. 
Important note:
Discipline will strictly be observed as it's an extreme weather event.
Helmet, gloves, snow chains will strictly be observed.
Technical Inspection:
Date: 28th December 2019
Location: Ushu Forest Kalam, KPK, Pakistan
Duration: 12:00pm – 3:00pm
Drivers Meeting:
Location: Circuit House, Kalam, KPK, Pakistan
Time: 6:00 pm (may be changed by the administration)
Race Day:
Location: Kalam-Mahudand, KPK, Pakistan
Date: 29th December 2019
First flag off: 10:00 am
Firing order: First come – First serve basis
Flag off interval: 4 minutes
Price distribution:
Location: Kalam-Mahudand, KPK, Pakistan
Date: 29th December 2019
We hope to see such events in the northern areas of Pakistan more and more.