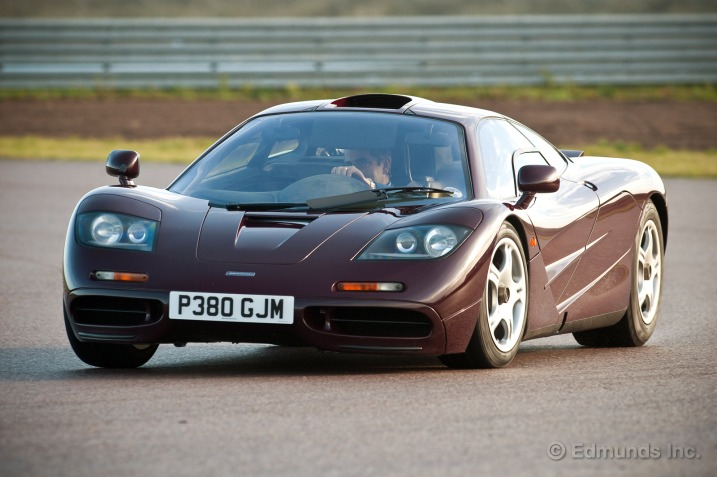 Mr. Bean is Selling His McLaren F1 For 12 Million US dollars
You should know that Mr. Bean, also known as Rowan Atkinson, is a massive car enthusiast and quite a driver who prefers to enjoy his cars rather let them dry out to decay in a garage. He has driven them like very few people throughout the motoring history. A mighty fine driver who also topped Top Gear's SIARPC chart and it is love towards driving that found his McLaren F1 in a ditch. Not one but two times. Factory repaired it for a staggering 1.4 million GBP. Of course the insurance paid for it.
So many people are currently questioning skills as a driver but when you get a which is a manual, no driving aids like you'd in today's cars and a V12 engine strapped to your back, it isn't as easy to control such ferocity as you may believe.
People are also skeptic at the Mr. Bean's demand of McLaren F1 which is just £8,000,000, or US $11,985,280, but given the history of the two accidents, it is quite a lot. Even though McLaren F1 sells easily for 6 million GBP or more.
He's the first owner of the car since 1997 and has put a lot miles in daily driving capacity but also had two accidents. This one time in 1999 when he drove into the rear of Rover Metro and in 2011, the car was wrapped around a road sign, which was a serious accident and the factory repaired to new specs.
Left, 2011 crash and right, 1999 crash:
But he enjoyed the car and these were his opinion of this classic exotic.
"Probably my best moment in the car was just a few months after I took delivery. I remember driving down to Cornwall for a holiday with my two then very young children. We packed all our bags without problem, I put their child seats in the car, strapped them in and set off on the five-hour journey. I can remember looking at them a few minutes later and both were already fast asleep. And I thought to myself what kind of car was it that could seat three in such comfort, carry enough for a week away yet also do 240mph? There was no other ten, and there is no other now"

"Look at a modern supercar of comparable performance and it will be vast, heavy and offer little or no space for your luggage. By comparison the F1 is tiny, yet it will seat three, store enough for you all to go on holiday and still finds space for a proper, normally aspirated 6.1-litre V12 engine. And it weighs the same as a shopping car. Nothing has ever been designed before or since with such imagination and clarity of thought."

"It was never bought as an investment," he says. "I bought it for the quality of the thinking that went into its design, and now it has become a thing of value, it is time for it to be enjoyed by someone else."
So if you have some spare cash lying and are interested in Mr. Bean's F1, it is being sold by luxury London dealership Taylor & Crawley, according to the Western Daily Press.