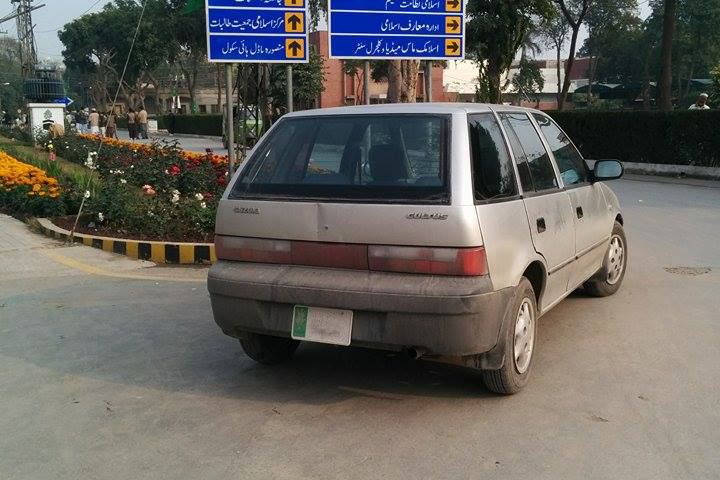 Car Ownership Diaries: What To Expect From A Used Suzuki Cultus
Recently, I purchased a Suzuki Cultus just for the heck of it and this is my story.
I wanted a smaller car for local errands. I have a 2000 Civic as my primary car, and I have loved it to the core for the last "N" number of years. To others it may be a primitive shaped 4 pot with prehistoric interior and no fancy goodies like 'eco idling' and 'multimedia steering', but to me, it represents a lot more. Civics are not classics, they will never be. But with the limited choice of cars we had here in the 1990s and early 2000s, a well-kept 2000 Civic is not easy to come by. Call me conservative, but I love cars for where they've taken me, and this has taken me to far far places. Hence, the love is strong with this one – strong enough to make me shed a tear or two each time I have to take it to places like Icchra and Anarkali where a teenage biker can just draw a scratch on its fender with his rusted number plate, look back and say 'soery (not sorry) bhai'.
I was looking for something under 400k, and my conditions weren't exactly tight. I just wanted something newer than year 2000 and with cheap spares. The choices were the all common Cuore and Santro and Alto and Mehran. I had kept an Alto almost a decade ago and didn't really like it. I sat in a Cuore but it was too cramped. I've always liked Santro but my friends scared me with the high maintenance cost. Mehran – I just couldn't find a justification of spending a good 400k on a Mehran.
So one day my favorite dealer friend, a guy with a showroom at Samanabad, called me and said, "I have a car for you. It's a 2004 Cultus VXR in silver color, Lahore registered in 370k." My first reaction was (in Lilly's voice) "Where's the poop?" I know these ladies, even older ones, cost an arm and a leg (for no reason understandable whatsoever).  I knew on any other day this would've cost me north of 500k. Hence my question to which he replied "It has a duplicate registration book". That didn't matter to me so I gave him a go ahead.
When I drove the car, my initial thoughts were of regret. The suspension made noises I had never heard before in my car driving history. The bumpers barely clung to the body in multiple pieces and the rear lights had enough water in them to irrigate a small sugarcane farm. The engine was really good though.
So I took it to the mechanic straight away and asked him to fix everything. Eight hours, six cups of tea and some hot political discussions later he shocked me with the bill. A little shy of 9 thousand rupees to fix a car which looked unfixable. Just to give you a slight idea – 610 rupees for a locally manufactured bumper. It looked cheap, but hey, who cares? 2000 rupees for a pair of rear lights. The whole indicator assembly for 1000 rupees. Suspension work – all A class material (couldn't compromise on that) – 3000 rupees.
The Cultus lovers in my company had told me a lot of great things about owning this piece of automotive excellence. One of them was it being dirt cheap to maintain. And that was proven correct.
The other things I was told were, in no particular order,
It drives like a big car
It's super economical on fuel
It handles like a go-cart
The drive is buttery smooth, and
The cabin is really quiet
My experience?
Wrong
Wrong
Wrong
Wrong, and
Very wrong
It drives like a Cultus, nothing more, nothing less. It is NOT super economical on fuel – I've gotten 12kmpl at max, which is not 'great' by today's standards. My 1.6L Civic gives me that kind of economy; my E90 335i Twin Turbo gives me a tad lesser. It does not handle like a go-cart, not even close. It's just a bit lower than all those Mehrans and Altos and being closer to the ground gives you the fake sense of control. With those soft suspensions, you shouldn't even be thinking about cornering. Smoothness of the drive – no, not at all. Alright it is smoother than a Mehran or an Alto, but nowhere near a Santro. Santro is smooth. Cultus is not smooth enough to be boasting about smoothness of drive. The cabin noise – well filtering all the internal rattles of the cheap plastic used in doors and dashboard, it is still not quiet by any standards.
So is it a keeper? Absolutely yes! If you're travelling frequently to places where you're afraid of mixing your intestines with the rest of your internals, this is the car to take. If there's someone in your family who wants to learn how to drive, Cultus is the car. If you travel to fish market, fruit market, or places where you would just want to blend in and be invisible, buy a Cultus. The rear sitting space and legroom is actually pretty generous by local hatchback standards.

And then there is the resale.. A bad Honda Civic for instance does not just have a bad resale – it has ZERO resale. A bad Civic is not sellable. Period. A Cultus however is sellable, nay desirable, in any condition. A beat up, repainted, dirty interior, twin shaded Cultus parked on its roof will still sell. All I have been busy since buying this car is getting offers, and some pretty decent ones.
The desirability also makes it very prone to theft. You may laugh if you want, but this is the only car I may consider getting insured.
So if you're in the market to buy a second car in under 500k budget which you can ram around, blend in and sell whenever you want, you can't go wrong with a Suzuki Cultus.
Click here to see all used Suzuki Cultus available for sale on PakWheels