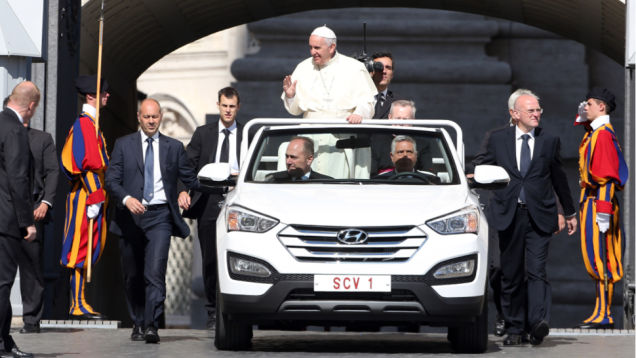 New Popemobile: From Bulletproof Mercedes To A Diesel Hyundai
The popemobile has always been a topic of discussion around the world. Whenever the Pope visits a country, his trusty vehicle always accompanies him.
Popemobile has a long history. Many automakers have designed and built cars for the Pope. Ford built special cars based on their presidential limousines for Pope. All sorts of car makers, from SEAT to Mercedes has made cars for the Pope. But now, there's a new player in town.
It looks like Pope Francis has swapped his Mercedes-Benz popemobile with a relatively humble Hyundai Santa Fe. For years, Popes have navigated massive crowds and tight streets in tall, heavy, modified Mercedes-Benz vehicles, but Pope Francis now appears quite comfortable in a Hyundai. This version made its debut early June on a drive through St. Peter's Square and is the first Hyundai popemobile the Vatican garage.
The 2015 Santa Fe isn't exactly factory spec. The engine is still the 2.2-liter CRDi turbo-diesel motor, but the top is open and there are retractable steps at the rear door to facilitate standing exits. The new popemobile completely got rid of the trademark bullet-proof glass enclosure. The bullet-proof popemobile was introduced after the attempted assassination of John Paul II in 1981, and was favored by Francis's predecessor Benedict XVI.