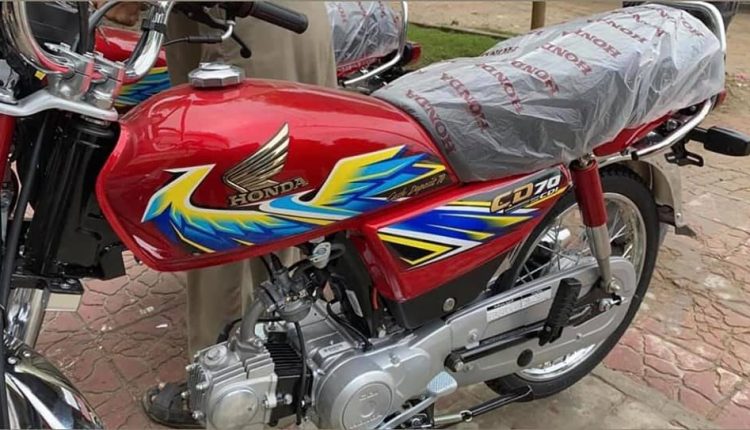 New Sticker Launched on Old Honda CD70
Atlas Honda has launched new sticker of Honda CD70, but with same old body. The new sticker is mix of yellow and blue colors, with a hint of black on red variant. Meanwhile, the sticker on black variant is mix of red, blue and green with border of white.
The Honda CD70 is considered as most famous bike in Pakistan among common masses. The bike is popular for its low fuel consumption, low maintenance cost and  easy availability of parts. Another major reason of this bike's popularity is absence of competition in local market.
However, the company has not made any major changes in the shape or material of the bike.
Honda CD70 Price Hike: 
Atlas Honda revised the prices of its motorbikes up to Rs5,000 from August 1, 2020. The company said new price of Honda is Rs77,900 after getting an Rs1,000 increase from the old price of Rs76,900.
Meanwhile, CG-125 now costs Rs129,900, comparing to the early rate of Rs128,900. The prices of CG-125S and CG-125SE saw a jump of Rs2,000 and now costs Rs154,900 and Rs156,900, respectively.
Furthermore, CF150F saw the biggest hike of Rs5,000, and its new price is Rs244,500 from the old rate of Rs239,500.
This was not the first time, company had hiked the prices of its bikes. Atlas Honda took the same step in July 2020, when price of Honda CD70 was hiked by Rs14,00.
Relaxation in Budget 2020-21:
It is pertinent to mention that the government removed Ambit of Advance Tax (AAT) on vehicles with engine power up to 200cc under Fiscal Budget 2020-21. During his Budget speech, Federal Minister of Industries and Production Hammad Azhar had said that the step is being taken to provide relief to lower strata of society.
The new price hike is expected to hit the already slow auto market in Pakistan. According to Pakistan Automotive Manufacturers Association (PAMA), 38,167 two and three-wheeler units were sold in May 2020. These sales are meager as compared to 154,782 vehicles in May 2019. The report said during the current fiscal year, the sales of bikes and rickshaws have seen a drop of 27% to 1.22 million units from 1.64 million units sold last year.  
For the latest news, updates, reviews, and updates about the auto industry keep visiting PakWheels blog.