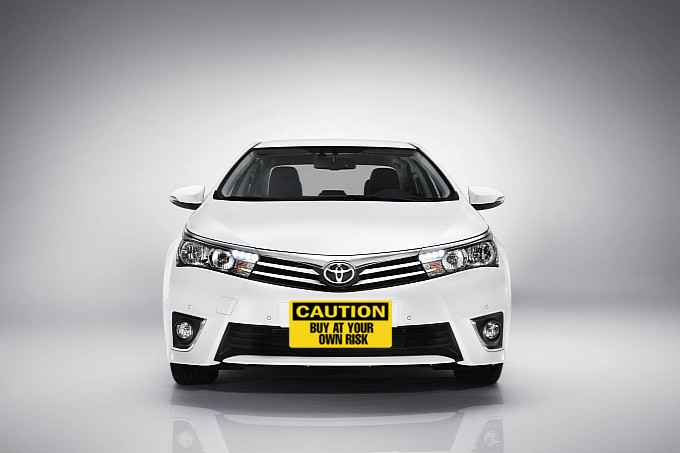 New Toyota Corolla buyer given a defective car by Indus Motors' Islamabad Stealership
If you give us the opportunity to define the Pakistani working class stereotype, Corolla would fit into that equation on so many occasions that you'd be left baffled. It is a part of the success story of many Pakistanis who had humble beginnings and worked towards achieving the goals: BV, Bachay, Corolla and Ghar. And that's that!
But in a predicament economy of Pakistan, it takes more than just hard work and effort to accomplish those ambitions and once reached, your kids are already in school and your life is monotonous but you're now patient and calculated in your decisions, the excitement and passion is there alright but not in the way it would've been when you began your career. So you'd expect a certain level of treatment as you walk towards fulfilling of those dreams. A brand new Toyota Corolla.
Here's the story of Nabeel Rehman, whose treatment by Toyota Islamabad Motors (Aabpara), embarrassed the brand of Toyota. How? Well Toyota in Pakistan wants customers to buy cars from them in a way, that you're buying a second hand car from a used car bazaar in North Karachi. That's what the "Stealership" said to Mr. Nabeel, "You should've inspected the car before taking delivery". The days leading up to the delivery of your new car are filled with excitement and emotions, you treat that day as a celebration, an event on its own for which you have saved and worked all your life.
The feeling of buying a new car cannot be compared to that of the hassle of buying a used car. Mr. Nabeel had the same level of excitement for that fateful day as he got ready and went to Toyota Islamabad Motors to take delivery of his brand new Corolla. Once the documentation was completed and paperwork out of the way, it was time to take the car home.
However, things weren't going to go so smoothly yet. Mr. Nabeel didn't realize that he had to maintain the same level of vigilance he must exhibit when buying a used car because; when the dealership official took him to his destined car, Nabeel noticed difference in the alignment of the trunk. Regardless, Nabeel pointed it out to the dealership guy to the problem and he duly noted and took the car back in to have it sit properly. Still, even after paying ridiculous amounts of money, you have to get it fixed in front of you. Kind of like the used car buying experience, isn't it?
He then signed on the delivery papers, and took the car home as everything felt fine until the next morning when in bright sun light, he saw a dent on the hood of the car. At first Nabeel thought that something external dropped on the hood and caused the dent but upon deeper inspection, it appeared to be a manufacturing fault. The curvature line of the hood was not aligned properly, it was in fact a finishing issue of the hood.
Utilizing the sun light, Nabeel looked around the car like you would look on a used car for more possible issues. He noticed that there were marks and scratches on the left headlamp and a cut which felt if it was given through a machine. The word machined was used because the cut was a straight line without an impact pattern on the rupture you usually get when you hit a pebble or something.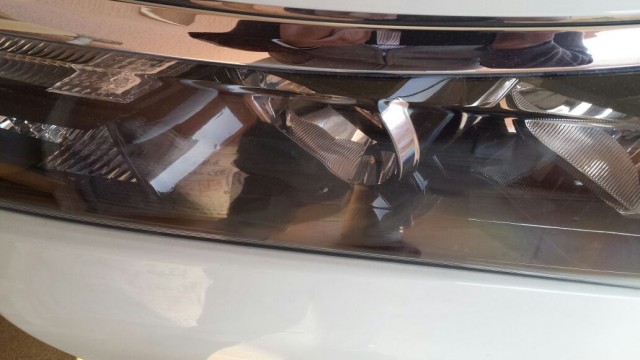 The very next day, Nabeel took the car back to Toyota Islamabad Motors who accepted that the hood issue was a manufacturing fault and offered to repair it rather than replacing the hood. At this instance, anyone would've gone mad. We bought a new car, the decent thing from Toyota's end would be to replace the hood but Toyota was adamant to have it repaired and after exhausting all his resources, the 'Stealership' said that they will repair the hood dent but why would anyone repair something on he bought brand new. And the defect isn't even his fault. So Nabeel said no to repair and insisted that they replace, both the headlamp and the hood.
To make things worse, they did not acknowledge the mark on the light and kept on blaming Nabeel. They said that he should not have accepted the car in the first place, which is when he tried explaining them that it is literally impossible to check a new car thoroughly and it should be the responsibility of the company to ensure Pre-Delivery Inspection as new car buyers trust the brand name of Toyota and sign the delivery but now; he blames himself for not inspecting the car like he was buying a used Corolla.
We have attached pictures as well, as you can see, no one can spot the hood defect and the scratch on the light for further away;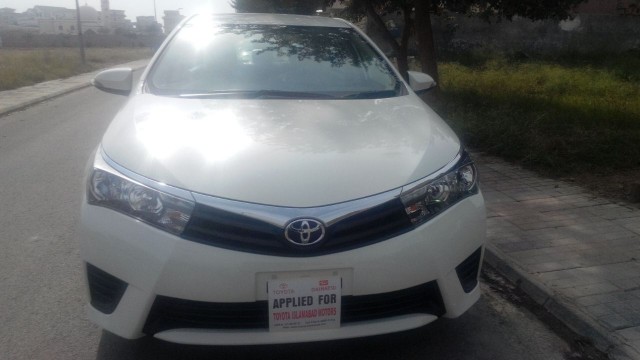 but when you take a closer look, you can see them very well there.
Click on the thumbs to enlarge.
Nabeel also said that the car was driven 87 km but we inquired with our friends in the auto industry who said that 100 km is usually due to the testing which goes into the vehicle before delivery and friends within the Indus Motors Company, unbeknownst to this report, said that 100 to 150 km is on the odometer usually on Corollas when being delivered.
However, they did tell him to write an email to them and after which, they will resolve the issue but it was just a way to waste his time and make him bored of the enduring process. There was no solution, no reply. He even registered a complaint with Indus Motor Company on November 21, 2014 and to this day, he calls them up to follow up on his complaints written through their customer service number. Indus Motor Company's "Voice of Customers" is just marketing gibberish as all he heard was lame excuses from the company. And even later visits to the dealership resulted in a cold shoulder.
When Nabeel went for the first inspection to Toyota Islamabad Motors and inquired about his complaint, the dealership said that they sent an email to Indus Motors who has replied to it, but they are not telling him. And for him to know IMC's response, he should email Indus Motors requesting to know about what had happened to his hood and headlamp issue on his own. The dealership wouldn't even tell him about his own complaint and asked him to go ask Indus Motors on his complaint.
Nabeel kept following up with Indus Motors and it has been about three months, the dent on the hood and the scratch on the headlamp are still there. Though he has insurance and can get the light replaced but why should a person compromise for something he saved for and then spent, knowing it is brand new. It's a question about a company's sincerity to its customers.
This is in no way an article to bash Toyota, but as we said earlier, Toyota just embarrassed themselves by what, just avoiding to replace a bruised headlamp which costs about 10,000 rupees and a hood? Customers come first and we'll always side with the consumers as there is no body like the NHTSA of the US to protect the consumers' right in Pakistan.
This would be the last Toyota for not just Nabeel but many more of his acquaintances as well who witnessed the level of commitment, communication, and customer service delivered by Toyota.