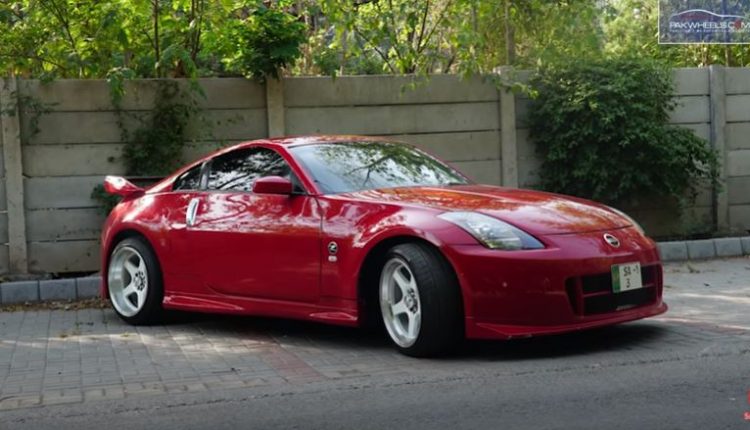 Nissan 350z: A Review by Owner
PakWheels has brought another unique owner's review. Today we are presenting the review of the Nissan 350z, which is a sports car. This car remained in the market from 2002 to 2009. The company launched this car with a 3500cc engine mated with both 6-speed manual and automatic transmission.
Furthermore, the company launched it in both hardtop and convertible variants.

Make, Model of Nissan 350z: 
The owner told us that this hardtop is a 2003 model and Japanese import. "This one comes with the 6-speed forward transmission," he said. He bought this car around 2-3 years ago.

Purchase Decision, Price: 
The owner bought this car in Rs2.6million; while discussing the choices, he said there was also EVO, but he wanted this car. He further said that he searched this car for quite some time, found it on PakWheels, and bought it.
Key Features of Nissan 350z: 
Nissan 350z comes with a BOSE sound system and installed TV. Furthermore, this car's engine power is exceptional and considered very good for drifting as it is a rear-wheel drive.

Fuel Average: 
The owner said that with drifting and high-speed driving, this car gives an average of 4.5 kilometers per liter, while on a long route, the average goes to up to 9 kilometers/liter.
Parts Availability of Nissan 350z: 
The parts of this car are not readily available. The owner said specific shops have parts of this car, but mostly you have to import them from Japan or Dubai.

Oil Change Cost: 
The owner said he changed its oil, air, and oil filters after 8-10,000 kilometers at Rs15-18,000. According to him, its filters are readily available in the local market.
Ground Clearance of Nissan 350z: 
As it is a sports car, there is an issue of ground clearance on local roads. As per the owner, he has to tilt the car while going over speed breakers.
Car's Drive: 
According to the owner, the car has good speed, but more importantly, it is a very stable car. The vehicle also has very good traction control. However, the owner thinks that its brakes are not so good. "This car has a speed limit of 187 kilometers/hour, and I have not gotten it delimited," the owner said.

Missing Features in Nissan 350z: 
The owner said this car should have cruise control and heated seats. Furthermore, it would've been better if this car had a convertible option. The owner has installed aftermarket android infotainment system with Bluetooth connectivity.

AC Performance of Nissan 350z: 
The owner is totally satisfied with this car's performance because he thinks that it works fine in summer.
Everyday Use?
According to the owner, you can use this car for everyday use because it has the best engine in its category. Furthermore, it does not create any issue in Pakistan's summer heat, which is a great positive for local consumers.
Resale Value: 
As per the owner, although it is a limited car and has specific followers but still its resale value is very good. The people who like it keeps a very close eye on its sales, the owner said.
Watch Video: