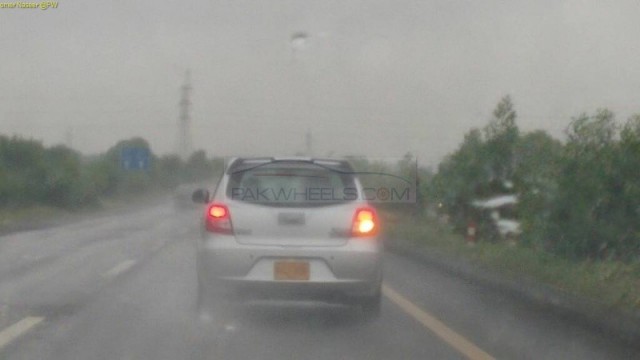 Nissan Datsun Go Spotted Testing In Pakistan
Looks like the coming years will be really exciting for the automotive industry in Pakistan. The new Auto policy somehow has given a hope of entry to the new car assembler. Nissan and VW are already working on introduction of their cars, although no timeline is known at this time. We at Pakwheels.com have been reporting about it for quite some time. It seems like we will have something new very soon and we will see new car assemblers with their products for Pakistani market.
Nissan had been in Pakistani market in the past and was assembling cars under Ghandhara Nissan Limited until late early 2001, with Nissan Sunny being their most popular car in the country. Over time, they couldn't compete against Suzuki, Toyota and Honda, and the sales number could not justify their operation the country. Still we can see their footprint in shape of Datsun 120Y and a few old Nissan Sunny models on our roads. Re-entry of Nissan in Pakistan is under discussion for a quite some time as Nissan already had an assembly plant in Karachi. Now seems like things are heating up. Today, a respectable PakWheels.com community member Mr. Omer Nasser spotted two Nissan cars near Sahiwal and later near Okara. We really appreciate Mr. Nasser's photographic work as it is clearly bringing a ray of hope for people of Pakistan, who are really looking for some new carmakers to enter the country.
Two cars; one in black while the other in silver, were spotted with tape used to hide the emblems on front and back. From the pictures, we can clearly make out that the two hatchback-style cars are Nissan Datsun GO. A fellow blogger at PakWheels.com Mr Aref, posted a detailed article about these specific cars quite some time ago. Nissan has released GO & GO+, under its sub-brand Datsun. The Datsun Go is an entry-level hatchback and is available in two styles. A Datsun GO which is a regular 5 seats hatchback while the other is known as Datsun GO+, which in fact is Datsun GO with extended length and provides two extra seats in the rear to make it a 7-seat MPV.
Read: Nissan May Launch Datsun GO And GO+ In Pakistan
The spy shots show us both the Datsun Go [Silver] and Datsun Go+ [Black]. This crudely means that Nissan will launch both variants for Pakistani market. GO nameplate is currently being sold in India, Indonesia and South Africa by Nissan. Due to its versatility, the GO+ is very famous in our neighboring India. Both Go and GO+ are powered by 1.2L DOHC, 3 cylinder engine with 5 speed manual, front wheel drive. The small engine produces around 68Hp and 104 NM of torque with an impressive fuel economy of 20.6 km per liter, as per Nissan India. There is no automatic transmission option at this time.
Being an entry level economy car, one should not expect very high-end luxury inside, but it's far ahead of our currently sold cars like Mehran and Cultus. Both GO and Go+ share the same interior features with simple dashboard design and are equipped with basic features with spacious interior. Actually it looks better than most of the Kei box shaped cars. The front speaks Datsun with its huge honey combed grill, which is basically re-imagined Datsun brand.
The car comes Standard with air conditioning and a single din head unit with 2 speakers; optional power windows are also available. Remote tail gate, remote fuel lid as well as immobilizer are standard as well. Overall, GO can be all set and GO for Pakistani market where an entry level hatchback and a MPV is really need of the time. Buyers either have no option but the Suzuki products or the imported used Japanese Domestic Models. A brand new locally assembled Nissan Datsun Go with dealers' sales and service network would be a very good start.
Lets hope we see Nissan back with its operation and we wish that other carmakers like Hyundai and VW also start their operations soon in Pakistan.
Please cycle through Spy Shots below. [Photo Credits: Omer Nasser]
Datsun Go
Go+