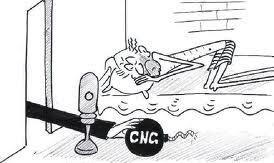 One crisis to another: CNG load shedding extended to avert electricity crisis, CNG prices also going to be increased
Commuters have yet to fully recover from the recent Petrol shortage and while we're at it, CNG load shedding in Punjab is also announced to be increased from two to three days a week and that's not it – CNG prices are also expected to go up by Rupees 10-12 per KG.
SNGPL, Sui Northern Gas Pipeline announced the three days would be Thursday, Friday and Saturday for Punjab and two days load shedding in Sindh since it produces 70% of the nation's total production hence it is constitutionally entitled with the first use of gas.
Extended gas load shedding is being done as gas is from now on, being provided to industries and power generation. After many places of the country facing long hours of load shedding, even Karachi house hold faces daily load shedding of 8-10 hours, government in a highly unpopular move extend gas holidays, which is also why it refrained from announcing increase in gas prices the same day.
The new policy says that the gas saved from CNG stations will then be supplied to power generation companies in Sindh and Punjab along with industries especially including fertilizer manufacturers which rely on gas due to their raw materials. Thus way, supply of gas to power producers is likely to help firm the electricity crisis in the country.
The new policy will be submitted to the full cabinet for approval.
The government will bear the price differential out of taxpayers' money, a method that started the inter-corporate circular debt in the energy sector, a problem that has financially crippled most energy firms in the country. The policy is also likely to expand the government's allocations for energy subsidies, which it promised to slash this year.
Also the government approved the Kohala Hydroelectric project which will produce 1,100 MW. The project has been awarded to a Chinese company without competitive bidding.
Meanwhile on Lahore-Chunian route, the operators of CNG-powered public transport vehicles have started fleecing customers by charging fares equivalent to those of Diesel-powered ones, almost 40% more than the normal rates. More than 80 per cent mini busses being operated on the Lahore-Chunian route are CNG-powered.
When Bangladesh converted its public transport to CNG, it established mobile courts to check fares on the roads and announce punishment to those who were found cheating at the spot whereas in Pakistan, no such step was taken giving the operators of public-transport a free-hand.