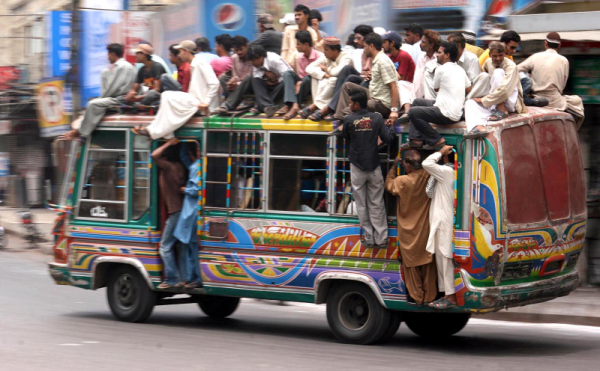 One rupee reduction in transport fares despite historic reduction in fuel prices
KARACHI: In spite of the historic reduction in fuel prices, the transporters have announced that they will reduce the fares in Karachi by one rupee only. 
On Thursday, members of Karachi Transport Ittehad and, Mumtaz Jakhrani came to this decision after prolonged talks. Irshad BukhariPresident Karachi Transport
Irshad Bukhari, President Karachi Transport Ittehad, announced o Thursday that fares of public transport have been reduced by one rupee. President KTI came to this decision after prolonged meetings between Mumtaz Jakhrani, Provincial Transport Minister and the members of Karachi Transport Ittehad.
The new transport fares after the reduction would be charged as follows: For a journey up to five kilometers, Rs. 10 will be charged from the passengers as fare, and for a journey above five kilometers, the passengers would be charged Rs. 14 as fare.
Irshad Bukhari emphasized that the fares in Karachi are already lowest when compared to the other cities and the government is discriminating against KTI,
"Fares were reduced in 2012 after a fall in CNG prices but now they are asking us to reduce fares after a decrease in petrol prices," Bukhari further added.
Mumtaz Jakhrani said strict actions will be taken against violators of the reduction. He also mentioned that a crackdown against Qingqi rickshaws is also in the pipeline and the Qingqis will be banned in the metropolitan.
Keep in mind that the transporters charge fares based on the prices of diesel, but most of them run their buses on CNG, which costs significantly lower than diesel. The price of CNG is Rs. 71.5/kg in Karachi, whereas the diesel sells for Rs. 101.21/liter.