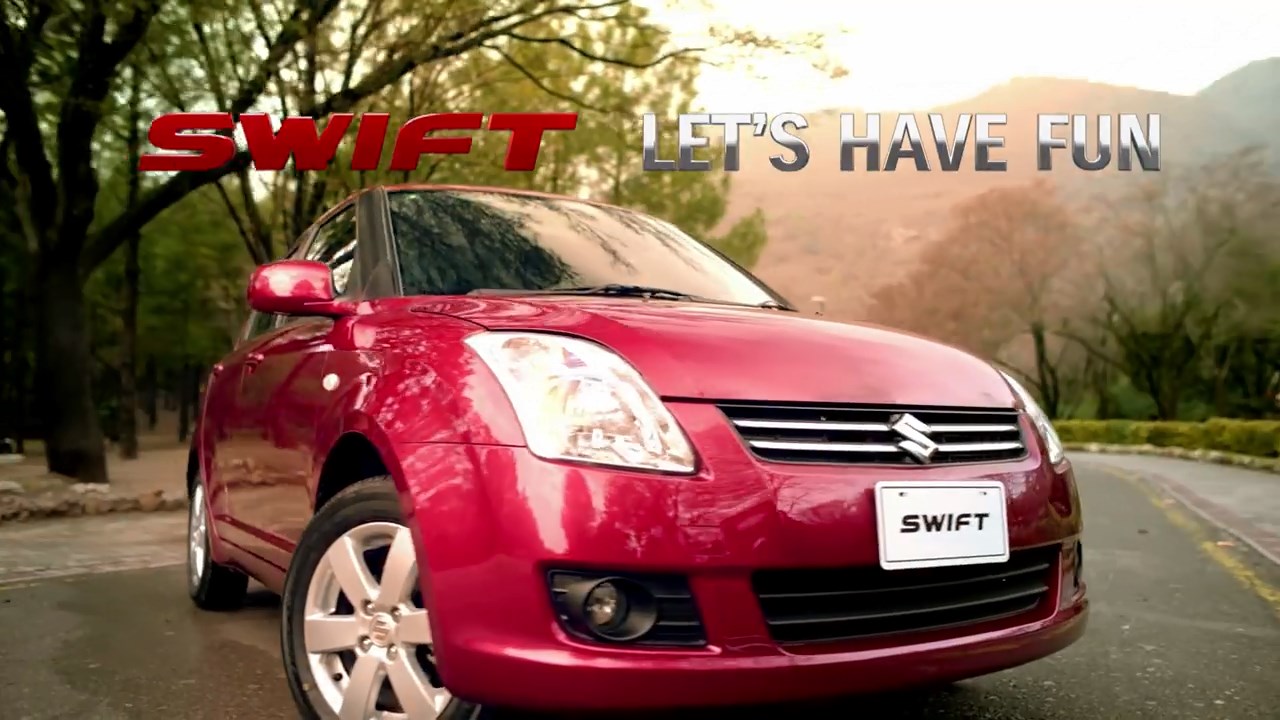 Pak Suzuki Gets The Suzuki Swift A New TV Ad, Instead Of A New Model!
Suzuki Swift that we have in our market is the 2nd generation Swift launched in Pakistan back in January 2010 by Pak Suzuki as the first locally assembled 1300cc hatchback. This 2nd generation of Swift was first seen at the Paris Motor Show in September 2004. Unlike the out-gone low-priced model like the Suzuki Cultus, the new Swift was designed to be a 'Sporty Subcompact' having driving characteristics focused on the European market with its chassis refined through a road-testing program across Europe.
In Japan, the Swift's sales figures were twice the forecasted numbers while in many European markets the 2nd generation Swift was a runaway success. The car was available with several engine options including a 1.3-, 1.5- & 1.6-liter petrol engines while a 1.3-liter diesel engine was also available in some markets. The Suzuki Swift managed to win more than 60 awards since its introduction as a global model.
Also Read: Sources Say 2016 Honda Civic Will Come In June-July This Year In Pakistan
With all the success in global markets, the 2nd generation was replaced by a longer and slightly wider 3rd generation Swift in 2010. And that was when Pak Suzuki decided to introduce the 2nd generation here. Initial years for Swift in Pakistan were terrible; people preferred an obsolete Cultus with cheaper maintenance over a rather modern Swift. Pak Suzuki had to discontinue the power-pack Cultus VXL trim in order to boost sales of Swift and, fortunately for Pak Suzuki, it worked. A year later in 2011-12 Swift reached its highest sales ever in Pakistan selling more than 7000 units in a year but then sales started to show a decline.
Today Swift sales hover around the annual figure of 3000 units with the monthly sales volume of fewer than 400 units a month. There are two reasons for a decline in Swift's sales; first, the used imported hatchbacks from Japan have played a significant role since they fall in more or less same price bracket, plus they are modern and fuel efficient and are better equipped than the locally assembled Swift. Second and the important reason is that the Swift has not changed since its launch. And it has been six years since its launch in Pakistan. The hatchback entered the 7th year of its production in January 2016.
On the other hand, the world is about to get the 4th generation Suzuki Swift. Leaked pictures are already available on the internet, and the car has also been spotted testing. The Pakistani auto consumers were anticipating the 3rd generation Swift. However, that's not something on the to-do list of Pak Suzuki, at least for now. The least they could have done was to offer a facelift, or even a refresh (change the front grill and bumpers or something), which Pak Suzuki specialize in. But all what we get is a new TV commercial.
Pak Suzuki must have spent a handsome amount of money creating this TVC in order to boost the declining sales of Swift. But it would have been much better and practical decision to spend this money in the overall betterment of the vehicle. Either in the form of visual characteristics or the features offered. Pak Suzuki needs to understand that they cannot win customers just by airing a new TVC of the same old thing which is already there in the market since 7 years. This is the age of internet and social media, and information is at the fingertips of people and auto consumers of Pakistan are well aware of automobiles than they were ever. Even the comments on the official Pak Suzuki facebook page display negative comments by people for their new commercial.
The Pakistani Suzuki Swift badly needs an upgrade, not a new TVC!