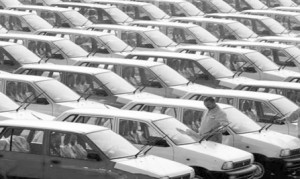 Pak Suzuki stops booking for CNG versions of Mehran, Alto and Bolan
Ever since the banhammer was forced upon the trading of CNG kits, consumers, buyers and assemblers have been affected by the decision alike. While buyers are forced to buy CNG kits on inflated prices – car assembler whose major sales were brought from the CNG installed vehicles has been pushed to stop the booking of CNG versions of their vehicles.
Suzuki had to stop booking of CNG versions of Mehran, Alto and Bolan while Indus Motors did not say that it will stop taking orders of their CNG versions of Coure and Corolla due to the fact that Pak Suzuki has an inventory system based on JIT (Just in time) while the rest stock inventories for as long as three months.
The company had suspended procurement of kits from importers and a leading manufacturer in the middle of January. The company is consuming available imported stocks or those were under import before government`s ban on import of CNG kits and cylinders.
An official of the company said that the decision was taken on Feb 11 after finishing available stocks. The company enjoys over 50 per cent market share in total vehicle sale in Pakistan. The PSMCL official said that consumers, who used to rely on factory fitted CNG vehicle, would now feel the pinch after the discontinuation in booking of economy segment cars, like CNG Mehran, Bolan and Alto.